Mainstreet Tauranga is taking a stand and saying "enough" to the negativity surrounding Tauranga's Central Business District.
Before Mayor Greg Brownless and Tauranga City Council elected members today, Sally Cooke pleaded for people to show empathy and compassion for those who are doing business in Downtown Tauranga, while the city centre goes through exceptional circumstances.
"Right now, as we are all patently aware, our city centre in going through exceptional circumstances. We are already beginning to see some of the outcomes with the opening of the University of Waikato city centre campus and other developments," says the chief executive of Tuscany.
"The future looks incredibly bright. However, the reality today is extremely stressful and challenging for many of our members."
Sally says Councillor Leanne Brown has highlighted the damage that negatively and badly framed headlines can have on a business and on the city centre.
Sally was joined by Millie, Brian and other members of Mainstreet Tauranga at today's Projects, Services and Operations Committee meeting.
"We are here today to give a stronger voice to our members. We are here to ask everyone in this room to remember and see the human face of our city centre and to have greater empathy," says Sally.
"The scale of works across our city is unprecedented and with it comes severe restrictions on access, parking and a perception that the city is empty and hard to get around. However, at the heart of this city centre is some of the most passionate and parochial business owners and operators."
She says they turn up every day, face a barrage of obstacles and constraints and brick bats from the media and the public.
They carry on, they stock their shelves, they set their tables, they open their doors and they hope that the public, that we, will support them and help them trade through this.
"Significantly negative and damaging headlines, a lack of sufficient consultation and communication and a general feeling of 'it is what it is, cope with it.' all simply serve to push our members to a place of extreme stress.
"As champions of the Downtown Tauranga community we say, enough. We are here to ask, where is everyone?
"Where is the leadership from you, our elected members? Where is the community support and when did it become okay to constantly demean the city centre?
"Yes, we have our struggles, but when people and the media attack the city centre they are attacking our people."
Sally asked the council in considering their streetscapes programme of works, that they don't just consider approving the funding but put measures in place to ensure members and the city centre stakeholders are fully consulted and collaborated with to consider the best timing for these planned works.
"We ask that you understand that our members did not sign up for this disruption when they set up their businesses. They did not sign up for this level of access and parking restrictions.
"Durham street members did not sign up for the delays that have befallen the project and Devonport Road businesses did not sign up for the number and volume of earthquake strengthening works required."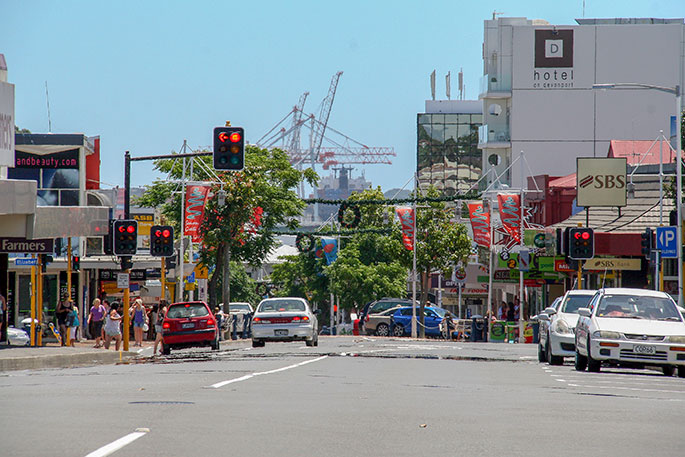 Devonport Road on a summer's day.
In an effort to try and combat the constant negativity thrown at the CBD, Sally says they are about to launch a strong media and PR campaign to tangibly and more proactively support the city centre.
The organisation is doing what it can to promote its different sectors through tangible events such as Look Fashion Month and the current Taste Tauranga, with more 30 events across our hospitality sector this month.
"But our resources are limited and we need more help during these exceptional times," says Sally.
"We will be back at the appropriate time asking you to work in partnership with us to deliver more on the Response Plan and Action Plan, the Activate Vacant Spaces initiative and to enable our care package of promotional plans to continue. We need to fund outcomes that benefit our members.
"We support investment in our city centre. We support growth and development. However, we continue to call for better planning, consultation and implementation with our city centre stakeholders and members.
"For example, the Durham Street original planned streetscapes were supposed to be completed prior to the University opening.
"The Harrington Street carpark build, if it had been completed as originally planned, would have opened prior to Christmas."
Sally says if these projects had been delivered on time, "we would not now still have Harington Street, Hamilton Street and Spring Street closed".
"We also question whether Harington and Hamilton actually need to be closed off for the length of time that they are?
"These three streets alone significantly restrict access into and around our city."
Wharf Street has been a better example of good communication and consultation.
"We hope this continues, if the streetscape project is approved to proceed, so that our members continue to be fully engaged and involved in the planning and timing.
"In the meantime, we ask you to take a moment and consider what else can you do, on the human face of it, to support our members?"
Sally is imploring council members to walk the streets and call into businesses and see how they are doing.
"A friendly smile, a coffee, a listening ear will not fix anything but it shows compassion, empathy and emotional support, it shows you fronting up.
"I don't believe I am overstating it when I say that Millie, myself and the rest of the Mainstreet team see a thread of stress across our members the likes of which we have not seen before and that gravely concerns us.
"We need help, to help them more, and we need to do that proactively and collectively."