I've been told that Indians throw crazy parties. And I've been invited!
"What do they mean - crazy parties?" I wondered as I glanced through a flyer for Mrs Krishnan's Party.
"Heard of Diwali? A million lamps floating on a river and fireworks to wake the dead. Or Holi? An explosion of colour and joy and massive dry cleaning bills."
Apparently there's a Mrs Krishnan who has a shop in town, and she's having to decide whether to sell it or not. I wondered if maybe it is located in Devonport Rd. Anyway, she's also facing another dilemma with her boarder James. Unbeknown to her he is throwing a surprise and has invited about 180 guests over.
This is of course a show being held at Baycourt, where Mrs Krishnan finds she has no choice but to throw the party of her life. The beauty of it though, is that at each night following, she is surprised with yet a new set of guests arriving in her dairy and so is compelled to throw yet another party. There will be dancing on tables and plenty of laughter. The celebration commemorates Onam, a time to celebrate life, death and rebirth. With live cooking, 180 guests to meet and a party to host, it means that no two performances are the same.
"I've been invited too," says one of my Sunrise Rotary friends, Glenys Parton, "so I've asked if we can book out one of the party nights as a totally Rotary and friends party, get everyone to buy a ticket and use it to raise funds for ROMAC."
"What's ROMAC?" I ask.
"ROMAC brings children from Pacific region countries to New Zealand and Australia for surgery that they can't get in their own countries," says Glenys. "It stands for Rotary Oceania Medical Aid for Children.
"We've just taken a child Vinna Sapa back to her village in Vanuatu. She was with us here in NZ for about two years."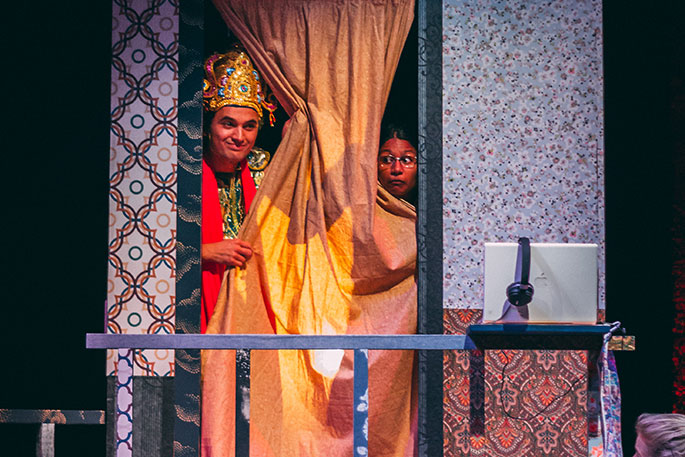 Glenys tells me how in April 2017, ROMAC brought Vinna, a young, small, broken girl to NZ for much-needed surgery. Finally strong, healthy and resilient she travelled back to her home at Easter time with Glenys.
Glenys found the most poignant moment was on arriving at Whitesands Airport in Tanna when Vinna's sister Elizabeth wrapped her arms around Vinna.
"She could hardly believe her eyes, as she had most likely thought she would never see Vinna again.
"The village celebrated her return in song and dance – firstly the men chanting and dancing, then the women surrounding the men. It was so heartening to see Vinna leap up and be part of this alongside her blood sister and amongst her village sisters."
Glenys was thrilled and relieved to see that Vinna was able to reconnect despite the two year absence in NZ.
The village offered gifts in appreciation of the work that had been done both medically and in Vinna's day-to-day care while in New Zealand – two live chickens, two large flax baskets of kumara and mats and baskets. These were generous offerings and this was acknowledged.
Vinna still requires final surgery in about a year's time, when the metal plate holding her leg together will be taken out.
ROMAC started in 1988, and is now providing surgical treatment to around 50 children from Oceania every year.
"We are making a huge difference in their lives," says Glenys. "And we thought a great way to help raise funds to provide surgery for more children was to book out one of Mrs Krishnan's Party nights and invite 180 people to join us. So we're doing that on Thursday August 22 at X-Space in Baycourt."
I wondered if she realised that it's going to be hilarious mayhem. Food, music, and dance. James is a classic millennial, so no doubt he and Mrs Krishnan will have one of their usual big arguments which will be hilarious to watch. And they'll involve everyone in helping make the food which will be entertaining too.
For a moment I forget this is actually a theatrical performance involving the audience, with the ROMAC fundraiser on Thursday August 22, followed by two performances on Friday August 23, one on Saturday August 24, and one on Sunday August 25.
Kalyani Nagarajan and Justin Rogers, as Mrs Krishnan and her boarder James are bringing this unique story to life. Kalyani is very skilled in Bharatanatyam, a South Indian classical dance form that is one of India's most traditional dances. I can't wait to see her show off some of that at the party, albeit with a modern twist no doubt.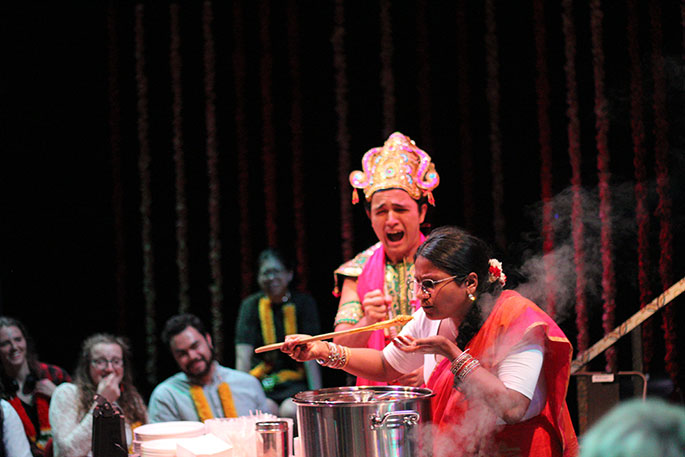 I rang her to tell her about the ROMAC fundraiser. She was on her way down country so pulled over somewhere south of Taupo to chat. Kalyani's been working with theatre company Indian Ink since her first year at drama school, and its taking her all over the world, with shows in Vancouver, Pittshburgh, NY, Utah, Hawaii, and Seattle to name a few.
"That's awesome!" she said. I thought so too. Mrs Krishnan's party - turned into a fundraiser to help others - is a crazy wonderful way to help kids get surgery.
Tickets to Rotary's ROMAC fundraiser on Thursday August 22 can be booked through Stephen Dorrington – email stephen@kineticman.co.nz
Tickets to the other performances can be booked via Ticketek or the Baycourt website.