NZTA's decision to scrap a new Maunganui Rd pedestrian underpass between Bayfair and Matapihi has drawn flak from both Tauranga City Councillors and the community.
The underpass project, by government agency NZTA, raised eyebrows when forecast costs blew out from $13m to $33m; leading to its cancellation.
Now, Councillor Steve Morris has proposed a potentially more affordable solution.
"The NZTA project had the underpass going right under a 6m high ramp for the new Bayfair flyover. It's no wonder the costs of engineering a solution, with the weight of all that earth on top of the underpass, became prohibitive."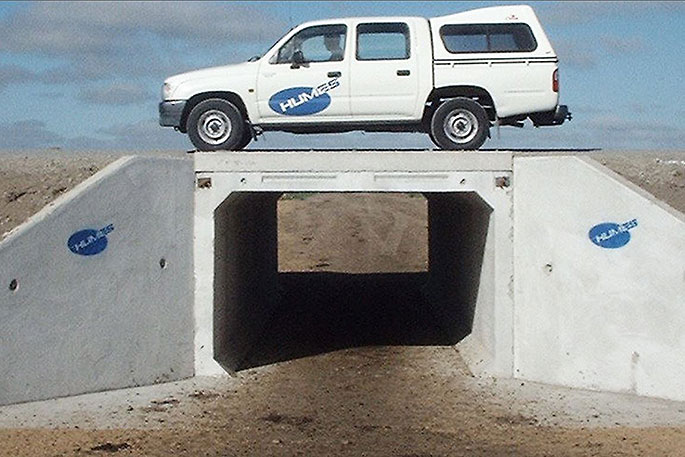 An example of a precast underpass from Humes.co.nz website.
Today, at a Council meeting, Cr Morris proposed an alternate route under the new Maunganui Rd roundabout which would sit under the aerial portion of the flyover.
"This route removes the need for them to overengineer an underpass to sit under the ramp.
"At 90m it would be longer; however, the cost would be significantly less," says Steve.
"I received a quote for a 90m underpass, 3 meters wide and 2 meters high made of precast concrete delivered to the site for $261,290 plus GST.
"Some underground services would need to be moved which could push the cost into seven figures, but this is far more cost effective than NZTA's $33m solution and even the original $13m solution."
Steve says the height and width could be increased to suit at little marginal cost.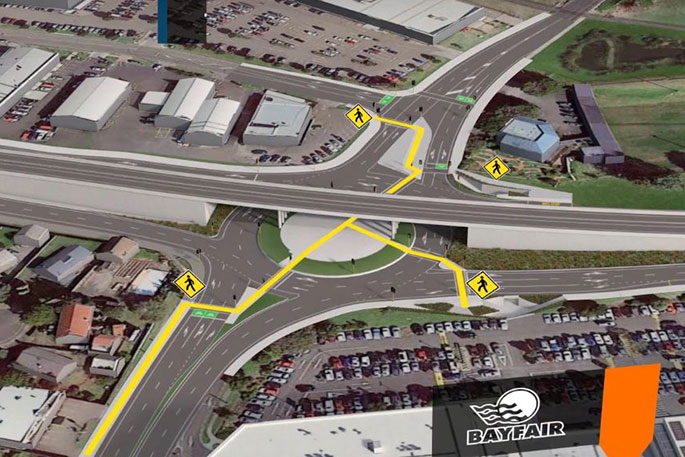 Multiple pedestrian crossings and stop lights to replace the underpass as proposed by NZTA.
At the meeting, Steve asked for NZTA to provide Council with its options analysis for different locations for the underpass so that it could be examined by Council, the public and contractors.
Ross I'Anson, Acting Director of Regional Relationships Central North Island at NZTA, says he would take it to senior management to consider.
Steve says the underpass was a need, not a want, and that NZTA had to consider other routes because they were effectively severing Matapihi from Bayfair.
"People need to walk, cyclists need to get to town and NZTA's fall-back position of multiple pedestrian crossings into a roundabout with stop lights calls into question whether the $120m Baypark to Bayfair link will do much to ease congestion."
Steve suggests other proposed solutions such as a pedestrian overpass would cost more, and either be located further away from Bayfair or need such long ramps as to put people with disabilities at risk which is why he favours an affordable underpass.