It was an unpopular war – widely opposed on moral grounds.
And Corporal Erik Kristensen from Pyes Pa felt it personally.
When he was repatriated from Vietnam he experienced the snub from civilians and Government firsthand.
"When I stepped off the plane an officer advised me to get out of my uniform as soon as I could and not to tell anyone where I had been." Why, Erik wondered.
"Because we weren't very popular apparently. They were calling us baby-killers and the like."
Such was the political climate of the time. And it cut deep.
Now 87, Erik Kristensen would have no qualms doing it again.
"The communists had gone through Korea, Malaya, Borneo and so forth. As a citizen and soldier of this country it was my duty to stop them before they got here."
This spry old vet's unshakeable sense of patriotism remains intact.
"I am a very proud New Zealander. I would fight and die for this country any day. Still."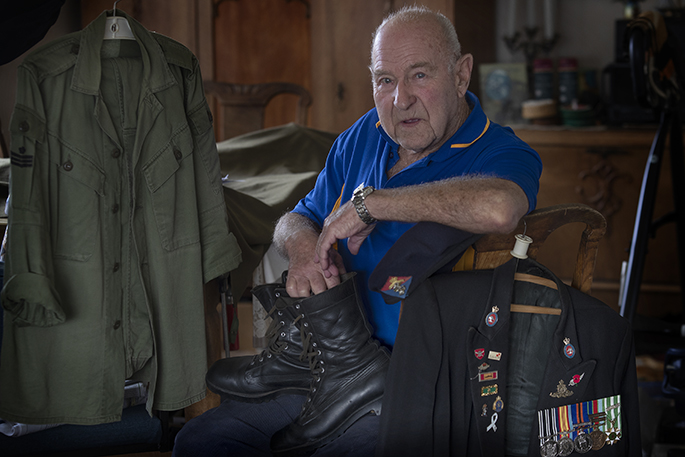 Now half a century later Erik has been rewarded his dues – he and 119 colleagues who served in Vietnam with 161 Battery, Royal Artillery, have received an unprecedented honour from the Australian Government.
"I am very, very proud." He pauses, ponders and smiles. "Thank you. I am happy to have served."
It's the Australian Unit Citation for Gallantry – the first ever offered to a New Zealand military unit. It's awarded for "extraordinary gallantry" as a team in warlike operations – not for acts of gallantry by an individual or small groups of personnel. And Erik was right in the thick of it.
"I couldn't stop my hands shaking. Adrenalin maybe. But I was scared as all hell."
They were in the way of the North Vietnamese 7th Division and Viet Cong units advancing around Ho Chi Minh City or Saigon and were under severe mortar and rocket fire.
"Boom-boom-boom, boom-boom-boom." Erik is reliving his terror. "Endless flashes of these things going off.
"With the amount of ordnance, I thought no way would I live through it. I told myself: 'you are a soldier, you are paid to either live or be killed'. I wasn't worried about myself. I had written myself off. I was fighting for my father and my family. I was very close to my father, he was a good mate, and I wondered how he would take it if I was killed."
It was the battle of Fire Support bases Coral and Balmoral near Nui Dat between May 12 and June 6, 1968. The 26 days of intermittent fighting have variously been described as Australia's largest, most sustained and arguably most hazardous battle of the Vietnam War.
It was later reported to be a bit of a botched affair by the Australians with poor reconnaissance, lack of accurate intelligence and bad planning leading to confusion and delays in deployment. But amongst the fabled Vietnam battles of Long Tan, the Tet offensive and Khen Sanh, Coral-Balmoral and 161 Battery's contribution to it, stands out for Australians.
And Erik who was part of the Logistic Support Element attached to 161 Battery ended up part of it.
"If 161 battery hadn't been there the Australians would have been killed. They were fighting a whole battalion of North Vietnamese and the Aussies were only a couple of hundred strong. They were fighting 25 to one. But the four New Zealand artillery officers directed fire onto the enemy and it saved them." In the citation, the 161 Battery gunners received high praise for the accuracy and volume of fire provided at critical stages of the attacks on the Australian battalion positions.
Twenty-six Australians died and 100 were wounded. It's estimated at least 300 North Vietnamese soldiers were killed.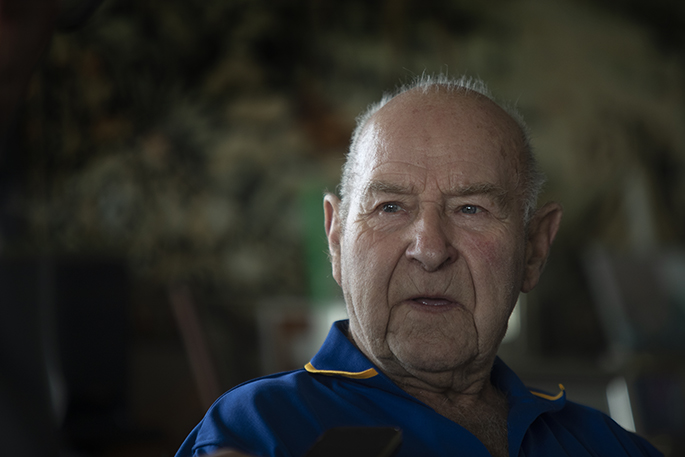 He recalls an Australian stretcher party returning to the unit with a body covered by a ground sheet. "You could just see where a human shoulder should have been. It was like a joint of meat."
Bullets and bombs are ruthless on human bodies.
"I thought: 'oh my God! This is the sharp end. That could be you tomorrow'."
Many soldiers take their wartime exploits to the grave. But Corporal Erik Kristensen is an open book and he tells his yarns selflessly.
"I can remember shaking so much I couldn't aim my rifle."
His Aussie mate in the dugout was the same – he had nervously smoked a whole pack of cigarettes in 20 minutes.
In another engagement near Van Don, Erik Kristensen and the Australian Task Force came under fire.
"These orange flowers were screaming overhead and I suddenly needed to go to the toilet. My Australian sergeant said: 'stay there you stupid Kiwi bastard, you will get killed out there'."
But the call of nature was too strong.
"I put my rifle down, grabbed an empty sand bag, went out and squatted down. The bullets were coming in so low that had I stood up they would have cut me in half. They were twanging into the bamboo behind me."
Corporal Erik Kristensen finished his business, returned to the dugout and resumed his war.
"The Aussie looked at me and said: 'you stupid Kiwi – you won't live long here'."
Knud-Erik Langelund Kristensen – Erik to one and all – emigrated to New Zealand from Denmark with his family in 1950. Seventeen years later he put his life on the line for his adopted country.
"This is my country now, my first country now. Denmark, my homeland, comes second. I am a Kiwi of Danish ancestry."
And there's enduring hint of a Scandanavian accent to remind us. The Australian Unit Citation award was presented to Corporal - Erik to one and all - at the 6th Hauraki Battalion's 121st birthday in Tauranga this week.
Thank you for your service Erik.