The Department of Conservation and the Bay of Plenty community gathered on a chilly winter's day to commemorate the mighty Kauri tree in New Zealand's mural town, Katikati.
The guests were in awe of the new two-story mural, which displays a diverse history of the Kaimai Kauri, while keeping warm with the afternoon tea catered by Te Rereatukahia marae.
The mural is painted on the Katikati i-SITE, which is one of the most visited buildings in the town. The mural, "Te Wao Tapunui a Tane", meaning the sacred domain of Tane, is bound to attract the eyes of many visitors throughout its lifetime of 30 years.
With the help of Shane Walker Artworks and Open Air Arts, DOC Tauranga set out to pursue the oral history of tangata whenua and make the past come alive through art.
DOC Community Ranger Tracy Mezger says the overall design and planning process of the mural took over ten months.
"We had to have the right people on board to ensure an accurate and inspirational story was told. Hopefully we can begin to see a stronger local connection with the forest so the Kaimai kauri is protected for future generations to appreciate and enjoy," says Tracy.
"We are ensuring the Kaimai kauri, who stand tall, proud, and healthy within the forest, have a voice as powerful as the kings that they are."
The mural provokes a call to action through storytelling, by displaying how humans have realised the intrinsic value of these forest giants over centuries.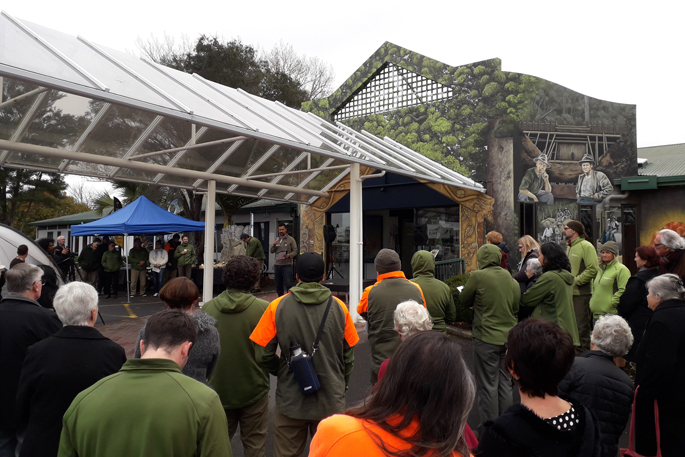 Over 20 DOC staff and Western BOP Mayor Garry Webber attended. Image: Supplied.
Today, humans pose the biggest threat to their extinction with kauri dieback disease spreading rapidly through North Island forests on the footwear of trampers and hunters.
The mural is dedicated to the people of Te Rereatukahia, Tuapiro, and Otawhiwhi marae and the Katikati community.
The Kaimai Mamaku Conservation Park is a kauri protection zone, meaning certain protocol is in place for visitors to the park.
DOC say members of the public should always use a hygiene station as instructed if available, clean gear, scrub and remove all soil before and after visiting forests, and to stay on the track where possible.