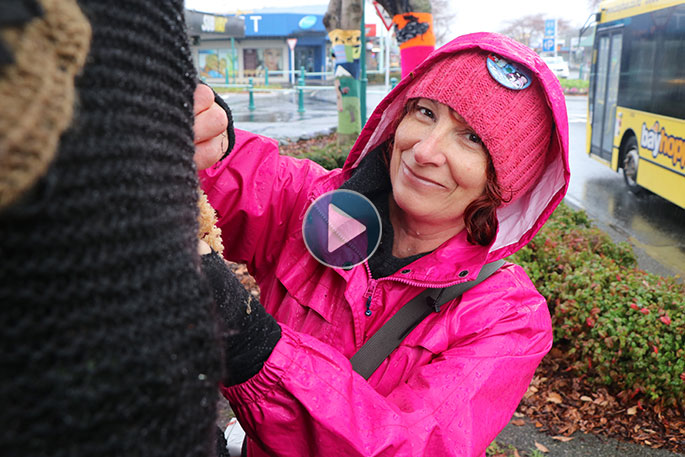 Click the image above to watch the video
What I hear on the grapevine is that the Greerton Village 'communi-tree' like to have their woolly and colourful trees socks on, to keep warm through winter.
They also love a good read, while raising funds for local charities.
These 'at-tree-butes' have combined brilliantly with 'children's books' selected as the theme for this year's Greerton Village Community Yarn Bombing.
On Sunday, June 23, over 40 Greerton Village trees were dressed, decorated and trimmed with spectacular, artistic knitting and yarn bombing by yarn bombers, who range in age from five to 90 years.
With the theme for 2019 being children's books, it provided many creative options to select from, such as Hairy Maclary, Kapai's New Mates, The Three Billy Goats Gruff, and Where the Wild Things Are.
"Our group is Ninja Knits and we actually probably started when this Greerton Yarn Bombing first started about five years ago, where some of us were doing a tree back then," says Jane Fawcett. "We've just kept meeting up and doing little arty knitty installations and art projects ever since."
She reaches up to adjust a piece of knitting around the tree she's working on.
"Some of our other members are doing trees further up the street as well, on their own, but this tree is just a collective effort from the rest of us."
"Our tree is 'Where the Wild Things are', says Clare Birch, "and we've made Max and a few wild things. Our cause is Pregnancy Choice that we're supporting, so if you vote for us, they'll get some money which is good."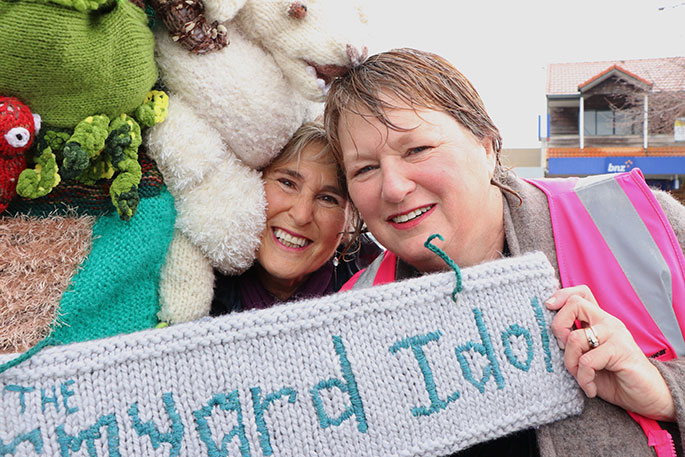 Angie Belcher and Michelle Cliff.
Yarn bombers are not restricted to just the Tauranga city area, but have also come or contributed from further afield. Places like Rotorua, Gore, Raglan and Te Puke.
"The Te Puke Kiwi Coast Lions are excited to be a part of the Greerton Community Yarn Bombing experience," says Kiwi Coast Lion Michelle Cliff. "It's wonderful. And when we first heard about it, we thought my wonderful friend Angie has written a gorgeous book which is over there in a bag, and it's all about the Farmyard Idol.
"So we thought we better knit 'The Farmyard Idol', so started knitting, and knitted one character. And thought 'that's good, let's knit some more', so I knitted some more, and then we thought it needs a background. And it needs some bunting. And the ladies just got stuck in and helped us out and it's great!"
"I'm just so pleased!" says Angie. "They've done an amazing job, and it's incredibly hard work from the Kiwi Coast Lions doing an incredible amount of work. Michelle is a creative genius, and I just hope it all hangs together."
"It will do, it's all right," says Michelle.
"It's just a great cause," says Angie.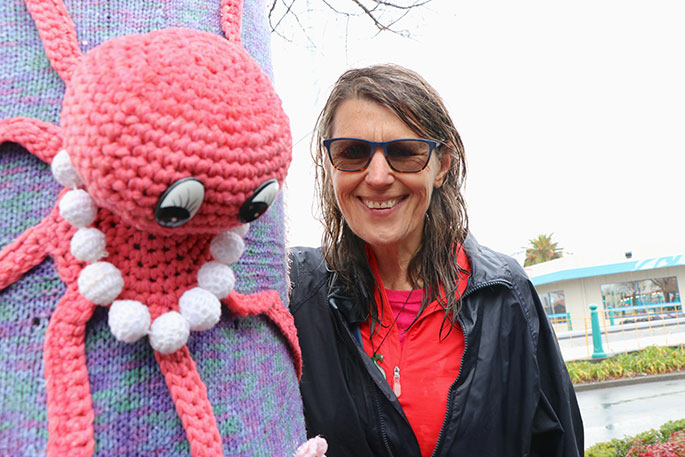 Greerton Village Commmunity Yarn bombing organiser Carol Power.
Teachers from Bellevue School had braved the rain on Sunday, coming out in their own to assemble their school's arty tree.
"We have created our tree based on the book 'Grandma McGarvey's Shed', says one teacher.
"Over this term, the students have been doing lots of knitting and creating," says another, "and we've involved some of the parents, so it's been a community effort, and this is our creation. It's come together quite nicely."
"When I woke up this morning it was fine," says a third keen teacher from Bellevue School. "And I thought 'yay' and then when I got in the car I thought 'oh my goodness, we're going to be needing an ark to get this up, but luckily there's only light rain now so I think we'll cope."
"Today we're here in this glorious weather installing our yearly yarn bombing for the Greerton Village," says another Belleuve School teacher, smiling at the puddles around her. "We're not put off by the weather. We just love doing this and it's a great feeling for the community to just brighten up the place and put smiles on everybody's faces. "
"This is our fifth year," says Greerton Village Community Yarn Bombing organiser Carol Power, "and I've been doing it for three years.
"Every year I say it's the best ever. I'm sure that this year is the best year.
"It's incredible. The amount of work that's been done to make all these beautiful creations. Hours and hours of work.
"Crockford's sponsor the voting for this competition, and you can vote on line or in some of the shops."
Crockford Real Estate are sponsoring the $2000 prize pool which will go to the winning tree charity and the knitters.
To celebrate the artistic display of yarn bombed trees in Greerton Village, on Saturday June 29 from 10.30am-12.30pm there will be a reading day of some of the books being yarn bombed. The book reading will be outside the Greerton library or in the library if it's wet.
"Next Saturday we're doing a big read of the books," says Carol. "That's going to be outside the Greerton Library so I encourage you to bring your children down, to listen to the books.
"Some of the authors are going to be here. Some of the authors are from Auckland, and from over in Rotorua."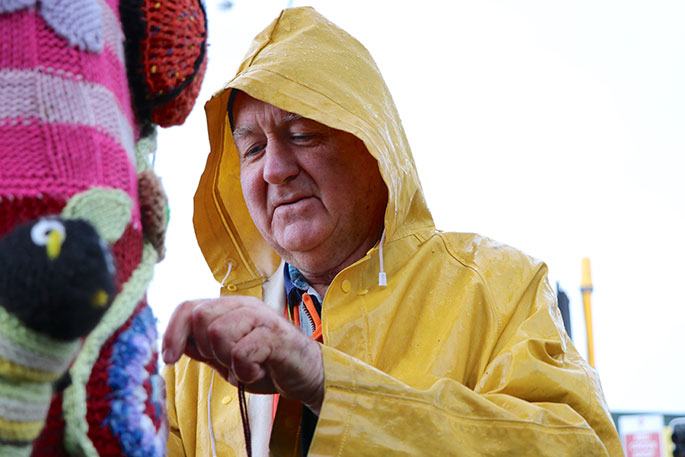 Special guest author Angie Belcher from Rotorua will read her book The Farm Yard Idol and Heather Haylock from Auckland will read her book Granny McFlitter The Champion Knitter.
Both Angie and Heather are seasoned writers of children's books. Other books published by Angie are: To Our Shores and The Girls in the Kapahaka. Heather has been a writer of NZ educational level reading books such as: Tom the School Cat, Nutty Knitting and How Much Rain? Heather has also written two Granny McFlitter story books with the most recent published story book called Granny McFlitter: A Country Yarn.
Some of the yarn bombers will also be reading the stories of the trees they have yarn bombed.
To keep the kids amused whilst story telling is going on, 'The Cat in the Hat' will be on site as well as members of the Greerton Lions club, with lollies and Greerton Village balloons.
People can also vote for their favourite tree by completing a paper vote in shops with the Yarn bombing poster displayed in their window or voting on Facebook – search for 'Greerton Village Community Yarn Bombing'.
"So bring your kids down," says Carol. "Enjoy the day, stop in for lunch, and enjoy looking around the shops at Greerton Village, and also view all the beautiful displays of yarn bombing this year."
This 'tree-mendous' outdoor artistic wool exhibition and charity fundraiser will run right through July, so go check it out.