Tauranga residents Bevin and Carlene Mabey have been happily married for 14 years and as the loving wife she is, Carlene has always taken a special interest in her husband's health.
Bevin, who is now 74, grew up on Great Barrier Island during the 1950's. He has been aware of his risk for skin cancer after surviving his first melanoma encounter at age 56.
'As a child, we simply had no sunscreen, no protection at all. We would get quite badly burnt, especially on the back and the shoulders," says Bevin.
'This is why I think I am prone to cancerous moles and lesions."
After hearing about the SkinVision app from a friend, Carlene insisted that Bevin checked a mole that she'd been keeping an eye on.
'I have red hair and freckles, so my friend thought it was something I should have."
Within minutes of downloading and using the SkinVision app, Bevin received a high-risk indication and rushed to see a local doctor.
'They sent me to the skin clinic, I had an appointment booked for two months later but when they saw the results from the app they asked me to go in right away."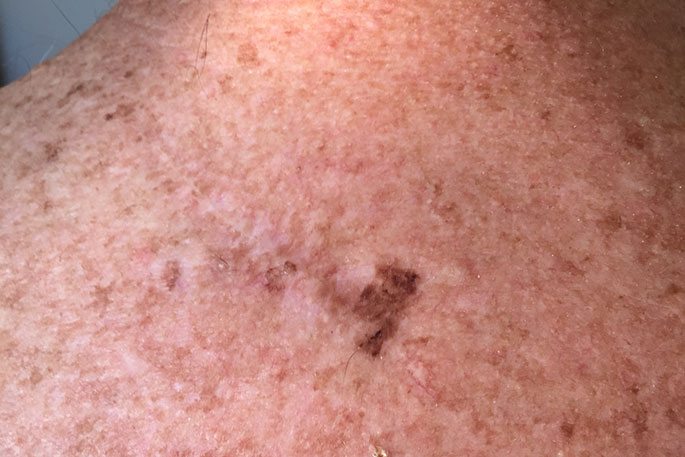 Bevin's results showed he had atypical lentiginous melanocytic hyperplasia which fell short of a diagnosis of melanoma in situ.
'Because the app gave us the fright it prompted us to go. They looked everywhere else on my body and have taken out one other spot that was fine, one close to the scar on this one that they are suspicious of, once healed they will take it out."
According to the World Cancer Research Fund International, New Zealand has the second highest rate of Melanoma. Each year, nearly 4,000 New Zealand residents are diagnosed with melanoma, and thousands more are diagnosed with non-melanoma cancers such as basal cell carcinoma and squamous cell carcinoma.
Treatment for skin cancer which is a preventable disease, costs the health care system more than $57 million NZD per year.
The impact on residents only continues to grow each year and many people in New Zealand choose to with go regular check-ups due to the high price of health insurance.
'We are retired so we don't have health insurance, so the cost is out of our own pocket. For many people my age, health insurance costs a heck of a lot of money, in the public health system you could wait six months to get it done, you could be dead by then if you wait."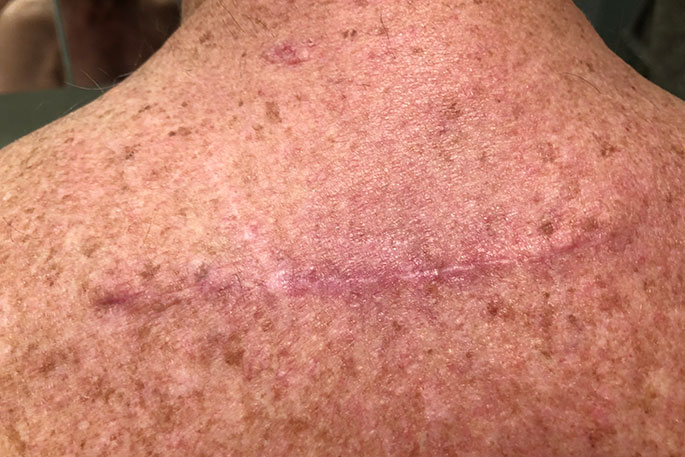 SkinVision is a smartphone app that helps with early assessment of skin cancer by using an algorithm to identify the risk of skin cancer. Users can take a photo of the suspicious skin spot with their smartphone and then receive a risk indication within 30 seconds noting whether the photo has similarities to signs that appear in the most common types of skin cancer.
The clinically-proven technology combined with the knowledge of skin cancer-specialised dermatologist then supports users with a recommendation whether to visit a health care professional or not. The app has been downloaded over a million times and has found over 27,000 skin cancers globally, over 9,000 of which have been in New Zealand and Australia.
'SkinVision is a very good thing to have. Here in New Zealand it is very expensive for a full body scan, around $300, so a lot of people especially those my age without insurance simply don't go in and get it done.
'It cost $2500 NZD to cut this spot out. It puts a lot of New Zealanders off getting moles seen, it makes them delay it."
Even those who are insured face difficulties within the New Zealand healthcare system, which limits patients access due to the low number of specialist dermatologists, large distances between providers and growing waiting lists.
SkinVision has partnered with Accuro Insurance in New Zealand, to offer its services to over 32,000 policyholders. SkinVision can help find skin cancer cases early and ensure that users are able to get the treatment they need in time if they are at high-risk.
'The app gives you a middle man so to speak, prompts you to do it. It is wise to do it, silly not to. We really appreciate having the app, the extra peace of mind, and have recommended it to many people."