Nelson Tkatch, 61, of Tauranga, New Zealand, passed away peacefully on May 22, 2019 after a battle with Myelodysplasia. Born in Montreal, Quebec to David and Betty Tkatch (nee Pearlman), he lived the first portion of his life in Montreal and the latter half living amongst Canada's provinces before the big move to New Zealand with his wife and children. Predeceased by his parents as well as his two younger brothers; Michael (1975) and Sheldon (2012), Nelson is survived by his wife Cherise (Foster) and daughters Melaney, Elana and Sabrina, as well as Sheldon's children Taryn and Charles, and his rotary child Alexis, and all the Tkatch adopted children over the years.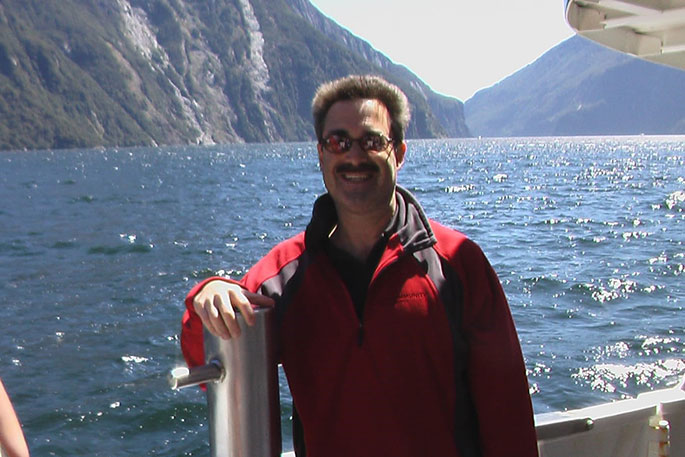 Early in his life Nelson was an avid baseball player, and took pride in his heritage and helping those younger than him by becoming a camp counsellor with a Jewish camp, The Y, as well as working with Big Brothers and Big Sisters. He loved music - playing both the guitar and piano and picking up the former again in adulthood. He also added to this bad boy image with the purchase of a large red Harley Davidson, though never convinced anyone to be able to get on the back with him. He loved fantasy including the Hobbit and Lord of the Ring series, forcing us all to have a read of the books, though we may have preferred Harry Potter. He also enjoyed the Star Trek and Star Wars series, and took great pride in Halloween and any occasion for dressing up and inserting a little bit of fun into the day. We hope you remember him as Captain Jack Sparrow or Gandalf, or even just as the man with the helicopter hat.
He was an accomplished businessman, and took great pride in his work and accomplishments, and those of his business. He was proud to own the Kitchen & Furniture Paintshop business and also contribute to Rotary and the Freemasons.
Thank you to everyone who helped care for Nelson and kept him comfortable while he fought Myelodysplastic Syndromes including everyone at Auckland City Hospital, especially the team on the Motutapu Ward and Tauranga City Hospital, as well as the entire team at Mercy Hospice Auckland. Thank you to everyone who has extended support to Nelson and our family the past year (and earlier), we (and he) greatly appreciated the fond thoughts, calls and prayers. Nelson will be missed by many. We take solace in the fact that we are sure of two things, he is in a better place, and he's probably already made a sarcastic joke about the service.
A service of remembrance will be held at Olive Tree Cottage, 247 Joyce Road, Pyes Pa, Tauranga on Friday May 31st at 2pm.
In lieu of flowers, Nelson asked for donations to be made on his behalf to Leukaemia & Blood Cancer New Zealand, the St Johns Ambulance service or Mercy Hospice.