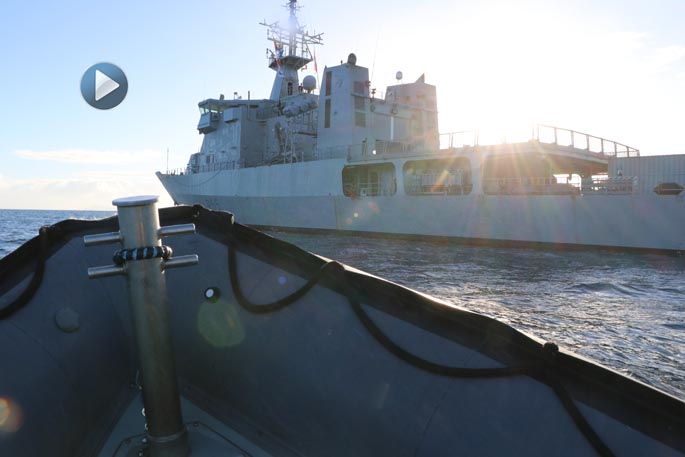 Click the image above to watch the video
The Royal New Zealand Navy ship HMNZS Wellington is in Tauranga this weekend.
SunLive headed out on the water for an exclusive tour of the ship and to talk to crew members about their training and what life is like out at sea.
After boarding a rigid-hulled inflatable boat wearing a life jacket and helmet, we were immersed into the Navy life rather quickly.
The Navy seamen put on a show, travelling at high speeds out of the Tauranga Port, guiding us to the ship in all its glory overlooking Matakana Island and Mount Maunganui.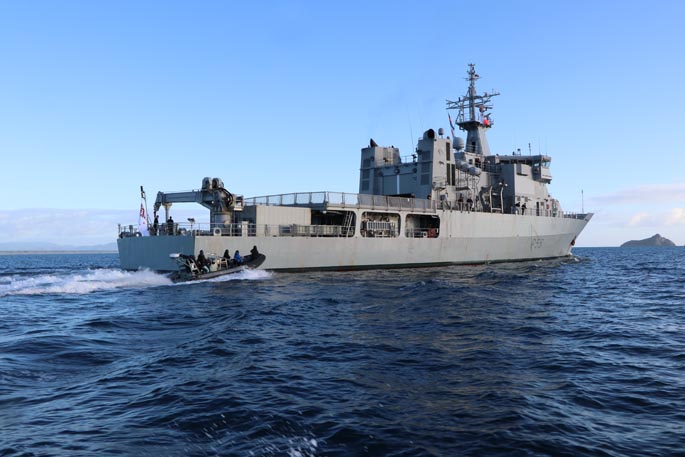 The crew on the ship are in a training period, giving up and coming crew members a chance to learn and be put to the test, as well as going through routine practices for the experienced crew.
The arrival of the HMNZS Wellington into the Port of Tauranga is a special homecoming for Able Marine Technician Huston Jacob, a Mount Maunganui local who attended Tauranga Boys' College.
Huston says travel, meeting new people and a passion for engineering inspired him to join the Navy.
"We monitor all the engines, the ships power, all the machinery throughout the ship."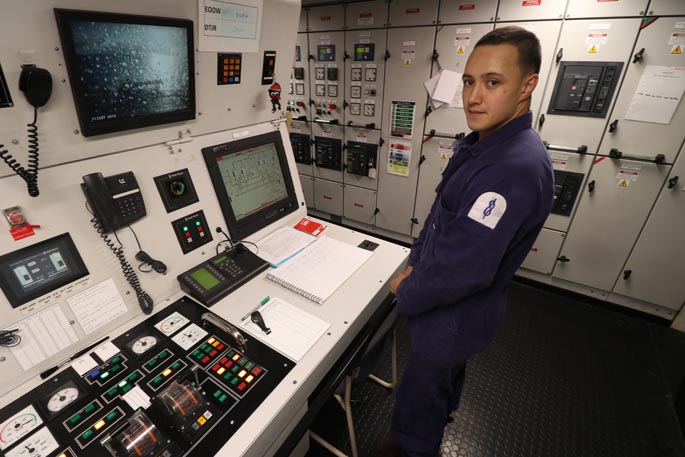 Those out at sea work long hours, therefore they need sufficient energy to keep them on task mentally and physically.
Ivana Yancheshmeh, one of the crew members responsible for catering, works in the galley to prepare meals. She says it is important to feed the crew well as they need to maintain high energy levels.
"I basically prepare all the meals for everyone on board, breakfast lunch and dinner.
"We all had to do a junior catering course, and that's just the basics.
"I love being on Wellington, it's my first ship."
This training mission offers young recruits to learn and immerse themselves into the environment, and Marilyn from Hawke's Bay, says she has enjoyed her time at sea.
"I am still currently under basic branch training as a Communications Warfare Specialist.
"We are just on the ship for a week to know the practical side of our job, so we are really lucky to be on here.
"All the practical things, I love it, it's why I joined."
HMNZS Wellington Captain Tim Hall says he's responsible for all crew members on board the ship.
"I have a great team of people on Wellington who work really hard, from engineering, navigation, right down to the chefs in the kitchen who treat us so well.
"I don't think I've been to Tauranga when it's been terrible, it's fantastic, everyone loves coming to Tauranga and we are happy to be here for the weekend.
"It's going to be great."