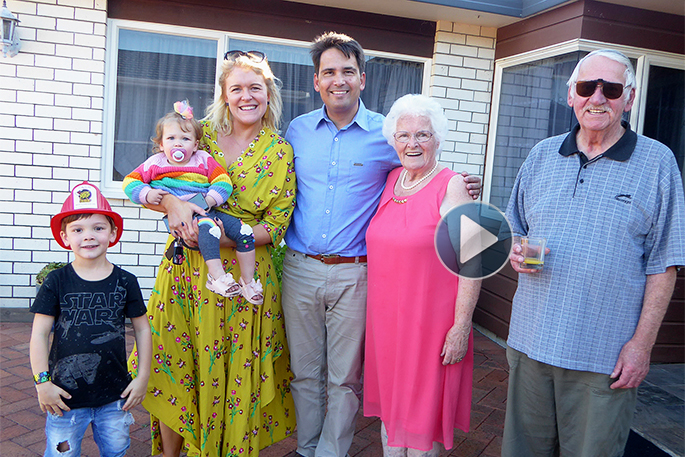 Click the image above to watch the video
It was meant to be a small event at home to help raise funds for Waipuna Hospice, but it snowballed.
Marie and Andrew Duncanson have a house that opens out onto Kiriwai Reserve in Matua. Marie loves to help give her time and resources to support the Waipuna Hospice which helps care for those who are reaching the end of their lives.
As with many people who often think 'what can I do to help?' she looked around at what she and Andy had at hand. A home, a view, a patio, plenty of space. And some great friends and neighbours.
With support from these friends and neighbours and some very generous musicians, she organised an event at home.
"This started with the simple comment when I said 'I think I'll have another fundraiser for the hospice'," says Marie, marvelling at how approximately 70 people turned up on the day.
"There were so many willing to donate that it has sort of snowballed!"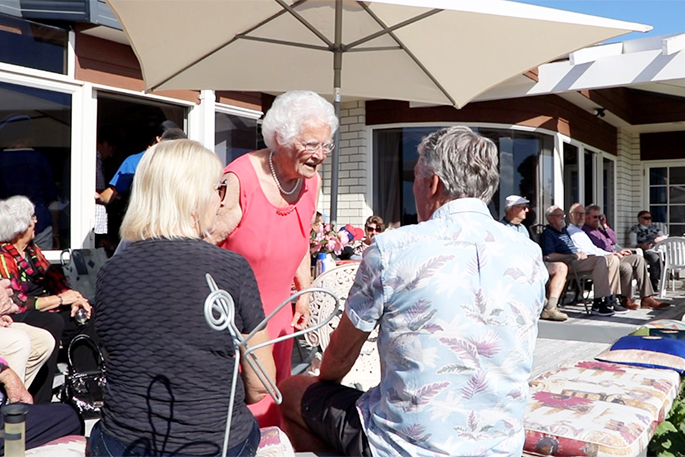 She had known there were going to be quite a few people, so she went and bought 96 rolls. A friend buttered them.
Another friend made magnificent sandwiches.
"It must have taken her nearly four hours," says Marie. "They were really classy in how she presented them. You could put them in a magazine.
"A neighbour made a lot of beautiful savouries. And I made sausage rolls."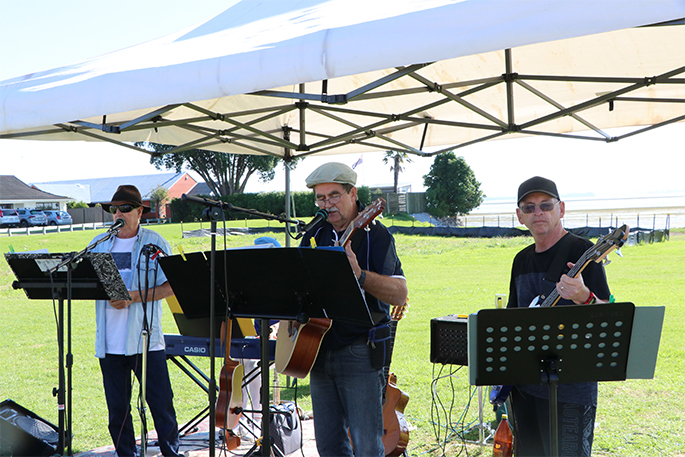 It was a Saturday afternoon, and she decided to invite Simon and Natalie Bridges. They popped along with their son Harry and daughter Jemima after paying a visit to the local Tauranga Fire Station.
Everyone attending the event enjoyed the view from Marie and Andy's patio, relaxing in the sun or under cover. The band Noteworthy had set up under a gazebo on the reserve and were playing some sweet sounds with mouth organ, piano and guitars.
"Noteworthy offered to play for nothing for Waipuna," says Marie. "They're a bit bigger that what I'd usually have. They played all the old favourites. They're a classy band and all good musicians.
"And I have a wonderful piper and drummer who are brothers who came to entertain. I've known them since they were born. They did solo drumming and solo bagpipes, and also played together."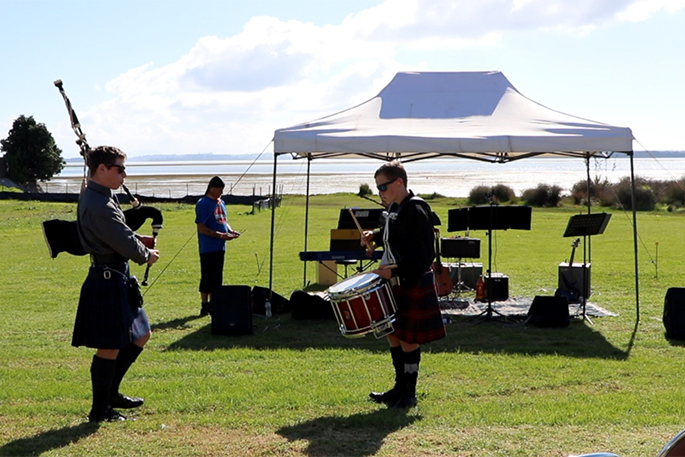 She was rapt that the gathering was blessed with such a fine day of weather.
"I made six large pots of soup. There's five different kinds of soup and wonderful nibbles. Also non-alcoholic drinks. It's a real feast. People are having a lovely meal," says Marie.
She has organised a few small gatherings for the Waipuna Hospice in the past.
"This one just got bigger and bigger. Everyone's happy."
The weather certainly did its part with a blue sky and barely a puff of cloud overhead.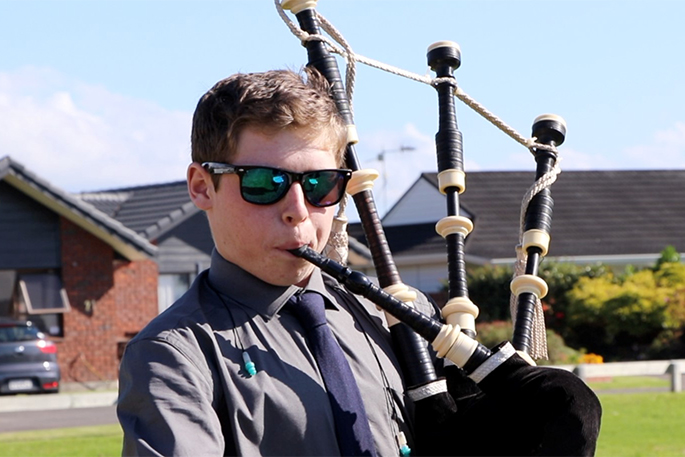 On the day, she left all the gathering of funds and donations to Christine Sadlier, Waipuna's chief fundraising officer, who also attended the event.
"I work in fundraising and marketing with Waipuna Hospice and today I'm at an event day where they are fundraising for us," says Christine.
Waipuna Hospice provides specialist medical care for patients living with a life-limiting illness, and support services for them and their families. The geographical area that Waipuna covers is from Waihi Beach to Paengaroa and while their focus is on Hospice at Home, they have a nine bed Inpatient Unit for short term admissions and a Day Services Clinic.
Christine loves the caring aspect of what Waipuna Hospice is able to provide to the community.
"Waipuna Hospice is close to my heart," says Christine. "It's to look after people to make sure they have a good ending to life, which is what we all face in life."
Although the musicians started setting up much earlier, the guests arrived from 12.30pm and some were still enjoying the atmosphere and day well after 4pm.
"I've never known everyone to be so happy in all my life," says Marie. "The ones who were still there at the end, ended up singing 'Auld Lang Syne' in a circle on the lawn, dancing.
"Some neighbours came back afterwards to see me and we celebrated until after 8pm.
"What was wonderful was the happiness between the people and the beautiful day."