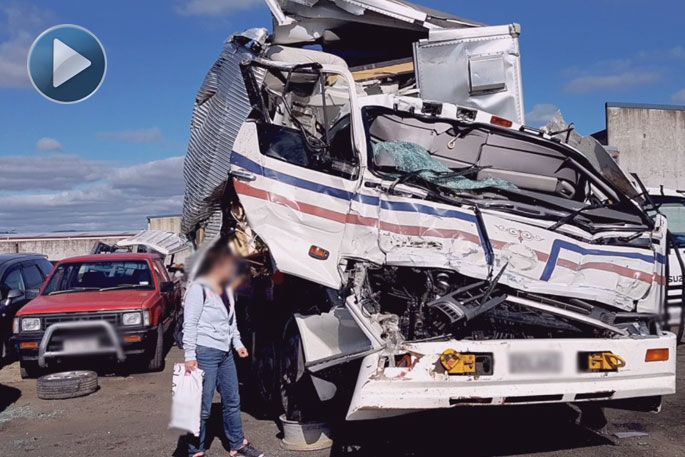 Click the image above to watch the video
"My head was pinned and I could just see his face out the corner of my eye …. I was screaming out to him, screaming out Fred, screaming his name. Hoping for him to answer me."
An emotion-charged 29-year-old Zac Marsh is head in hands as he re-lives 45 minutes of anguish in the mangled cab of a crashed furniture truck minutes out of Tokoroa.
But Fred didn't answer back. "Nothing came, there was no light in his eyes, he was just staring. But he wasn't blinking. And I was covered in blood …. his blood."
Then the man, the mate, breaks down and sobs. The accident was just three weeks ago and both the physical and emotional wounds are still raw.
Fred is Fred August of Tauranga's U-Pak furniture removals. And mate, mentor and boss to Zac Marsh. Fred "Peeke" August died - instantly - in the collision with another truck.
Zac might have survived, but he didn't escape. Fractures to the tibia and fibula - requiring four plates and 37 screws - a shattered ankle and transverse fractures to the L1 and L2 in his spine. And even as he's talking to SunLive, his damaged back spasms and he doubles up and groans in agony.
That's the daily pain of Zac March's 'now'. And he also has graphic recall of his 'before' - that moment at 3.55pm on Thursday April 11.
"There was a massive bang, metal on metal, graunching and crunching. It's weird, but the noise leaves a sour taste. Time slowed down, seemed like an eternity. But of course it would have been crash, bang and done."
The fatal truck crash on State Highway One just south of Tokoroa remains under investigation – "enquiries on-going" police say - so SunLive is constrained about what it can report.
But it's a fact the U-Pak truck was laden with 60 cubic metres of domestic furniture and bound for Havelock North. "It was raining heavily – torrential - and Fred – now there's a careful driver who hadn't had a crash in 16 years in the industry - was driving slower to allow for the weather."
The men ritually spoke to their partners after loading and leaving town. "And then we were just laughing and joking and I was being me, singing to the radio – TLC and Don't Go Chasing Waterfalls." A popular dance song, but driven by tragedy.
"Through the rain I saw a massive blue explosion from a power transformer that had been taken out."
Police are still unravelling the dynamics of the crash between the U-Pak truck and a truck and trailer unit headed in the opposite direction. But the flash signalled the beginning of the end.
"I remember saying 'what the f*** . Fred swerved left and took the full impact of a trailer unit tailgate for me and sending me into the curtainsider. The side of the trailer unit just ploughed straight into the front of our truck and crushed us."
And killed Zac's mate. "Yes, and killed my mate." And that's precisely why Zac March is sharing his story. "Fred August took a hit for me. He's the hero. He steered our truck away from danger for me. No doubt he saved my life. I'll always be thankful."
And it means that Zhaviah Sharni Anahera Marsh will have a father to grow up with when she arrives in this world. Her Mum, Awhi Horn, and Zac's intended bride is 24-weeks-pregnant.
"So when I am being all hormonal and Zac sometimes can't express his feelings and needs and we're bickering through the roof, I tell myself to shut the hell up and be thankful. You're still here Zac. My baby's father is still here because of Fred August."
Even though she doesn't like the name Fred chose for her child. Sharni, short for Sharnika after Fred's little foxy with the sassy attitude. "I've give in on that one," says Awhi. "Sharni is the one we're going for." It's one for Fred.
He's been there from the moment they learned of the pregnancy. "Why don't you do this for baby, or why don't you do THAT for baby." And Fred has also been there for Zac – a young man with a colourful past. For example, the "TM" tattooed on the inside of his forearm is a brand – "TM" or three Ms – Mighty Mongrel Mob. One aspect of Zac – Zac because he hates the name Zacharia – which will finally be erased from his arm, and his life, in time for the wedding.
"Fred taught me a lot of life skills. Not just drinking beer, although he was bloody good at it, but he just wanted me to be the best I could be. Because one day he planned to sell me his business." Fred invested in Zac and now Zac wants to invest in Fred's memory.
When the first responders arrived at the crash scene, all they could see was Zach's hand sticking from the wreckage. "I was letting them know I was in there and still alive. My head was pinned by the A pillar, I was huddled in a tiny ball and only able to move my arm."
And fearful the crash that killed Fred would also kill him.
"The trailer of the other truck was on top of us. And I am thinking that at any given time, this truck's structural integrity is going to give way and that trailer is going to crush my head."
But the jaws-of-life got to him first. And Zac Marsh winces at the thought of those sounds – the sounds of tortured metal. He describes it as sounds of chaos. "The jaws were scrunching up metal about 30 centimetres from my face. A hideous sound when you're trapped in a wreck. Even when you know the jaws are coming for you."
And the sounds continued to torment him. "In hospital an old guy's bed would squeak when he moved. I would wake and freak out every single time."
And during the long dark hours when he's alone with his thoughts and things weigh heavily, Zac struggles for sleep. "Should I have asked for a smoke break in Tokoroa, should I have suggested we stop for lunch. Should I have packed the truck slower."
In other words was there anything he could have done to change being in the wrong place at the wrong time.
"Yes, I blame myself. If I had worked harder loading would we have been further down the road. Every possible scenario to have changed the situation."
And when sleep finally consumes him, he will wake again thinking he is still stuck in the truck. And there is Fred. He will live with that image.