For many, walking up Mauao is a challenge. It's steep, tiring and it can be a mental battle getting to the top.
However, those competing in the More FM Mount Everest Challenge have taken it upon themselves to climb the Mount 38 times in 50 days to raise money for Tauranga Riding for the Disabled (RDA).
Keith Hatwell is one of many who was quick to jump at the opportunity to participate, and jump did he what – Keith completed the monstrous challenge in six days.
"Back in 2015, my five-year-old granddaughter Skyla was diagnosed with DIPG, which is a pediatric brain cancer."
The condition, diffuse intrinsic pontine glioma is an incurable brain tumour with a zero per cent survival rate.
Keith says there are a few kids that were diagnosed at the same time as Skyla who are still hanging on, and he hopes they will be their success stories.
Over the years, Keith and his family have formed a close relationship with Riding for the Disabled.
"Part of Skyla's therapy was to go to Riding for the Disabled. RDA was one of the outlets for Skyla to give her some enjoyment for the time she had left.
"She had an awesome support crew out there. When she passed away in October 2017, she had her funeral at RDA."
Keith says when the opportunity came up to do the challenge, it was a "no brainer".
He is part of "Team Skyla" alongside Skyla's Dad, Aunty and Cousin Max who is almost two-years-old.
"Skyla's dad has a bung knee, Stacey is doing her 38 climbs with Max in a carrier on her back, and then there's me, Poppa, saying hang on, it's going to be too easy doing one a day!"
"My purpose for smashing them out so fast was to create this media storm and do something extraordinary to create awareness, so we can do something special for the RDA."
Keith says the Tauranga RDA staff have been incredible during the challenge.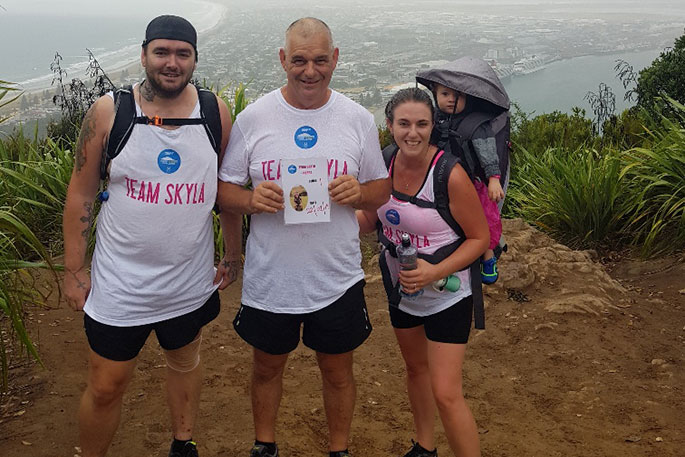 "They are up there with us, day and night doing the climb. They aren't sitting there waiting for all this money to flow in, they're actually out there themselves to fund what they do."
After every climb, members of Team Skyla post a picture at the summit to prove they have completed it.
When asked how he was feeling after the 38 climbs, Keith replied saying "I'm on top of the world."
"I've got this little girl sitting up here (on his shoulder), saying just one more Poppa, don't stop, one more."
"When you get to the top, you think I've achieved something good."
Keith's weekly schedule is based around getting up early to tick off a few climbs, working for nine hours, then he's back hiking up and down the mount.
Despite finishing the challenge early, Keith is continuing the climbs, aiming to complete 150-200 trips up and down Mauao.
Keith emphasises that it doesn't matter who people choose to donate to as all of the funds are going to Riding for the Disabled.
"There are 150 teams that have registered. There are a huge number of people on the Givealittle page who they can donate to, it doesn't have to be Team Skyla.
"Let the community of Tauranga get behind this. It's an awesome facility at RDA, and as we found out, you never know when you might need to use it.
"To have them there is just awesome."
To donate to TEAM SKYLA click here.
Donations can also be made to the More FM Mount Everest Challenge Givealittle page.