The iconic Kiwi gumboot is taking one step forward thanks to Mr G's latest art piece.
Graham Hoete, more commonly known as Mr G, is auctioning off his gumboot artwork called Kauri Kamuputu aka the Million Dollar Gumboot to raise money for Mike King's mental health group I AM HOPE and its Gumboot Up campaign.
The Papamoa-based artist says he's been working on the project for five or six months and is now ready to show it to the public at the Tauranga Art Gallery for two weeks.
He announced the arrival of the million dollar gumboot on his Facebook Page yesterday with a photo of two police officers standing on either side.
"The cops were just walking past and we decided to grab them and bring them in for the photo," he says. "It wasn't planned."
The idea of the gumboot transpired from years of people coming to where Mr G was working at the time and asking him to sign their gumboot.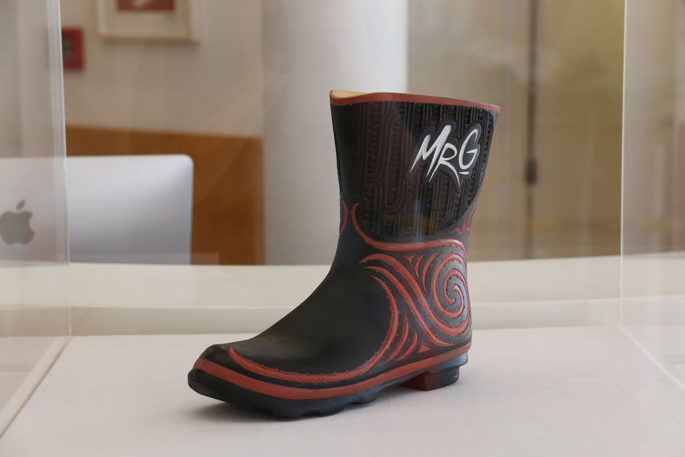 "It came together organically really. I've signed letter boxes, skateboards and walkers, but the gumboot for some reason kind of just took off- I've easily signed more than 500."
He says from there he always had plans to do something "big and bold" revolving around the gumboot.
The Million Dollar Gumboot is made from Kauri wood and is hand carved with koru patterns as well as Mr G's signature.
"It's true to Aotearoa New Zealand- being Maori it's the visual language of our story and I want it to tell my story and our story.
"It's just jammed with New Zealand goodness."
From the response that he has had since the project was announced, Mr G says he is looking into encouraging the public to donate money towards the cause instead of just one person bidding on the gumboot.
"I've had mad love from Kiwi's all over basically just saying that they're not a millionaire, but they do want to donate and contribute to the cause."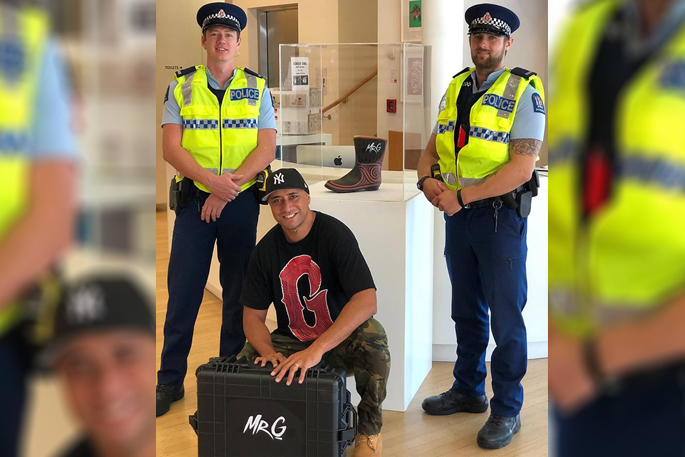 Two police officers were convinced to take a little break to get the perfect promotional picture. Photo: Mr G's Facebook Page.
"We are looking at doing up a page where people can contribute a dollar upwards the cause, and I reckon we will get it to $1 million when we open it up to the public."
In the past Mr G has been public about his struggles with mental health, and has used his talents to bring hope to people who are going through what he has gone through. He has also supported many Kiwis and organisations who do work in the suicide prevention/mental health spheres.
"Five years ago I went through a suicidal point in my own life so my passion and heart towards this is real," he says.
"If I can help as many people as I can with my art that would be great."
The artwork is meant to be auctioned live on TVNZ's Seven Sharp on April 5, but Mr G alludes that this may not be the case.
"We're hoping it's going to another place that I can't really disclose now, but it's really cool- Mike King is sorting it all out."