Two Tauranga Olympians are about to head to Abu Dhabi to represent New Zealand at the 2019 Special Olympics.
The New Zealand delegation includes 38 athletes with intellectual disabilities, five 'Unified Partners' (athletes without an intellectual disability), and 21 coaches, managers and support staff.
The New Zealand athletes will compete in swimming, athletics, bocce, equestrian, basketball, bowling, powerlifting and football.
Tauranga's Morgan Penny and Kelly Nathan have been selected to compete at the Olympics, with Morgan competing in basketball and Kelly competing in swimming.
Tauranga Special Olympics Swimming co-ordinator Pat Wakelin says Tauranga is really lucky to have two athletes chosen.
To get chosen to represent New Zealand, Pat says athletes had to be competing in competitions around the country in the 3-4 years leading up to the Olympics.
"In November 2017, we held the national competition in Wellington, and from there athletes had to have won a medal in order to be up for nomination."
Pat says the Olympics are not just a little event. More than 7000 athletes will be competing in Abu Dhabi, with athletes coming from 170 countries.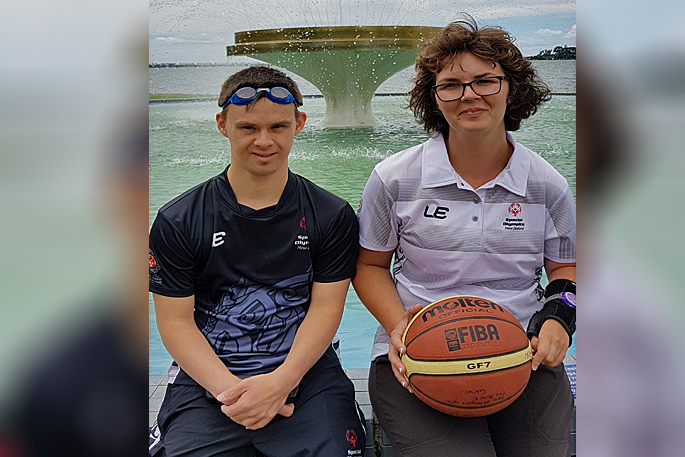 This is the first time the event has been held in the Middle East North Africa region and is the largest single event ever held in the United Arab Emirates.
The Special Olympics is all about people who have an intellectual disability rather than physical, says Pat.
"But there are now athletes that have been accepted that have both."
Both Kelly and Morgan are training hard in the lead up to their departure on March 4. Kelly is currently training three times a week and has a private coach taking him.
Kelly also recently competed in the Ocean Swim a couple of weekends ago and had a couple of other athletes swim with him for support.
"He did really well," says Pat. "He finished the 500m swim in around 11 minutes. It was also his first time swimming in the ocean, in water where he can't touch the bottom."
Morgan is currently training with the Special Olympics on a twice weekly basis.
"It is a lot harder for her of course because she is going into a team sport rather than an individual one.
"So they will probably do some intense training once the team gets to Abu Dhabi together."
All of the New Zealand athletes have had three training camps. They got flown to a certain destination and had training with their team and the coach that is going with them. It was also an opportunity for team members to meet each other so they aren't strangers when they arrive in Abu Dhabi.
Pat says the biggest problem at the moment is funding.
"It costs $12,500 for each athlete to attend, and each athlete has to make a personal contribution of $2500, in which they can fundraise for anyway they would like.
"The club then undertakes to find the other $20,000. This year we have found that extremely difficult.
"It is the first time that we have come up against having funding applications turned down. There is not the same amount of funds available anymore."
The Tauranga Special Olympics Club have set up a Give-a-Little page for anyone who wishes to donate, in order to allow the athletes to compete in Abu Dhabi.
New Zealand Special Olympians will be competing in Abu Dhabi from March 14 to March 21 2019.