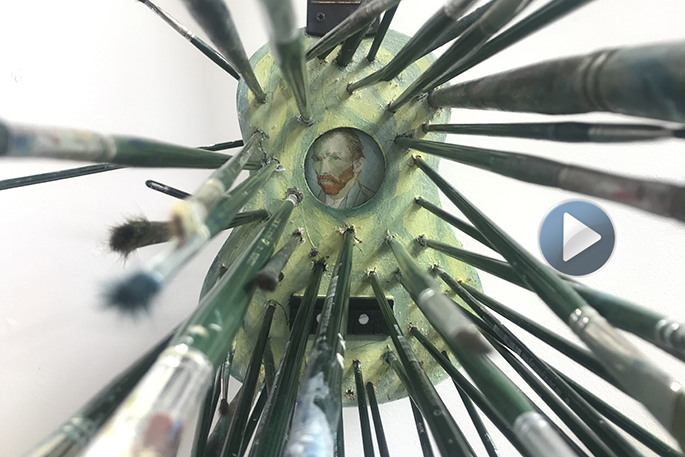 Click the image above to watch the video
This week has been a full one for the Bay of Plenty art community with two new galleries launching and two others having new exhibition openings.
The Atrium Gallery in Whakamarama opened its doors to the public for the first time this week.
The Black Sheep Bar and Grill has long been a patron of local artists and artisans with their sponsorship and continued support of the Affordable Art and Artisan Fair. Now they have taken their support to the next level and created a new space for local creative people to share their work. Atrium Gallery is a place to buy and sell local art and artisan products as well a space for workshops, concerts, and other creative events.
As well as receiving sponsorship from The Black Sheep Bar & Grill, the gallery opening was also sponsored by Susan Brauchli, Guthrie Bowron, Leveret Estate Winery & Cellar Door, Steve Bird Wines Affordable Art & Artisan Fair and Wheelco.
Western Bay of Plenty District Council Mayor Garry Webber attended the opening launch with his wife Carole. Garry is delighted to see another gallery open in the Western Bay, and the support and opportunity to exhibit given to artists in the area.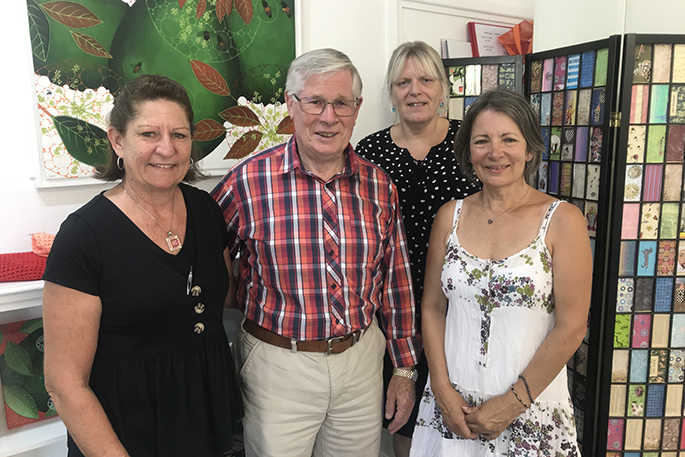 Peta Clavis from Black Sheep, Western Bay of Plenty District Council Mayor Garry Webber, Deb Bowden and Birgitt Shannon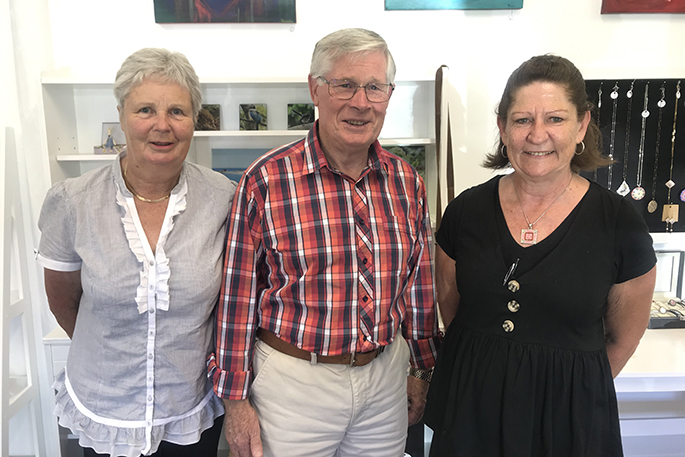 Carole Webber, Western Bay of Plenty District Council Mayor Garry Webber, and Peta Clavis from Black Sheep
The gallery features, sculpture, paintings, jewellery, wall hangings, photography and cushions.
The exhibition also includes a solo exhibition by Birgitt Shannon. Birgitt was runner-up in the 2018 Trustpower/TSA Supreme Award, and recently selected as a finalist for the 2019 Molly Morpeth Canaday Awards. She is also the event coordinator for the monthly Affordable Art & Artisan Fair held at the Black Sheep. Her paintings hang in private collections in Australia, NZ and England, as well as one that is hanging in a Research Centre at The Museum of Natural History in Los Angeles. She has been involved in many solo and group exhibitions since arriving in NZ in 2013, including painting the cow outside the Morrinsville Museum for the Morrinsville Herd of Cows Street Art Project.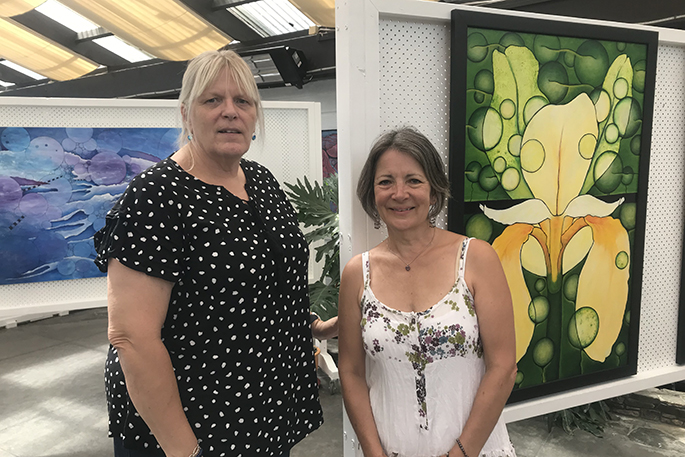 Deb Bowden and Birgitt Shannon with Birgitt's exhibition
The Atrium Gallery at 21 Plummers Point Rd, Whakamarama, will be open from Wednesday to Sunday each week from 11am to 5pm.
At the Historic Village, the Incubator Gallery launched 'The Art of Ukulele', a painted ukulele exhibition, with over 80 painted ukuleles on display.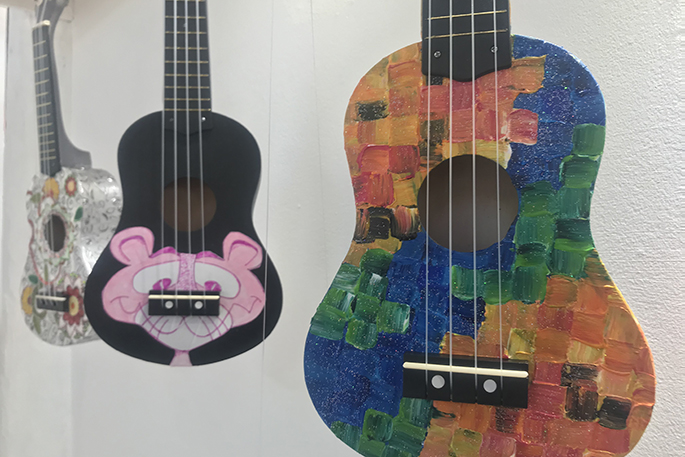 Painted ukuleles
"We have a ukulele group that meets every Monday," says Simone Anderson, director of The Incubator Creative Hub. "I saw this thing on Instagram for these blank ukuleles for sale.
"I went and researched it, and then bought the whole lot in bulk. We put out a registration of interest to the public, because I had to order them, so I had to get people to commit before I ordered them. I expected we might get 40 or 50 people interested, but we had to order 85 ukuleles."
The Incubator Creative Hub team put out the call for registrations of interest in December, allowing two months for the artists to complete their designs.
Across the village road, at the The People's gallery – Toi ka rere, the Antimatter 2019 exhibition launched at the same time.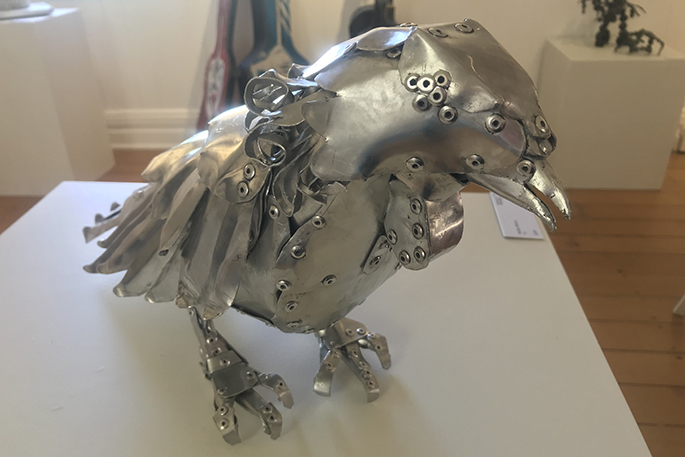 'Tui' by Harley Moore at the Antimatter 2019 exhibition
This popular exhibition has been running for the past four years, and has again attracted imaginative entries made from recycled and upcycled materials, representing an environmental statement. The exhibition aligns with and celebrates NZ's sustainable backyards month held every March.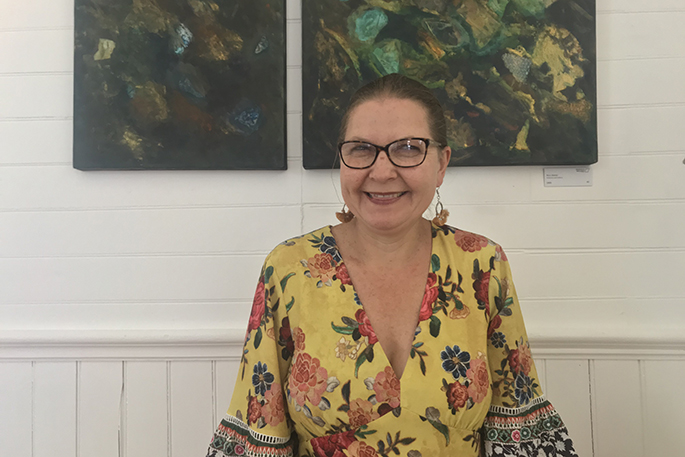 Nicci Baxter in front of her work 'Pollution and Politics' at the Antimatter 2019 exhibition
Mandy Williams Gallery and Studio
Also opening this week at Tauranga's Historic Village is the new studio and gallery of contemporary NZ artist Mandy Williams. Mandy is well-known for her Giclee art prints, using archival paper, framed using plantation grown timbers. Her often commissioned work captures the freedom and joy of being a child with bold vibrant colours showing a whimsical energy, her figures often painted with large eyes sparkling with innocence and anticipation. Her "Capturing your family on canvas' works are in high demand. Mandy has been exhibiting in Auckland, Rotorua, Hamilton and the Bay of Plenty since 2008.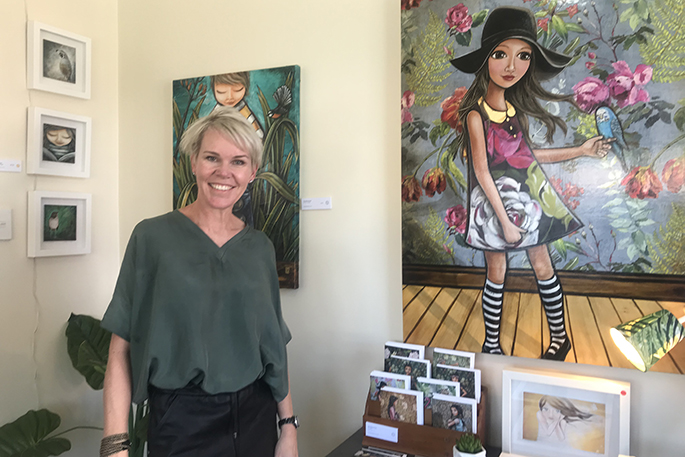 Mandy Williams
These are just four of the galleries showing local artists work, so if you're looking for something to do, go check them out!