New Zealand representative Levi Stewart (Waihi Bch) dominated the top seeds during the opening rounds of the Barrett Homes Surf Open held at Papamoa Beach on Saturday.

Stewart was joined by Ella Williams (WGM) in the Open Women's Division, Williams making quick work of her first round before retreating from the blazing sun for the remainder of the day.

Both surfers will be back in action on Sunday morning when the Women's Semifinals and Men's Quarterfinals will recommence from 9.30am.

Day One dawned with a solid 1.0m swell and offshore winds making the line-up clean. The wind rotated between offshore and cross-shore all day with the waves remaining highly surfable.

Stewart started off his campaign with a 15.75 point heat total and comprehensive win to advance to the Quarterfinals.

"I opted to surf further up the beach and that first right-hander came in and bowled up allowing me to get two good turns away for an eight point ride and that set up the rest of the heat" says a happy Stewart.

The powerful natural-foot surfer had a stellar 2018 making the final of the National Championships and then going on to represent Zealand at the ISA World Surfing Games in Japan. He is now looking to make up for an early loss at this year's National Champs in a bid to climb up the national rankings in the early stages of the season.

Stewart will surf his quarterfinal against one of several surfers returning to the competitive arena in Buck Woods (Mnt). Woods progressed through two heats on day one and along with Stewart, is joined by the Barrett Homes Surf Open top seed, Taranaki's Jarred Hancox and Jack Lee (Whakatane).

Lee is one of several junior surfers that advanced through to the quarterfinals after day one. The juniors included 14-year-old Finn Vette (Gis), Caleb Cutmore (Rag) and Jack Hinton (Mnt) who will all step up to the challenge of competing against Zealand's best surfers on the final day of the event.

Gisborne stalwart Maz Quinn took a while to find his feet during his comeback heat, alternating between second and third, before posting a 6.5 and 5.85 on his last two rides to advance in first place alongside Zac Curle (Waihi Beach).

Quinn set himself up with what looks like the strongest quarterfinal match up on paper featuring fellow senior Leon Santorik (Mnt), top junior surfer Caleb Cutmore (Rag) and Piha surfer Dune Kennings.

Ella Williams (WGM) made a successful comeback to the competitive arena advancing through to the semifinal and setting herself up with a showdown against 2018 National Champion Raiha Ensor (Mnt) and the youngest surfer in the draw, 13-year-old Anna Brock (Mnt).

Williams posted a 14.65 point heat total in her first matchup easily advancing out of her heat alongside Whangarei surfer Billie Scott.

Current National Champion Aimee Brown (Grt Barrier) had a scare in the first round, narrowly advancing out of her heat in second place behind Piha surfer Gabrielle Paul. Paul finished with a 10 point heat total out of a possible 20 but it was Brown that beat her junior counterpart Georgia Wederell (Mnt) by a mere 0.10 to advance.

The first two rounds of the Men's Longboard Division were contested late in the afternoon with defending champion Thomas Kibblewhite looking strong along with Natt Fitt (Auck), Paul Culpan (Auck) and Hugh Ritchie (Chch) who won their first heats.

The 2019 edition of the Barrett Homes Open includes Open Men's and Women's Divisions and Men's and Women's Longboard. Participants compete for over $8,000 in prize money with Sunday's finals action set to go to air live from 10am – 2pm on Sky Sport 2.

The Barrett Homes Surf Open marks the second of seven events on the Zealand Surf Series and New Zealand Longboard Tour.

Papamoa based Barrett Homes has a proud history of supporting initiatives in the area and making things happen for the community. This is the third year backing the surfing event which features a decked out VIP area for guests and participants as well as food vendors and plenty of viewing spaces for friends, family and fans. Event partners, The Island, will be hosting everyone from Friday evening to Sunday afternoon outside competition times.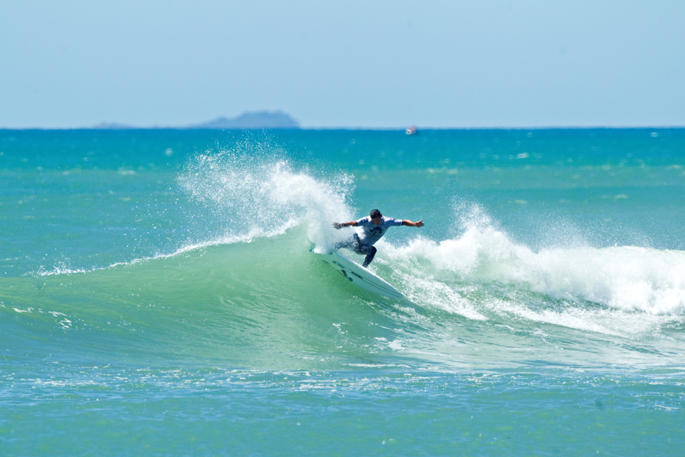 Maz Quinn. Image courtesy of Cory / NZ Surfing Magazine.
Action will take place at the Pony Club Car Park just north of the Papamoa Domain from 8am – 3pm on Sunday.

See below for results from day one of the Barrett Home Surf Open held at Papamoa Beach, Mount Maunganui.

Open Men's Division Round 1
Heat 1
Jaco Kapp (Mnt), 10.5, 1, Cameron Hankins (Waihi Bch), 9.4, 2, Hone Douglas (Ohope), 9.3, 3, Johnny Hicks (Gis), N/S, 0
Heat 2
Nick White (Mnt), 10.5, 1, Sam Courtney (Chch), 8.2, 2, Callum Mepsted (Waihi Bch), 7.7, 3, Daniel Tingey (Mnt), 7.6, 4
Heat 3
Buck Woods (Gis), 12.5, 1, Erin Saunders (Mnt), 8.95, 2, Reef Newdick (Mnt), 7.75, 3, Jamie Andrews (Tara), 7.35, 4
Heat 4
Jack Hinton (Mnt), 11.5, 1, Nick Dunne (Tara), 10.25, 2, Jacob Saunders (Mnt), 7.7, 3, Jono Magson (Mnt), 6.5, 4
Heat 5
Tyler Anderson (Tara), 15.65, 1, Zac Curle (Waihi Beach), 11.9, 2, Paul Halford (Mnt), 5, 3, Darren Kiwi (Mnt), 4.1, 4
Heat 6
Thomas Carter (Waihi Bch), 12.5, 1, William Cooper (Mnt), 11.9, 2, Lance Robison (Mnt), 11.65, 3, Hugh Ritchie (ChCh), 8.2, 4
Heat 7
Alex Dive (Mnt), 14, 1, Leon Santorik (Mnt), 13.9, 2, Rhys Poulton (Mnt), 10.15, 3, Cale Tolley (Mnt), 4.43, 4
Heat 8
Matt-Lewis Hewitt (Mnt), 14.8, 1, Reuben Woods (Mnt), 11.2, 2, Ayrton Yarrell (Waihi Bch), 6.75, 3, Mitchell Dalley (Mnt), 5.55, 4

Open Men's Division Round 2
Heat 1
Levi Stewart (Waihi Bch), 15.75, 1, Callum Chuter (Mnt), 10.25, 2, Sam Courtney (Chch), 10.05, 3, Jaco Kapp (Mnt), 8.45, 4
Heat 2
Jack Lee (Whaka), 13.25, 1, Nick White (Mnt), 12.8, 2, Jay Piper - Healion (Whiti), 9.35, 3, Cameron Hankins (Waihi Bch), 6.2, 4
Heat 3
Finn Vette (Gis), 12.7, 1, Buck Woods (Gis), 11.9, 2, Daniel Farr (Tara), 11.25, 3, Nick Dunne (Tara), 5.75, 4
Heat 4
Jack Hinton (Mnt), 10.4, 1, Jarred Hancox (Tara), 8.25, 2, Erin Saunders (Mnt), 6.45, 3, Chris Malone (Gis), Injured, 0
Heat 5
Caleb Cutmore (Ham), 12.5, 1, Matt McCann (Mnt), 8.9, 2, William Cooper (Mnt), 8.9, 3, Tyler Anderson (Tara), 8.3, 4
Heat 6
Maz Quinn (Gis), 12.4, 1, Zac Curle (Waihi Beach), 11.9, 2, Zen Wallis (Piha), 11.15, 3, Thomas Carter (Waihi Bch), 6.15, 4
Heat 7
Alex Dive (Mnt), 12.9, 1, Dune Kennings (Whmata), 12.4, 2, Reuben Woods (Mnt), 11.65, 3, Paul Moretti (Nrthlnd), 10.8, 4
Heat 8
Taylor Hutchison (Rag), 9.7, 1, Leon Santorik (Mnt), 9.65, 2, Shane Kraus (Piha), 8.65, 3, Matt-Lewis Hewitt (Mnt), 7.25, 4

Open Women's Round 1
Heat 1
Ella Williams (Whmata), 14.65, 1, Billie Scott (Whangarei), 7.85, 2, Natasha Gouldsbury (Levin), 7.85, 3, Liv Haysom (Piha), 4, 4
Heat 2
Gabrielle Paul (Piha), 10, 1, Aimee Brown (GB), 8.3, 2, Georgia Wederell (Chch), 8.2, 3, Demi-Jade Hewitt (Mnt), 1.9, 4
Heat 3
Raiha Ensor (Mnt), 11.4, 1, Anna Brock (Mnt), 7.6, 2, Lily McDonald (Te Aroha), 4.2, 3
Tia Ngarimu (Whiti), 2.85, 4