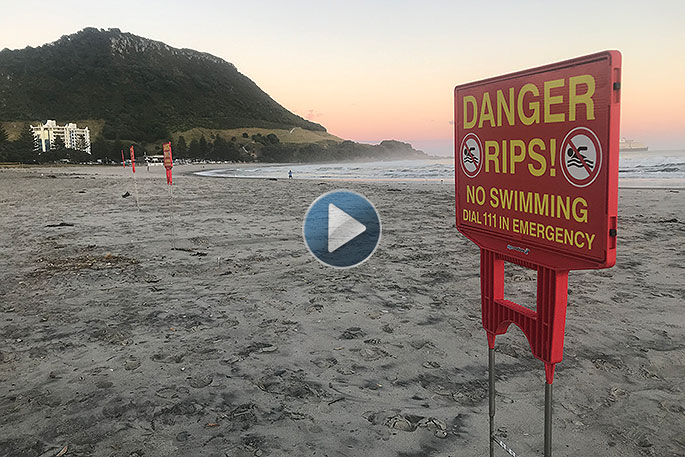 Click the image above to watch the video
People are being warned not to swim at Mount Main Beach as large swells continue to batter the east coast of New Zealand.
The large swells are being caused by a tropical cyclone out in the North Eastern Pacific.
NLSNZ National Lifesaving manager Allan Mundy says a tropical cyclone or two deep lows near the Pacific Islands are causing large swells of up to three to four metres that are hitting the eastern coastline.
He says Bay of Plenty will be mainly affected for the rest of this week, followed by Gisborne and Hawke's Bay later in the week, as the lows move towards the Southern Ocean.
Allan urges that people should be very vigilant when selecting a beach to swim at.
WeatherWatch.co.nz says it's stormy north of New Zealand with at least four low pressure systems, one of which was a tropical cyclone briefly over the weekend (named Neil) and two more storms which may reach cyclone status in the days ahead too.
"But this isn't so straight forward because these lows are likely to merge together to create one big area of low pressure - it may be so large it covers an area roughly the size of Australia, directly north of New Zealand," says WeatherWatch.co.nz
"That may sound very intimidating, when we know what small tropical lows can do, but merging two lows usually means the energy gets spread so far and thin that the new low itself fails to reach 'storm' category."
So what can New Zealand expect?
This week nothing too dramatic with high pressure mostly covering the country with light winds and mainly dry skies - just a couple days of rain or showers on the West Coast this week.
But by Friday this tropical low to the north may send rain down to very dry parts of northern NZ- welcome news but not yet 100 per cent locked in.
"Over the weekend, the large tropical low may sluggishly drop southwards to cover the upper North Island - but there is a very fine line between tropical rain to the north and completely bone dry over NZ.
"It may also run in to the belt of high pressure circling around the NZ part of the globe, which could increase the easterlies and even see gales in some places.
"For those trying to lock in weekend plans in northern New Zealand it will be a matter of "watch this space" as we fine tune that boundary for heavy rain and completely/mostly dry."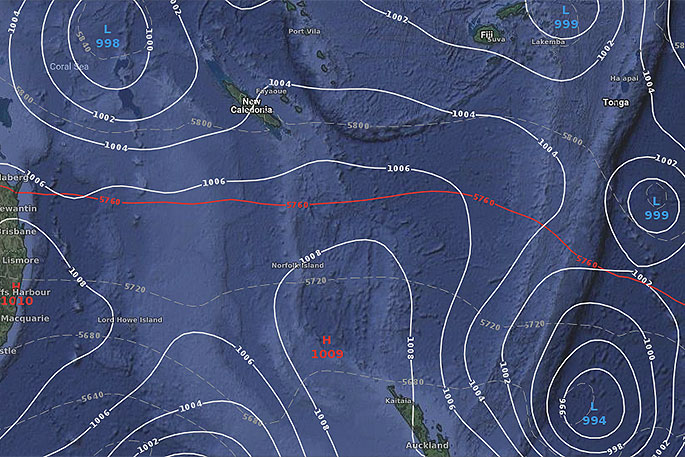 ABOVE - Today's air pressure map shows four main lows influencing the weather in the South West Pacific
BELOW: This Friday/Saturday one large low will lie north of NZ, almost the same size as Australia.