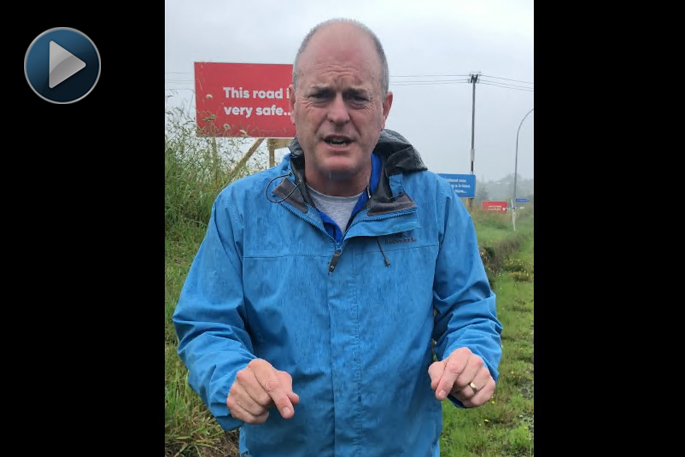 Click the image above to watch the video
Bay of Plenty MP Todd Muller has erected a billboard sequence on State Highway 2. He completed installing the trio of billboards on Christmas Eve, in an attempt to remind everyone driving past that a National Government would have started construction on the proposed Tauranga Northern Link.
"It's unacceptable that it has been cancelled," says Todd, who is determined to add his weight to the 'Fix the Bloody Road' campaign.
The first of the three signs reads "This road isn't very safe."
The second reads "National was building a 4-lane highway here."
The third sign completes the message: "But Labour cancelled it."
"I'm getting increasingly disappointed at the Government's deliberate misleading information on this road," says Todd.
"The facts are clear. The first stage of the Tauranga Northern Link, with seven kilometres of a four-lane bypass of Te Puna was budgeted, with tenders underway.
"This government has stopped it, now to be a replaced by a two-lane road which has no start date.
"Continuing the four-lane through to Katikati was an election promise, and based on our track record on the Tauranga Eastern Link, the community can be assured it would have been built.
"It's all about priorities. Our priority is to build roads once and build them right. Theirs' is new sticks and wires in poor roads and calling them safe."
The red and blue signs, in a paddock opposite Te Karaka Drive can be read from both directions.