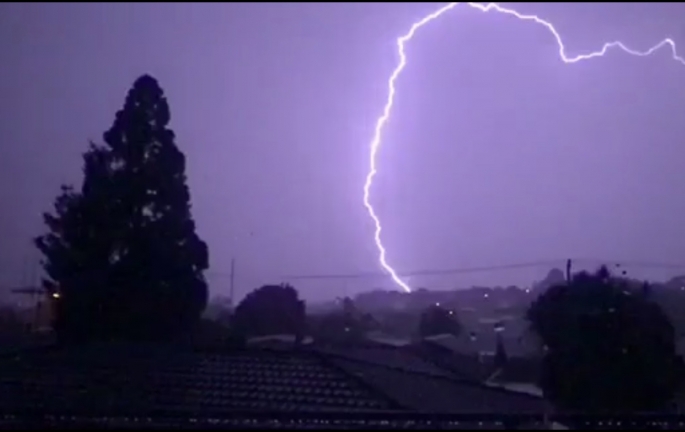 Click the image above to watch the video
Lightning lit up the night sky across the Bay of Plenty on Friday evening.
The thunderstorm struck about 9.30pm with thunder still rolling around the sky after midnight.
In Bethlehem and Brookfield the thunder and lightning was followed by rain, with a light breeze.
Savannah Sandlant watched and filmed the storm from her Brookfield home.
"It was going crazy," says Savannah. "After the second one all the streetlights went out and turned back on about 10 seconds later."
Across the harbour at Mount Maunganui, the thunder was accompanied with strong gusts of wind.
Kaden Oliver was with a mate in Pilot Bay when the lightning and thunder struck.
"There's lots of wind!" says Kaden. "It's insane. The seas are rough down here. Not much rain but the wind is making it heavy.
"Absolutely crazy. Thunder is shaking the car and ground too."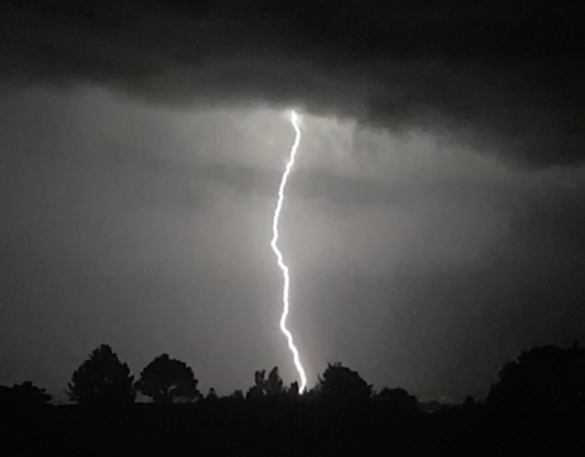 Gemma Welten captured this photo of a bolt of lightning in Papamoa
MetService issued a thunderstorm outlook earlier in the day for most parts of New Zealand. The combination of a warm humid day and generally light winds causes daytime cloud buildups to produce scattered heavy showers and thunderstorms.
A weak northeasterly flow will cover the North Island on Saturday morning, with daytime cloud buildups again producing scattered afternoon and evening thunderstorms about the northern and central North Island.
There is a low risk a few of the thunderstorms could develop over the northern part of the North Island and also about Tongariro National Park from late morning, but the main thunderstorm risk is after midday.
If any thunderstorms do develop on Saturday, they will be accompanied by localised heavy rain.
No other thunderstorms or significant convection is expected over New Zealand during the morning.
Over 14200 lightning strikes have been recorded so far today by the Transpower Network.
The Ministry of Civil Defence and Emergency Management advises that as storms approach people should:
- Take shelter, preferably indoors away from windows
- Avoid sheltering under trees, if outside
- Move cars under cover or away from trees
- Secure any loose objects around your property
- Be ready to slow down or stop, if driving.
During and after the storm, also:
- Beware of fallen trees and power lines
- Avoid streams and drains because of the risk of being swept away in flash flooding.