Drivers spent less on fuel in November as pump prices eased off record highs, Stats NZ says today.

The biggest monthly drop in fuel spending in a decade coincided with people spending more at department stores, bars, cafés, and restaurants.

This meant core retail spending (excluding fuel, and vehicles) rose modestly, despite fuel driving the fall in total retail spending (down 0.4 percent) in November 2018 (when seasonally adjusted).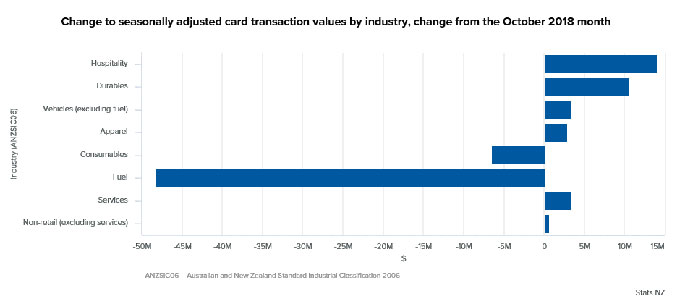 Card spending on fuel was down 7.2 percent when compared with October 2018.

"Spending on fuel was $625 million, the lowest monthly total since October 2017," retail statistics manager Sue Chapman said.

"During November, average fuel prices had dropped around 20 cents a litre. This made pump prices the lowest they had been since October 2017."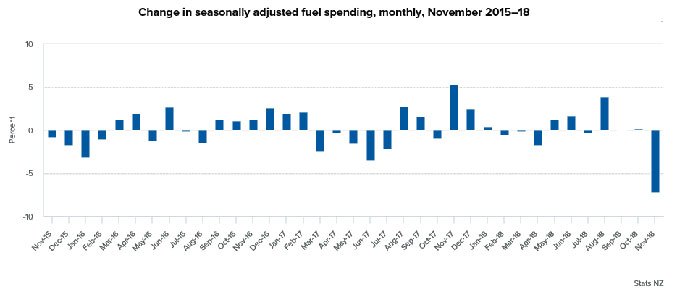 Spending rose in four of the retail industries in November 2018. The largest fall was the fuel industry, down $48 million (7.2 percent). This was the most it had fallen since November 2008, and the second largest fall since the series began.

The largest rises came from the hospitality, and durables industries, up $14 million (1.3 percent) and $11 million (0.8 percent) respectively. The durables industry includes furniture, hardware, and appliance retailing.

Core retail spending (which excludes the vehicle-related industries) rose 0.5 percent in November, after a flat October.

Actual retail spending using electronic cards was $5.7 billion in November 2018, up $252 million (4.6 percent) from November 2017.

Values are only available at the national level and are not adjusted for price changes.