Two years ago, 11-year-old Myesha Wilson's life story changed forever when her mother Kat died from cancer at the Waipuna Hospice in Tauranga.
In an art workshop hosted by Waipuna Hospice, Myesha completed a drawing that has been selected as the hero design for 15,000 baubles that are on sale at Farmers stores nationwide for Christmas.
Myesha and her family are proud to remember their mother and help raise funds during hospices largest annual fundraising campaign with Farmers.
Myesha and her older brother Riley became involved with play therapy services at hospice during their Mum's illness. Their father Craig credits hospice with getting the family through such a difficult time.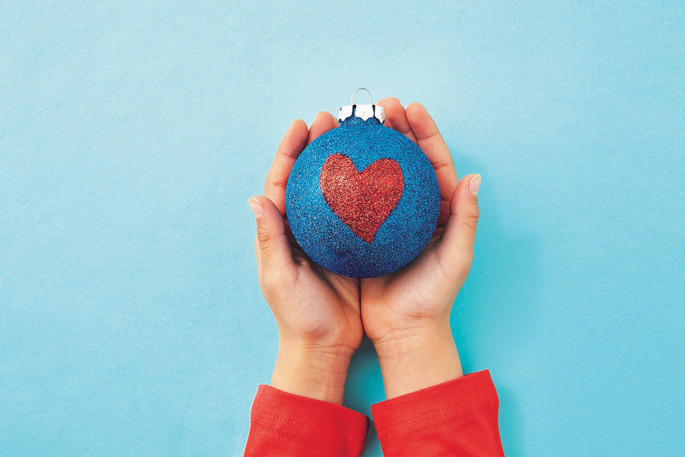 The Christmas Bauble that Myesha Wilson designed with what a Kiwi Christmas means to her. Image Supplied.
During a 2017 art workshop at Waipuna Hospice in Tauranga, children were asked to draw what a Kiwi Christmas meant to them.
Many drew Christmas trees, decorations and presents. Amongst the drawings, Myesha, who was then nine years old, stood out for her picture of a heart.
"My Kiwi Christmas is a heart because it's not about the presents, it is about spending time with your family," says Myesha.
Myesha, Riley and their dad Craig still maintain a close connection with Waipuna, working with the counselling and family support team.
This ongoing support is a common part of hospice services as care for family and whanau both before and after the death of their loved one is an important focus.
Waipuna Hospice provide services and support at no cost to people like Myesha and her family. Waipuna Hospice is not funded by the Goverment, while some of their services are contracted by the District Health Board, they still need to raise $3.7 million in the coming financial year to meet the shortfall in their operating costs.
One hundred per cent of the $10 purchase price of the Farmers Christmas Bauble is donated to each store's closest hospice service, showing Farmers support for local communities' right throughout Aotearoa.