Tauranga Organ and Keyboard Society has marked 40 years of music, fun and entertainment with a special function at Carmel Country Estate at Ohauiti.
For some the occasion was celebrated by playing the piano, organ or bagpipes, and for others, it was a matter of simply just basking in the music.
The event has brought together a variety of musicians, one of whom joined the society 40 years ago and still plays regularly at its monthly meetings. Many others in attendance have also had several decades of involvement in the society.
TOKS president June Ferguson says the society is still as strongly supported as it was on day one.
"Even today we still have a band of faithful pianists, organists and supporters, learners and experienced musicians who gather regularly to share their talents."
One of these faithful supporters includes the society's only life member Len Hockly, who attended on the night.
Len was once a well-known sheep shearer in his earlier years, arriving in Tauranga in 1955. He eventually bought Meyers Music Centre and for many years played the Wurlitzer pipe organ in the Town Hall.
"Even today, in his 80s, he still plays at various functions in and around Tauranga," says June.
June says the Society has been the face of many changes over the years, including a number of name changes.
"It was originally called 'The Home Organ Society of Tauranga' which resulted from interest in the Wurlitzer pipe organ. At that stage was housed in the Tauranga Town Hall.
"The organ had been gifted to the people of Tauranga by the 20,000 Club but was seldom played due to the complexity of the theatre organ, the need for advice on the installation and the maintenance required.
"In 1987 the organ was removed to its new home at Baycourt due to the impending demolition of the Town Hall, but with the development of more sophisticated digital organs and keyboards replacing the old valve models, club members were happier playing with rhythms which the Wurlitzer didn't have."
She says in later years the change to the society's current name was decided upon as it was more befitting to the type of instruments played by its members.
"Hence it came known by its abbreviation TOKS or the Tauranga Organ and Keyboard Society."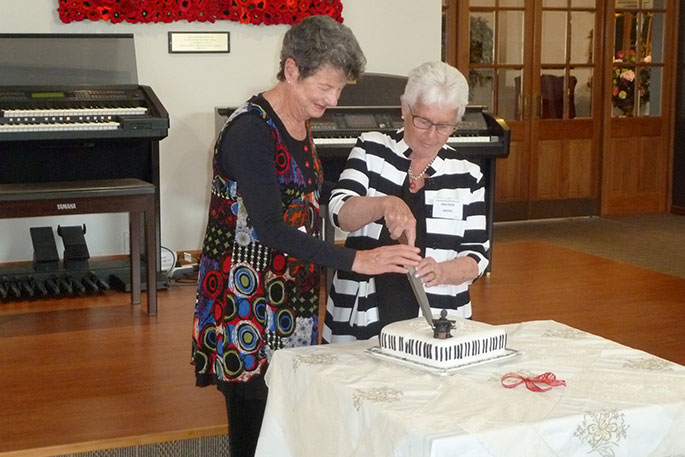 Colleen Gunn and Heather Akers.
The Society meets on the first Sunday of each month except January at 1.30pm at the Carmel Country Estate, Ohauiti and everybody is welcome to attend.
There is a small admission fee for visitors with afternoon tea supplied.