It was perhaps one of those nights for Clayton McMillan when you wonder why you bothered to become a sports coach.
The Bay of Plenty Steamers boss could be forgiven for thinking he should have taken a comparatively safe, stress-free job – as a knife thrower's assistant or something.
He'd just had to sit through his team's Friday night 54-21 walloping from Waikato on a mild, dry spring Rotorua evening. Perfect for slick, swashbuckling running rugby – which the crowd saw plenty of but almost exclusively from the visitors.
In a match they had high hopes of taking out to turn around their three match losing streak, and reignite their season after opening so promisingly with two wins over Premiership teams Taranaki and Counties Manukau, they instead capitulated to their cross-Kaimai rivals, conceding eight tries in their heaviest defeat in recent memory.
The three they managed themselves, to flanker Hugh Blake in the first half and then wing Bailey Simonsson and lock Kane Le'aupepe deep in the second when the game had gone were well taken, but little consolation.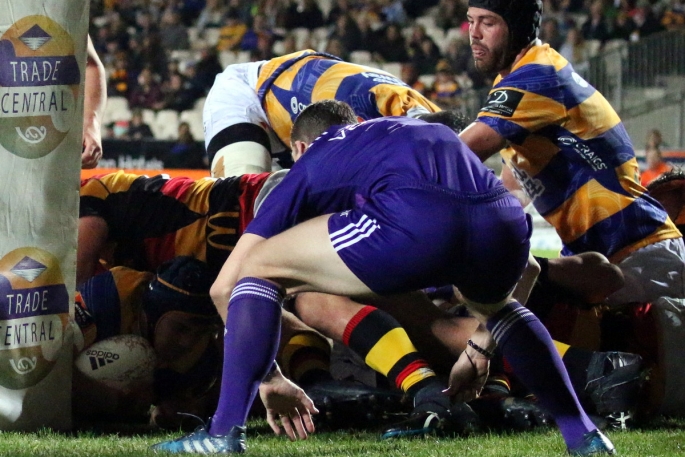 Referee Angus Mabey looks hard to spot Hugh Blake scoring the Steamers' opening try
Not much else went right for them as they turned over a steady stream of possession, missed tackles, and gave referee Angus Mabey the opportunity to blow a merry tune. He hammered them for a regular string of penalties throughout the match. In particular they seemed to take a dislike to releasing the ball in the tackle.
"I'm a little bit embarrassed to be perfectly honest," says Clayton. "We're going through some tough times at the moment, struggling for a bit of confidence. We had our fair share of injuries but I don't want to use that as an excuse. We're all learning some harsh lessons and we need to get better fast."
Not that the scale of the defeat was all down to their own ineptitude. Waikato came into the game brimming with confidence with three straight dynamic wins under their belts, including a Ranfurly Shield smash-and-grab on Taranaki. They showed what a team with complete faith in itself and its systems looks like.
Nevertheless it was disturbing to see how easily Waikato regathered possession from the Steamers when they took it into contact, and streamed through the Bay side's porous and disorganised defence on the counter-attack.
Sometimes results like this are a best just dismissed as freak of nature, but not this time, Clayton says.
"No, not at all. It just wasn't good enough."
It may have been good enough, though, had the Bay boys maintained the pace they set in the first ten minutes of the match, as they pinned the visitors in their own half and probed well. But once the turnover came and Waikato got some field position their opening try wasn't long in coming. Two more followed as their forwards rolled up their sleeves, all converted by their skilful first five-eight Fletcher Smith.
The home side's opening try by Hugh Blake, back in the team on the openside flank to give the hard-working Mitch Karpik a break, resulted from a period of concerted forward pressure on the Waikato line and brightened the outlook for the second spell as they went into the break 21-7 down.
That hope lasted barely seconds after the restart, however, as a clearing kick from first five-eight Jason Robertson, in the starting lineup replacing Mike Delany who is likely to be out for the season with a pectoral muscle injury, was charged down.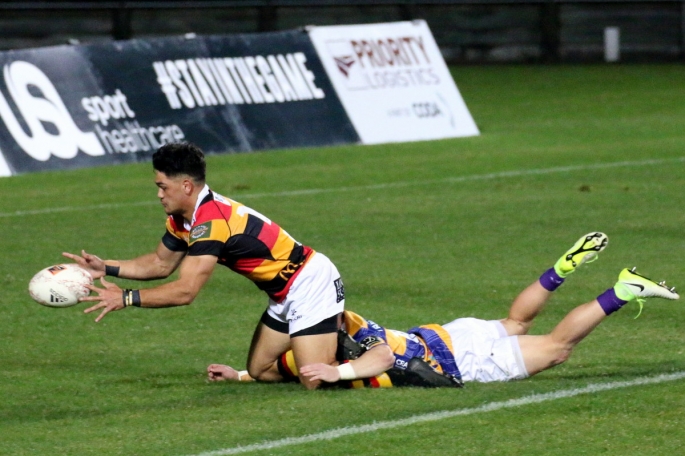 Jason Robertson arrives too late to prevent Waikato's Quin Tupaea scoring from his charged-down clearing kick
That led directly to the first of Waikato's five second half tries, two of which came when replacement lock Baden Wardlaw was yellow-carded for pulling down a Waikato drive from an attacking lineout 10 minutes into the second spell, doing little to aid the cause.
The charge-down was indicative of the up-and-down performance Robertson put in, before being hooked by team management to give them a chance to see how Kaleb Trask travelled in the position.
For what it's worth, the pair were responsible for the one aspect of the match the Steamers got 100 percent right – between them they added the extras to all three of the team's tries.
Their second, to wing Bailey Simonsson, flowed from the best running and passing movement they managed to put together in the match, and hinted at what they are capable of if they allow themselves a bit more of an adventurous spirit more often.
The third, to lock Kane Le'aupepe who put his head down and drove over the line after taking a pass from replacement halfback Luke Campbell as he tapped a penalty, came as the final whistle was due and the Waikato defence may well have clocked off.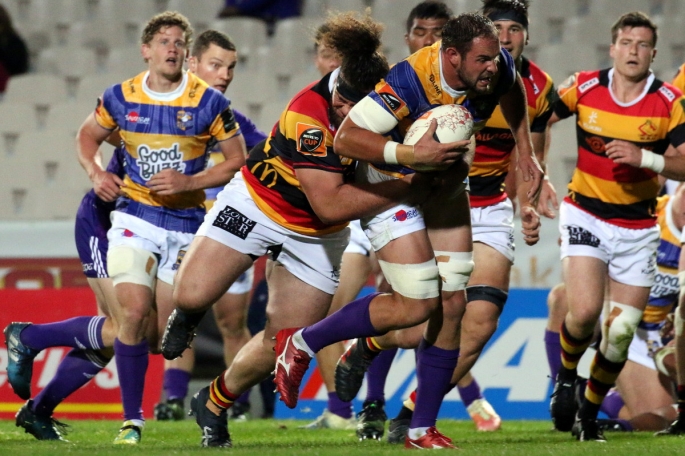 Steamers' skipper for the night Tyler Ardron looks to get his team going forward
"We've just got to suck it up and get back on the horse," Clayton says, and points to Waikato themselves as an example of a struggling team turning itself around.
"They've been through their tough times recently too but they've got themselves sorted and they're a team on the rise.
"And they're going to be hard to beat from here.
"We've still got a lot to play for too but ultimately it comes down to a little bit of personal pride, and pride in the jersey."
Sitting fifth on the Championship division table and a gulf opening between the Steamers and the four teams above, thoughts of the playoffs are a long way from Clayton's mind at the moment.
"We've just got to worry about the next five days and Manawatu, no further than that."
That Manawatu clash Thursday night back at Rotorua International Stadium is now without doubt a must-win one for the Steamers, who will be headed for a hard few days in the debrief room and the training field.
Bay of Plenty 21 (Hugh Blake, Bailey Simonsson, Kane Leaupepe tries, Jason Robertson 3 con) Waikato 54 (James Tucker, Samisoni Taukei'aho 2, Mitch Jacobsen, Quinn Tupaea 2, Sekope Lopeti-Moli, Matthew Landsdown tries, Fletcher Smith 7 con)
HT: 7-21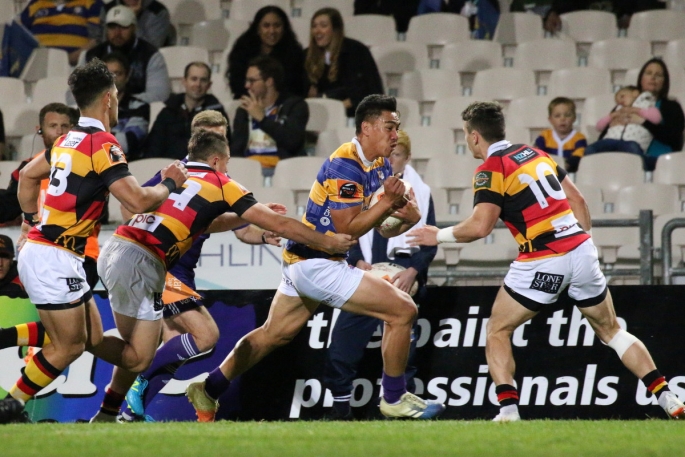 Lively winger Matt Garland looks to make a break down the left for the Steamers