There's plenty of intrigue yet to unfold in the region's top football league's title chase.
While the bulk of Loaded WaiBOP Premiership teams have put their feet up with their season's fixture list completed, two matches will be played this weekend which may well tell us a lot about the likely destination of the title.
Three teams remain in contention, separated by just three points, though one of them, Waikato Unicol, have just one match to play so look to be out of the picture unless something dramatic happens.
The other two, league leaders Taupo and Papamoa, currently third, have three matches apiece yet to fit in. Papamoa in particular still have plenty of hunger to push on for the title if only to prove a point to Northern Regional Football League administrators who have ruled out their prospects of contesting the playoffs for promotion to the league, as the WaiBOP title winner wasn't decided in time.
Taupo have the easier assignment as they take on cellar-dwellers Hamilton Wanderers on Saturday, then second-to-bottom Tokoroa next weekend. Papamoa's run in is a good deal tougher with a home clash Saturday with second-placed Unicol, who may or may not still be motivated to chase their own distant title chances, followed by their return match with Tauranga Boys' College.
While the students are out of the title picture they have been frontrunners for much of the season and may be keen to close their best campaign ever with a win, and terminate Papamoa's title hopes while they're about it.
Taupo and Papamoa then come together for a potentially explosive top-of-the-table season closer at Gordon Spratt Reserve on October 6.
So if all goes according to form for Taupo, Papamoa face three effective cup final must-win matches over the next three weekends if they want to secure the title.
However, while Taupo were always in control they were made to work harder than expected for their 4-2 win over Hamilton Wanderers last Saturday, which suggests their return match this week may not be as much of a foregone conclusion as many expect.
Papamoa will certainly be hoping so.
Their 3-2 win at Tauranga Boy's College was a cracker, which thoroughly engrossed the generous-sized crowd at Southey Field.
Though severely tested by the spirited Boys' College outfit, and facing a grilling from the sidelines, Papamoa kept their heads to come back and take the win after Lewis Reid opened the scoring for the students and then Alfie Cole levelled it up at 2-all. Logan Crawford with two and Campbell Higgins found the net for the blue and golds.
Papamoa's resilience in the match bodes well for their chances over the next three weekends.
Tauranga's other two Premiership sides, Otumoetai and Tauranga Blue Rovers, have both hung their boots up for summer after disappointing seasons.
Otumoetai will be regretting a slow start to their campaign after coming on stronger in the second half, and their final day 6-1 hammering at Waikato Unicol will also leave a sour taste in the mouth. They potentially could have finished as high as fifth depending on the outcome of Boys' College's final match against Papamoa, though in the end sixth is a respectable outcome for the Fergusson Park-based club.
For Tauranga Blue Rovers the best that can be said is they have survived to fight another day in the Premiership. With just four wins they finished third from bottom, three points above Tokoroa who still have a game to play but are unlikely to close their goal difference of -18 on Blue Rovers even if they do beat Taupo.
It will be back to the drawing board next year for the Pemberton Park men who see themselves as belonging among the title contenders.
Saturday's Loaded WaiBOP Premiership matches:
Papamoa FC v Waikato Unicol, Gordon Spratt Reserve 6
Taupo AFC v Hamilton Wanderers Federation, Crown Park
Both kick off at 2:45.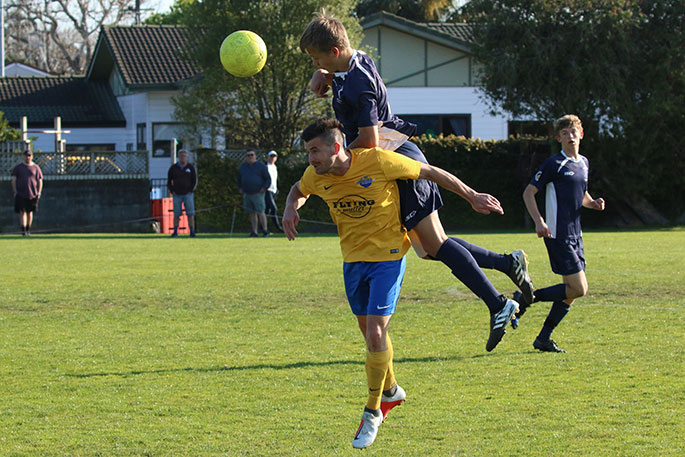 Boys' College centre back Scott Hawkins rises above Papamoa's Logan Crawford to win the header