After a gruelling 15-hour drive, Te Hokinga Mai Katipa was on his way home to see his partner and children.
But the 30 year old didn't make it off the Kaimai Ranges on his journey from Hamilton to Gisborne on Wednesday.
The Gisborne man died after his car and a truck crashed on State Highway 29 not far from the summit of the ranges between Waikato and Tauranga on Wednesday afternoon.
It's been a lethal fortnight on Bay of Plenty and Waikato roads: Nine people and one dog have died in crashes either in cars or as pedestrians.
The latest on Thursday night saw a man and woman die when their car and a logging truck collided on SH2 near Pukehina.
And north of Tauranga on Monday, Steven Antony Hart, a father, died after his vehicle and a truck were involved in a fiery crash on SH2 near Katikati.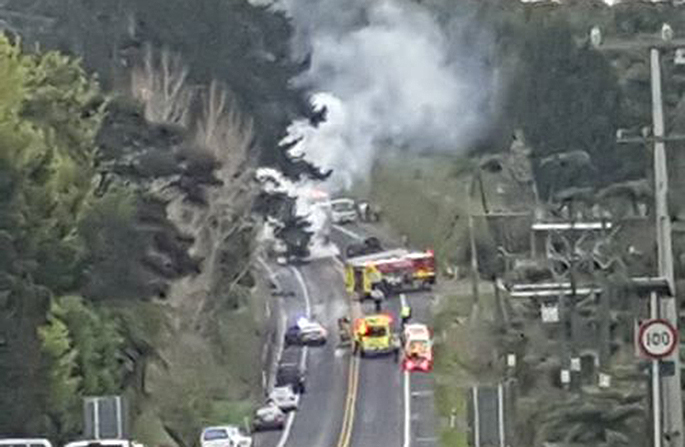 A fiery crash on State Highway 2 on Monday left Steven Hart dead.
Katipa's partner, Ileya Baker, confirmed her partner was killed in the collision around 2pm on Wednesday.
She says she got a phone call with the news as she was travelling from Gisborne to meet Katipa.
"My honey was coming home to us. We are absolutely devastated and in pieces by our loss.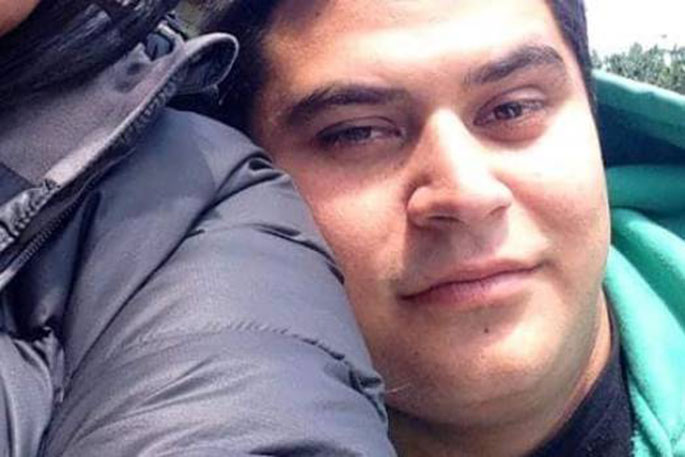 Te Hokinga Mai Katipa, 30, died in a crash with a car transporter.
"He was very intelligent and wise, and held a heart of gold. He was destined to be the star that he is. He was the protector and one of a kind.
"People like him don't just exist. Once you meet him, you will never forget him."
Katipa, who was born and raised in Gisborne, loved diving for kai and cooking it for his family.
Rugby and jiu-jitsu were his other passions. But his real love was for his family - his children, Terereaute and Tangaroa - and Terauaroha, who died.
"He was a family man in every sense, no matter the environment. He was a strong, vibrant, outgoing, playful, loving and caring man with a shy gentle soul."
Katipa had left Gisborne on Tuesday night and travelled to Auckland before visiting Hamilton.
Baker believes he fell asleep at the wheel and slid across the centre line after a "gruelling 15-hour drive".
Police were still investigating the cause, but said the car transporter was travelling up the Kaimai Ranges and the car driven by Katipa was travelling down when they crashed.
The vehicles ended up on either side of the highway, both down a bank.
Katipa died at the scene. He was the only person in the vehicle.
"We appreciated the love of my life so much for who he really was and for the time we got to spend together," Baker says.
"He was the uncle you always play with, the master chef, the star of the show, a loving and caring brother, beautiful partner and best friend.
"He'll be missed for the compassionate, loving and honourable man he was."
Katipa leaves behind his mother and father, Dawn and Keith, siblings Justine, Charmaine, John, Mahanga and Patoromu, his children and nieces and nephews.
Katipa is the fourth to die on Western Bay of Plenty roads since Monday.
Western Bay of Plenty road policing manager Mark Pakes was unavailable to speak about the crashes on Friday.
Protesters are now planning to block SH2 near Tauranga this Sunday in a march to demand a fix to the dangerous stretch of road.
"In the last eight years, 24 people have died, with 10 of those within a 2.5 kilometre stretch between the Waiora Bridge and Katikati," hikoi organiser Andrew Hollis says.
"That stretch of road is the most dangerous stretch of road in regards to fatalities because the road isn't up to spec. It needs to be widened with four lanes and a median."
Last week, Auckland couple Damien (formerly known as Zoe) Currie, 17, and Brendon Christopher Wright, 21, died in Waikato Hospital after the car they were overtaking in crashed with an Army vehicle in Waharoa on August 31.
And on September 5, 69-year-old David Brian Besley was struck by a truck and killed while walking his dog not far from his home in Horsham Downs.
Also on September 5, in the evening,41-year-old Michael Fred Ruff, of Hamilton, was pushing a trolley along Koromatua Rd on the outskirts of Hamilton and was critically injured after being hit by a car. He died in hospital later that night.
The next day, another driver died after driving straight through a corner into a head-on crash.
Another truck driver is in a critical state after being pinned in his cab for hours after it crashed when a car pulled out in front of the truck on Cambridge Rd.
National Road Policing Manager Superintendent Steve Greally says police need help to keep the roads safe.
"Decisions drivers make impact not only them and those in their vehicle, but everybody else on the road as well.
"We would love to see everybody driving sensibly and to the conditions every time they get into their vehicle or on their bike."