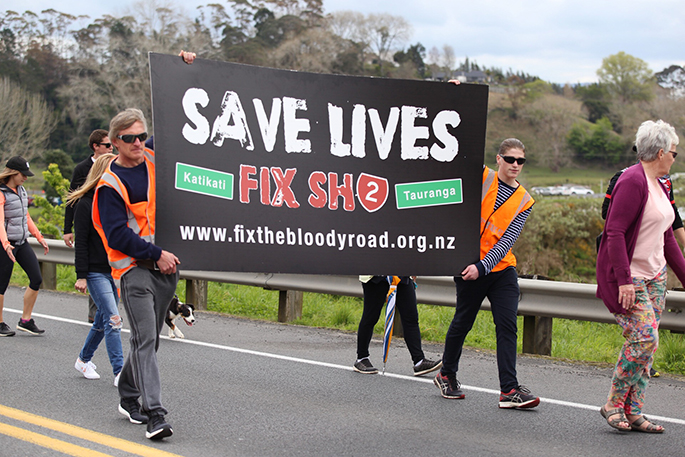 Click the image above to watch the video
Protesters from the Fix the Bloody Road Group closed the Wairoa Bridge to motorists as they march across the bridge in protest of the road needing to be fixed.
Protesters closed the road from 3pm on Sunday September 16, with the protest across the bridge lasting for 30 minutes.
Spokesman Matthew Farrell says the Fix team is pushing for a fast-track decision on major State Highway 2 corridor capacity projects including the Tauranga Northern Link to Francis Road, the Katikati urban bypass and improvements to blackspot intersections from Te Puna to Omokoroa.
"Safety works from Waihi to Pahoia were confirmed in August after six months of campaigning.
"The group will also be calling for a moratorium on further housing development planned by the SmartGrowth partners Tauranga City Council and Western Bay of Plenty District Council.
"An open letter will be circulated among groups, organistions and corparte entities to sign, with several already stating a verbal intention to support the push for a central government infrastructure catch-up," says Matthew.