Under the Stars and Maketu Volunteer Coastguard has taken out top honours at the Western Bay's biggest annual celebration of volunteers, the Trustpower Community Awards.
Voluntary groups from Tauranga and Western Bay of Plenty gathered with representatives from Trustpower, Tauranga City Council, Western Bay of Plenty District Council and the community at Classic Flyers to hear how 16 groups and four young people are making an impact in their community.
Trustpower Community and Communications Advisor Abbie Siely says Maketu Volunteer Coastguard stood out to the judges for its realisation of a fundraising project critical to community safety, in addition to its already impressive regular activities.
"Maketu Volunteer Coastguard has devoted a considerable amount of time and energy to fundraising for a new emergency rescue boat."
"The achievement is particularly noteworthy because it was accomplished in addition to the group's regular work educating the community about water safety and providing support services."
"Activities include working with other emergency services to guide young people through the Youth in Emergency Services (YES) programme. It's a course that can help set young people on a path of community involvement into adulthood."
"Coastguard runs local education events to empower people to take charge of their own safety at sea. For example, teaching boaties how to safely cross the bar. This annual event is in its fourth year, is completely free of charge, and has undoubtedly prevented accidents."
Abbie says Maketu Volunteer Coastguard's impact was felt far beyond its town.
"The group engages with the community and supports local events. Coastguard provided safety support to over 150 waka paddling from Maketu to Mount Maunganui in difficult conditions.
"Recognised as a proactive unit, Maketu Volunteer Coastguard supports the community well beyond its shores – offering safety support to events of the lakes in Rotorua," says Abbie.
For winning the Supreme Award, Maketu Volunteer Coastguard received a framed certificate, a trophy and $2,000 prize money.
Abbie Siely says Under the Stars stood out to the judges for its combination of genuine acceptance and compassion, coupled with practical assistance for Tauranga's homeless.
"Under the Stars tackles the challenging, emotional and often undiscussed issue of homelessness head on, offering practical assistance paired with kindness and compassion to people who have found themselves in a situation many of us couldn't imagine.
"Every Saturday night volunteers collect donated foods and put together a hot meal. Guests are offered showers – sometimes their only one for the week. They receive fresh drinking water to take away, socks, toiletries and sleeping bags."
Abbie says that in addition to practical support, the group offered something that was truly priceless – unconditional acceptance.
"Under the Stars offers our homeless community a break from the elements and from the isolation that often accompanies life outside society's norms.
"The group works to help our homeless get back on their feet, working through drug and alcohol rehabilitation programmes, sourcing identification documents, and reconnecting people with family."
For winning the Supreme Award, Under the Stars received a framed certificate, a trophy, and $2,000 prize money.
The groups will go on to represent Western Bay of Plenty at the 2018 Trustpower National Community Awards, when volunteers from 26 regions from around New Zealand gather in Tauranga next March.
It's the first time Tauranga and Western Bay of Plenty have celebrated together at a single awards function since 2006.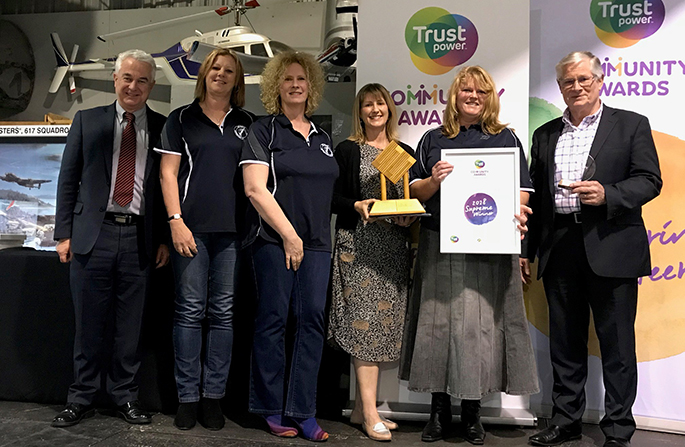 Tauranga Mayor Greg Brownless with Sarah Elliot and Jane McKay of Te Puke Gymsport (2017 winner WBOP), Trustpower General Manager Customer Operations Fiona Smith, Julie Cross, WBOP Mayor Garry Webber.
Other winners at the Trustpower Community Awards for Tauranga and Western Bay of Plenty District, held on Wednesday September 12 were:
Youth Community Spirit:
Finalist – Flynn Harris
Finalist – Jessica Treanor
Winner Tauranga – Teri Dawson Winner
Western Bay of Plenty – Ashleigh Ngow
Trustpower Community Awards Finalists
Kai Aroha
Canine Friends Pet Therapy Bay of Plenty
Youth Search and Rescue Trust Tauranga
Te Puke Toy Library Inc.
Paengaroa Kindergarten
Maketu Ongatoro Wetland Society Inc.
Trustpower Community Awards Recipients
Papamoa Surf Life Saving Club
Boomerang Bags Tauranga
Bellyful Tauranga
Tauranga Volunteer Coastguard
Katikati Maori Wardens Charitable Trust
Rotary Maketu
Tauranga Village Radio Museum
Aongatete Outdoor Education Centre
Supreme Winner – Tauranga
Under the Stars
Supreme Winner – Western Bay of Plenty
Maketu Volunteer Coastguard