An attempt to at being a good samaritan left a man a man in a sticky situation in Thames.
The man had gone into some mangroves to retrieve a shopping trolley that had been thrown off a footbridge when he found himself waist deep in sticky sludge, unable to move.
The rescue of the man aged in his late 50s or early 60s unfolded, luckily, says firefighters, in low tide amid the mangroves off Thames west coast.
Around 8.30am the man had spotted a supermarket shopping trolley in the mud behind the Goldfields shopping mall on Mary St in central Thames.
A boardwalk edges the mangroves and a pathway leading to the walk from the mall, says Thames Fire Chief Greg Rendall.
"He thought he was doing the right thing, going to retrieve a trolley that someone had chucked in the mud.
"He went down a little way where the banks are a bit lower - once he stepped off he was pretty much up to his waist in mud.
The creeks at the firth entrance are full of mud and embedded with logs and branches, he said.
"One of his legs got stuck between two branches."
Up to his waist in mud, Greg believes the man must have yelled for help to a passerby on the popular dog walking boardwalk.
"The mud is thick in certain spots."
Firefighters stripped off their heavy gear and donned lifejackets as part of a new 'water rescue' regime.
Greg says they used a backboard as a flat surface and tied ropes around the man to pull him from the muck.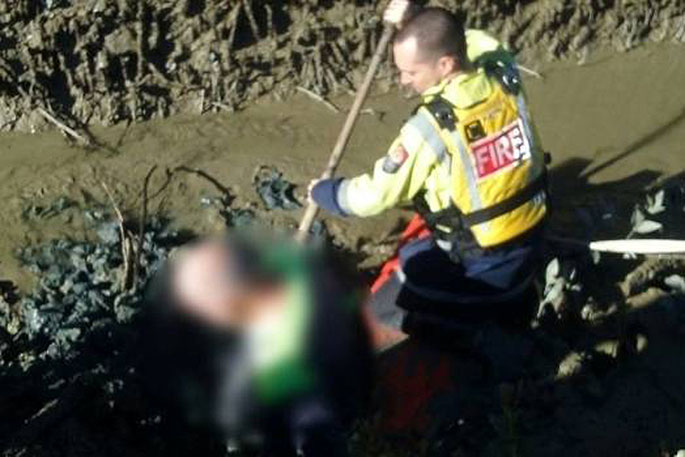 "It was a dirty, messy job to dig him out."
It took around half an hour to pull the man from the mud. He was "a bit embarrassed" and had a few scratches but escaped uninjured.
Police took the man to hospital for a check-up.
"Summer's coming up so people just need to be careful and think about what they do."