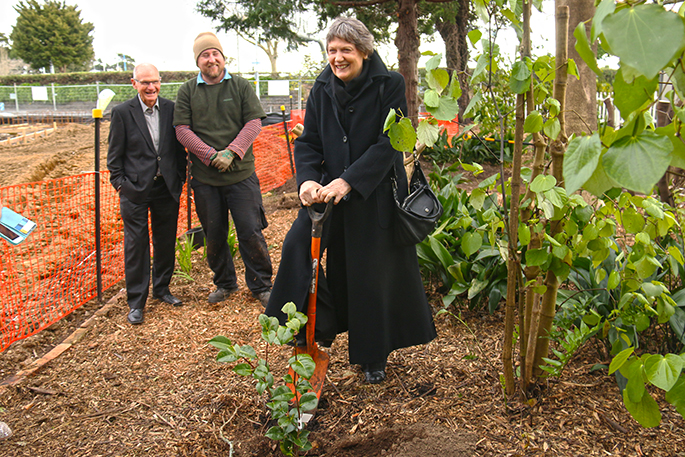 Click the image above to watch the video
Helen Clark received a warm welcome at The Elms | Te Papa Tauranga on Friday afternoon, where she planted three white camellias, as part of the Suffrage 125 commemorations in Tauranga.
The 'Kate Sheppard' camellias were planted in memory of Alice Maxwell, signatory to the 1893 Women's Suffrage Petition.
The proceedings opened with a mihi given by Puhirake Ihaka, then a welcome address by The Elms Foundation chairman Ian Thomas.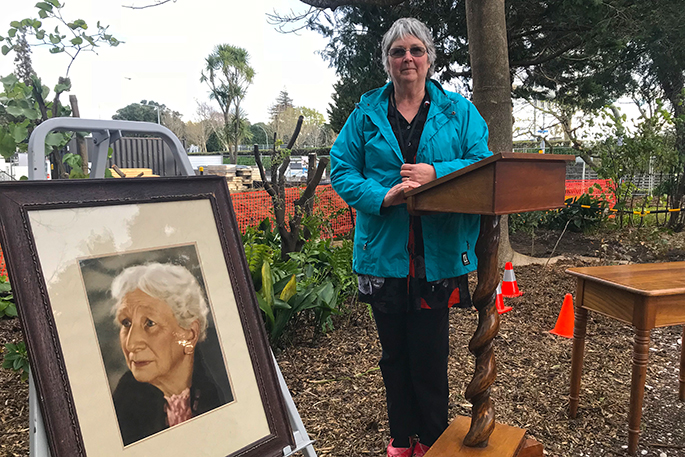 Julie Green, niece of Alice Heron Maxwell, near the site of the future Heritage garden
Julie Green, a niece of Alice Maxwell and president of the Tauranga Historical Society gave a tribute to Alice, which was followed by the planting of the three camellias by Helen Clark.
"The white camellia flower became the symbol of the New Zealand women's suffrage movement after they were given to supporters in September 1893," says Debbie McCauley, Suffrage 125 Tauranga committee member. "Camellia shrubs often produce masses of blooms in September, and this is likely why the suffragists used them. Today they are worn on Suffrage Day, September 19, and feature on the $10 note."
For the 1993 suffrage centennial Taranaki camellia breeders Viv Joyce and her father Alf Gamlin bred a special variety of white camellia. They named it 'Kate Sheppard' after the Christchurch feminist and suffrage leader.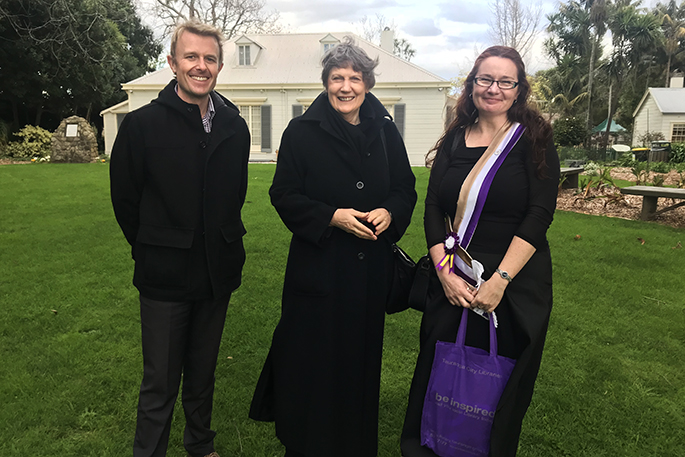 Andrew Gregg, The Elms Te Papa Tauranga manager; Helen Clark; and Debbie McCauley, Tauranga Library Heritage Specialist and Suffrage 125 Tauranga committee member
"As a member of the Maxwell family and the local historical society,' says Julie, "I wish to add my welcome to you all on this auspicious occasion to commemorate women's suffrage.
"I am honoured to have been asked to give a short tribute to my grandfather's aunt, Miss Alice Heron Maxwell, a well-known local woman who supported the cause.
"Born in Australia, she arrived in NZ when she was four, in 1865, with her widowed mother and three siblings. Her formative years were spent in Wadestown, Wellington. When she was 21, Alice came north and stayed at The Elms for eight months with her aunt and uncle Christina and Alfred Brown. She became passionate about its history and eventually in 1887 this beautiful property became her permanent home for the next 62 years.
"Her mother and older sister also lived here but passed away in 1919 and 1930 respectively. All three Maxwell women were great supporters of many charities including Barnardo's Homes for the orphans, soldiers who had been wounded in World War One, and Girl Guides, just to name a few.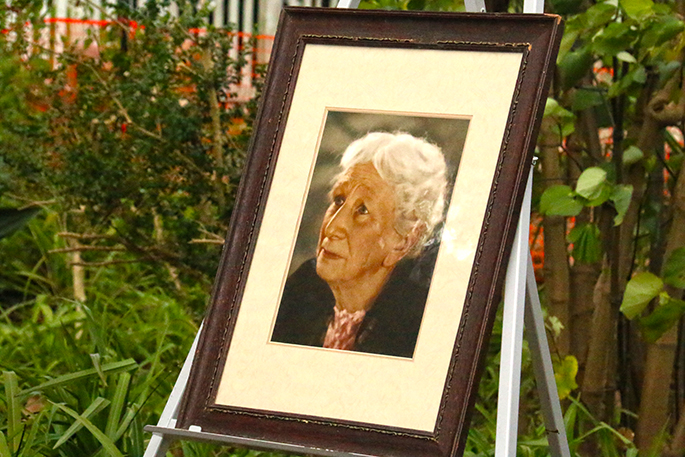 Portrait of Alice Heron Maxwell on display near the site of the camellia plantings
"They had sewing bees, and garden fetes were held. All through the year home-grown flowers were sold over the seasons to raise funds for these charities.
"It cannot have been easy at all, to manage all the extra tasks, as money was tight and help was scarce. In 1920, once they had recovered from nursing their elderly mother for several years, the sisters opened the place to visitors.
"Many people were able to enjoy the tranquillity of this garden and receive a guided historical tour. Alice ensured that The Elms was preserved as a memorial to the early missionaries who had dedicated themselves to spreading the Christian gospel in this area.
"She is recorded as having signed the Suffrage petition in 1893," says Julie. "So in spite of being 'old-school' in many ways, she must have been willing to embrace the way that things were moving in society.
"Aunt Alice lived pretty much alone here from the age of 70 until she died in her 89th year. She continued to tend her garden and show around any who came unless they were unless they were, in her opinion, unsuitably dressed. That included any women in slacks. I believe if she were alive today, Alice Maxwell would be applauding the planting of these three special camellias to commemorate 125 years since New Zealand women got the vote."
The planting of the camellias was followed with a tour of the grounds and interior of the house and library. This occasion was Helen Clark's first visit to The Elms | Te Papa Tauranga.
"Clearly it's an amazing site," says the former prime minister. "This is also a very historic Maori occupation site, and the mission house was put here very early, so I'm fascinated to see it. I'm so pleased The Elms is in a trust and open to the public."
She paused through the walk to Snapchat her first visit to the historic site.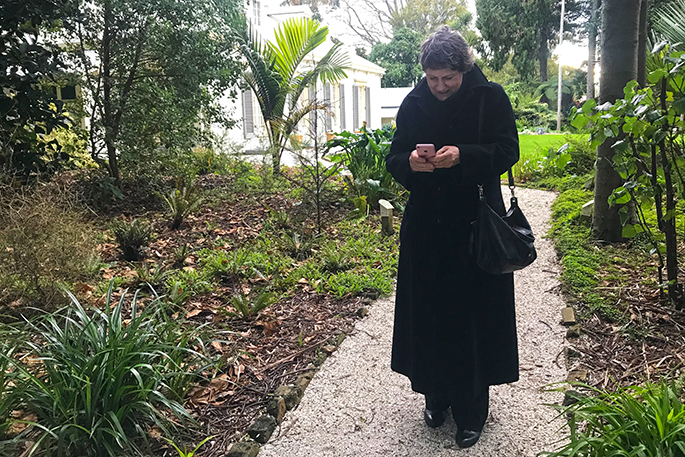 In early 2018, the garden received a prestigious honour when the New Zealand Gardens Trust registered the garden as a "Garden of Significance" with a 5-star rating. The Elms is one of the oldest New Zealand European gardens south of the Bay of Islands and was originally created by the Church Missionary Society, along with The Treaty House gardens at Waitangi. The garden now shares a similar rating as the Kerikeri and Pompallier Missions, the Waitangi Treaty Grounds, the Auckland, Wellington and Christchurch Botanic Gardens, Olveston Historic Home and Government House in Auckland and Wellington.
In 2018 The Elms Foundation obtained a resource consent and funding support to construct a new heritage garden with a 36sq m pavilion as the centrepiece. The pavilion is conceived as a contemporary timber structure reflecting the raupō whare that existed on the site from the late-1830s. The 160sq m heritage garden, on the corner of Mission and Chapel Streets will contain plants of economic, cultural and decorative importance to Te Papa Peninsula, and become a catalyst for engaging the community in Tauranga's history and the importance of The Elms in that history. Construction of the TECT Heritage Garden is underway and should be completed in early 2019.
The camellia planting and private tour was followed with a Mayor's reception in Helen Clark's honour at the Tauranga City Council chambers, and then a sold-out evening at The Holy Trinity where she spoke on 'Are we there yet?' She also signed copies of her book 'Women Equality Power' which is a collection of selected speeches.
The former prime minister found that the Tauranga Suffrage event, one of many being held around NZ, was particularly convenient for her to travel to, as she is with her father most weekends at Waihi Beach.
"It's remarkable that colonial parliament in New Zealand in 1893 agreed to the petition of these women," says Helen. "They were very well-organised and obviously had a great cross-section of society with them.
"In that simpler time of horse and carriage, to think that ideas like Suffrage travelled across NZ and people signed from one end to the other - women signed – it's quite remarkable."
The night before the Tauranga commemoration, she was a guest speaker along with Jenny Shipley, and current MPs Louisa Wall and Chlöe Swarbrick at a Suffrage 125 commemoration event compered by Alison Mau at Auckland's Heritage Hotel, for the Auckland University Public Policy Club.
"They got busy and got sponsors, a big room and 400 students crowded in. And I've been doing other events like Epsom Girls Grammar and of course Allen and Unwin had the publication of my speeches which coincided with this time so I've been doing a lot of events around that, but it often comes back to mention of the Suffrage."
Her biography gives an insight into her own thoughts on women's leadership and gender equality. She also mused on the presence of women in Government 125 years on from the signing of the petition.
"There are a lot more women involved now. We're up to close to 40 per cent of Parliament, so that's really significant. And young women like Chloe. I think that's good. We've got the largest youth generation demographic going through the world now and young people are where the decisions need to be made."
On Saturday September 15, Helen Clark will be guest speaker at the Katikati Suffrage Re-enactment March. The public is invited to make their own placards and join in, meeting at 11.30am at the Uretara Domain, and marching in period costume to the Katikati War Memorial Hall where there will be displays and entertainment.
More information about the Suffrage 125 Tauranga events for 2018 can be found on https://www.facebook.com/womenssuffrage or via the hashtags #suffrage125 #suffrage125tauranga #whakatūwāhine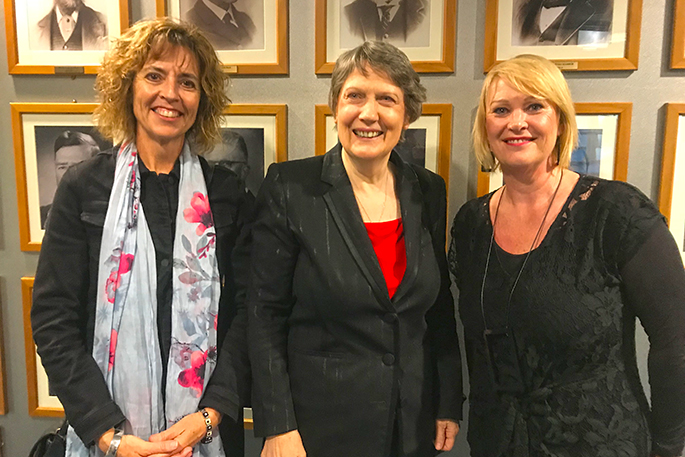 BOP DHB CEO Helen Mason, former Prime Minister Helen Clark, and Tracey Rudduck-Gudsell at the mayoral reception for Helen Clark.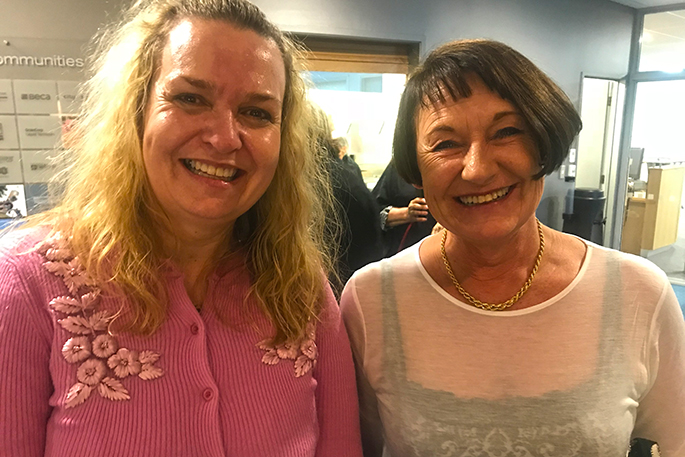 List MP Jan Tinetti and Western Bay Museum Manager Paula Gaelic at the mayoral reception for Helen Clark.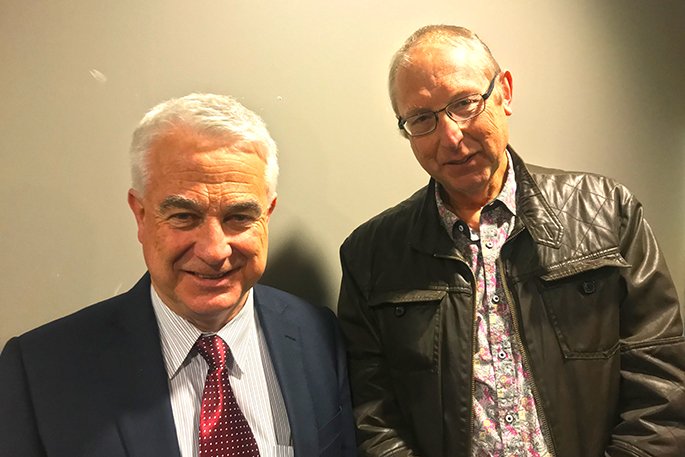 Tauranga Mayor Greg Brownless and Councillor Max Mason at the mayoral reception for Helen Clark.