It was a legendary farewell to a true policing legend.
Hundreds of police colleagues formed a guard of honour in Huntly on Monday (3 September) at the funeral of Sergeant Neil Mansill.
Neil, who began his law enforcement career with the Ministry of Transport in February 1980, succumbed to cancer on 29 August.
"Neil loved policing our roads," Inspector Jeff Penno – who served with Neil when they were constables in Huntly and later as Road Policing sergeants – told mourners at the funeral.
"This was his passion and his calling. He was good at it too, and skilled.
"Neil saved people's lives, lots and lots of lives. The irony is that these people will never know that Neil Mansill saved their lives ~ this is his silent legacy."
So many people attended the funeral at Trinity Church that a video screen was put up in the church hall to cater for the overflow.
More than 300 serving and former Police and MOT staff formed the guard of honour, led by Waikato District Commander Superintendent Bruce Bird. Neil's family and other mourners were carried in a motorcade of eight police vehicles.
It was an awesome spectacle, says Jeff, who acted as family liaison. "Neil would have absolutely loved it.
"It was not a police funeral - it was Neil's family day – but, for police, to be the pallbearers and to be able to motorcade him to the church with all his family and to his final resting place was an honour."
In his eulogy, Bruce ticked off Neil's attributes: authentic; courageous; skilled in street craft; influential. A good guy.
"The mark of any person is how they face adversity – that's the true test," said Bruce.
"Right to the very end, Neil never shifted from who he was as a husband, father, friend and police officer.
"I spent plenty of time with Neil in his last few days and throughout his career. He was a big man with a lion-heart of gold."
He read a tribute from Commissioner Mike Bush: "Neil was passionate and a character but most of all he wanted to make a difference. This he discharged with considerable skill and expertise. But what sets Neil apart was that he cared."
Neil served as a motorcycle Traffic Officer in Wellington, Whangārei, Auckland and on four wheels in Te Kauwhata, Waikato, where he was based at the time of the MOT-Police merger in 1992.
He transferred to the General Duties Branch in Huntly in 1998 and relieved in various positions including Youth Aid Officer and O/C Te Kauwhata. In April 2000 Neil was promoted to sergeant in Counties Manukau, serving in Papakura, Wiri and Otahuhu.
He transferred to Pukekohe, where he was Liquor Licensing Officer for the Franklin Area, and had a short stint on Papakura Strategic Traffic Unit (STU). He returned to Waikato in 2004 as a Traffic Alcohol Group sergeant.
In October 2005 Neil went to Morrinsville to relieve as STU sergeant for Eastern Waikato and stayed until February 2013, when he made his final move to STU sergeant in North Western Waikato, based at Huntly.
He was remembered as a tough but fair officer, a supportive boss and a great talker, with a notable ability to talk down an over-excited offender.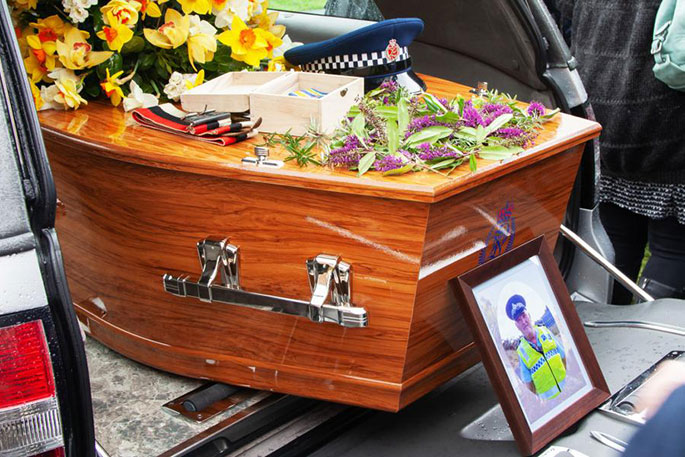 Speakers commented on Neil's ever-present sense of humour, which was known to get him in trouble – like the time he spread wasabi thickly on a cracker and convinced a superior officer it was guacamole, and to eat it. It was noted that his paperwork increased considerably soon after.
He was also a hard worker who could be relied upon 100 percent when the going got tough – as it often did in the isolated areas he policed.
"As one who stood beside him over those years at all those incidents, good, bad and really bad, I can tell you he was a bloody legend and he will be remembered that way," said Jeff.
Neil leaves his wife Cindy, two daughters and one son.
Funeral photos: Sergeant Nigel Fookes and Senior Constable Warrick Pearson, Waikato Photography Section