It's not just about pinched noses and a face full of makeup. These girls have incredible breathing control, and every movement requires great strength, endurance and grace.
Synchronised swimming is harder than it looks. It's a combination of swimming, gymnastics and dance – all performed in the water.
Synchronised swimming club Tauranga Synchro will hold an open-to-the-public display on September 22 as a pre-performance to the NZ National Synchronised Swimming Championships.
Tauranga Synchro head coach Lara Teixeira Cianciarulo says they have 22 athletes between the ages of 8-22 competing in this year's nationals.
"Synchronised swimming gives a lot of different abilities and skills," says the three-time Brazilian Olympian.
"It's a team sport and your abilities are strengthened when you work as a team. For example, if my teammate is very good in flexibility and I have the strength, we can combine the skills for that routine."
Lara says there are prescribed requirements for synchronised swimming routines, but creating the overall theme is where you can be creative and have fun with it.
"We have some fabulous themes," she says, "particularly in our team events to impress the judges and entertain the audience.
"Being 'in character' in the routines is an area where the girls can really show off their artistic side and express themselves."
During the nationals there will be a combination of solo and duet routines, as well as team routines with eight athletes and combo routines with 10.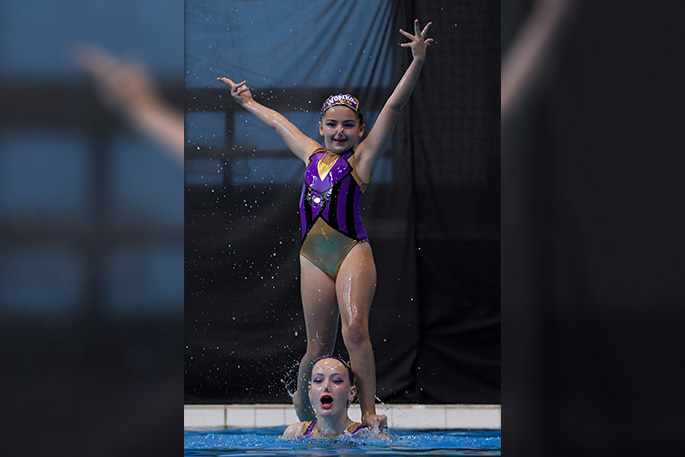 Some of the themes of the routines include an offbeat 'Willy Wonka' routine, a robot routine with mechanical dance moves, a catchy Jackson 5-inspired routine, a swashbuckling pirate routine and a superhero routine, where the eight athletes demonstrate their 'superpowers' with fearless lifts and shows of strength, all choreographed to a mix of well-known movie themes.
In the Bay of Plenty the sport has grown, however there still isn't much interest for males to compete.
"It's such a shame," admits Lara, "especially now that in the Worlds there is a mix duet with women and men.
"But here in New Zealand we still don't have any males representing us internationally."
She says it would be great to see more males representing not only the region, but the country as well.
The Pre-National Tauranga Synchro Swimming display will be held on September 22 at 11am at Baywave on the corner Girven Road and Gloucester Road. For more information email: info@taurangasynchro@gmail.com or search Tauranga Synchro NZ on Facebook.
The NZ National Synchronised Swimming Championships will be held on October 4-7 in Auckland.