Melville United Football Club have been all-conquering in Division One of the Northern Football League this year, and their 5-1 Saturday afternoon canter over Tauranga City at Links Ave suggested some reasons why.
The Hamilton team, with the title already in the bag, rang a few changes to their starting 11, but handed enough game time to league top scorer Jama Boss and then teenage academy sensation Lesley Kivolyn to score five between them and blow the Blues out of the water.
City's afternoon could have been somewhat different. They had their fair share of scoring opportunities in a competitive first half, and could easily have taken the ascendency particularly through the efforts of lively teenage right-sided attacker Jay Silcock.
The game was just 12 minutes old when he had a fair shout for a penalty after breaking free in the visitors' box. He appeared to be brought down by recovering defender Dilan Nanayakkara, but as he had got his shot away at the same time the referee wasn't interested in City's appeals.
A second chance fell Silcock's way barely a minute later when he was first to get his head to a through ball amid congestion in the Melville penalty area but wasn't able to get enough power in his attempt to get it over the line. He almost recovered his momentum to earn a second attempt but was just beaten to the ball by Melville's Flynn O'Brien.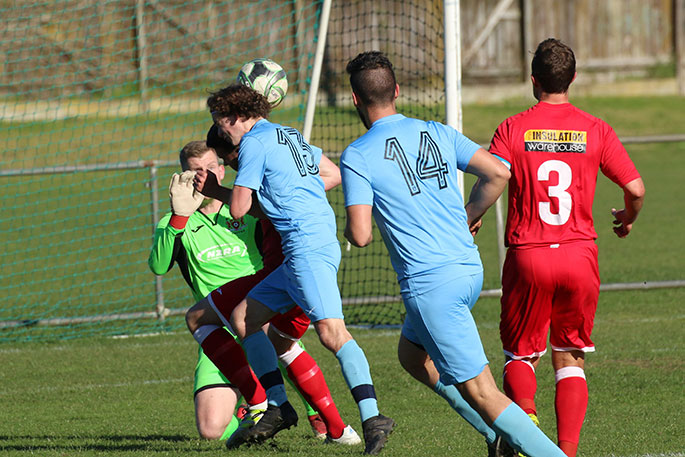 Jay Silcock is first to the ball but couldn't get enough power in his header to reach the net.
A third opportunity for City to take a deserved lead in as many minutes through veteran midfielder Josh Nelson with a strike from distance was turned aside by Melville goalkeeper Max Tommy.
The home side continued to keep the visiting defence occupied through the remainder of the first half with chances falling to Andy Carter and Riley Bidois – who was unlucky to have his shot across goal from wide on the left saved by a diving Tommy – but fortunes turned against them as halftime approached.
First Carter, who was playing in a deeper-lying midfield role than normal, was forced from the field with injury, then the deadlock was broken in Melville's favour with Boss securing his brace of goals either side of the break.
Showing some signs of the skills and quick-thinking that have put him top of the league golden boot race, he just beat City's keeper Tom Pamment to a loose ball in the box and managed to sneak it past him for his first, then nailed his second with a tidy finish from wide left.
The home side's scoring chances were becoming more infrequent as the half wore on, but energetic midfielder Connor Irvine brought them back in the game with an extraordinary effort. Picking up the ball 25 metres out from goal, and with his back to it, he turned and struck a perfectly measured volley over the keeper's head and into the back of the net.
After allowing himself a brief celebration he picked up the ball and returned it to halfway for the kickoff, exhorting his teammates to go again.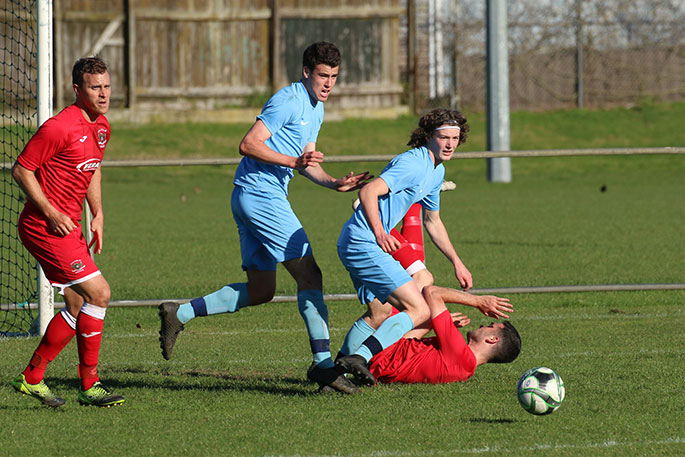 City's Riley Bidois and Jay Silcock.
Unfortunately for them it was almost a signal to the league champions to turn on the style, and a hatrick within 12 minutes to teenage substitute Kivolyn, who's spent much of the season playing in the club's under 16 Federation league team, was the result.
A tiring City defence found themselves unable to cope with the teenager's pace and ability to get on the end of opportunities created by Melville's clinical passing game.
The result leaves City in tenth place on the NRFL Division One table, and hunting at least a point from their remaining two matches to ensure survival in the league.
They are at home again this Saturday to meet Forest Hill Millford in a second attempt to complete the match that was controversially called off two weeks ago due to a waterlogged Links Ave pitch with City leading 2-0.
They then wrap up their season a week later away to Ellerslie - the team currently one place and one point ahead of them on the table.
Tauranga City AFC 1 (Connor Irvine 71′)
Melville United AFC 5 (Jama Boss 42′, 51′, Ronald Leslie Kivolyn 77′, 83′, 89′)
HT: 0-1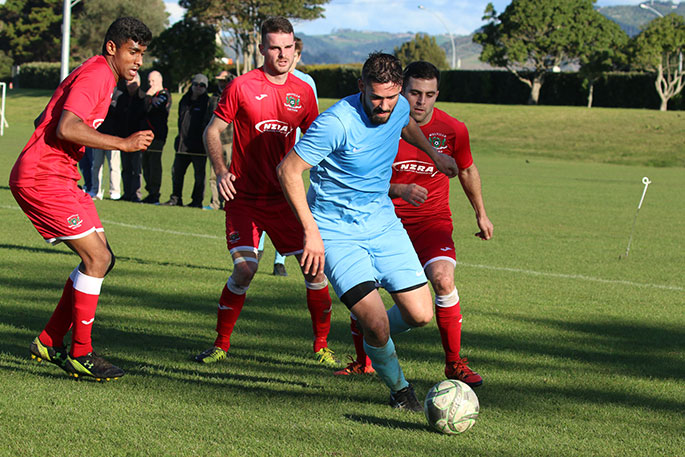 Joaquin Reynoso gets the better of three Melville defenders.