As striking primary teachers abandoned their blackboards today, the Leader of the Opposition Simon Bridges went into bat for them.
"All teachers deserve more money and better conditions, and one way or another, they will get it."
The Tauranga MP and Leader of the Opposition comes from a family of teachers. His mother, brother, sister and grandmother were teachers.
"And we need to ensure teachers are acknowledged as highly respected professionals in our communities."
The Government had suggested the strike action by 30,000 primary teachers and principals was premature, that they should have continued negotiating. But Simon Bridges turned the heat back on the Government.
"The strike makes clear the Government over-promised prior to the election. They were like Santa throwing out a Christmas present. And hard-working teachers thought they would be the children who would be getting a big gift. Sadly Santa hasn't got any gifts or them."
He says that's because the government has made its priorities.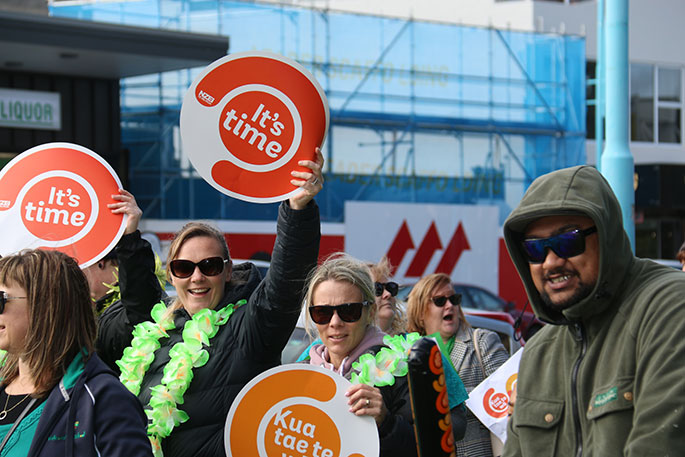 "And it's decided to prioritise pet projects for Winston Peters and a bunch of other big spends like tertiary free fees."
And while the Government says it just doesn't have the money to pay the teachers, Simon says that's simply not true.
"The Government has very strong books albeit with an economy coming off the heat a bit and the state of those books worsening."
The dispute is not just about pay but also conditions.
"That's why over the past few weeks I have been emphasising smaller class sizes. Because that in itself would allow teachers to focus on what matters to them and to parents - individual one-on-one time with kids."
Today's teachers strike was the first in 24 years. But Simon Bridges doesn't necessarily support direct action saying that, ultimately, they don't make New Zealanders richer.
"If it were that simple it would be great."
He says it's about having a strong business confidence and a growing economy, where businesses and the Government though its tax take, have the ability in a sustainable way to pay more.
With the nurses striking recently, and now the teachers, the national Party leader suggests New Zealand is in a period of great industrial unrest.
"We have had more strikes and threats of them in the last few months than we have had over the last decade. Where's it going to end?"