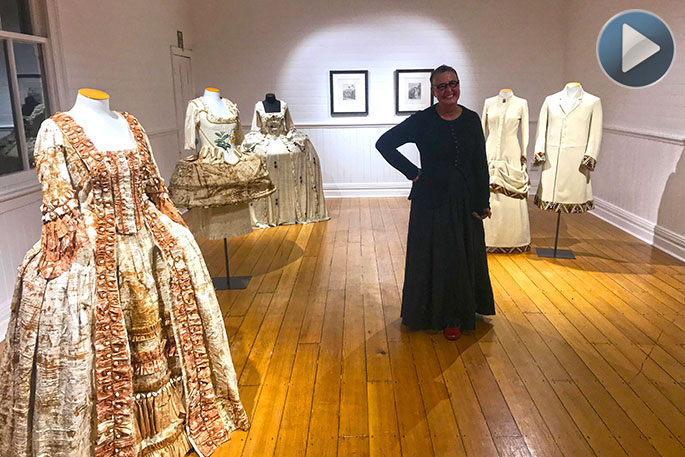 Click the image above to watch the video
Jo Torr's exhibition Vahine-Wahine opened at The People's Gallery Toi ka rere at Tauranga's Historic Village on Friday evening.
Hosted by The Incubator, this is the first of Tauranga's Suffrage 125 events, and highlights and commemorates New Zealand women who won the right to vote 125 years ago in 1893.
On September 19 1893 the Electoral Act 1893 was passed, giving all women in New Zealand the right to vote. As a result of this landmark legislation, New Zealand became the first self-governing country in the world in which all women had the right to vote in parliamentary elections.
Jo Torr's exhibition Vahine-Wahine reflects on the position of women through history with her unique conceptual sculpture. Each sculpture takes the form of a garment that incorporates an aspect of Polynesian/Māori or European cloth and an aesthetic sensibility associated with either culture.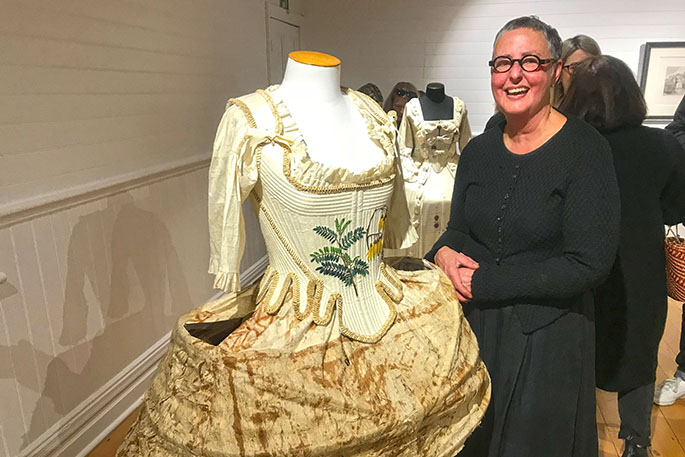 Jo Torr.
Torr's 'Transit of Venus' works are beautiful and elaborate gowns that explore the exchanges between European and Polynesian peoples at the time of James Cook's voyages in the South Pacific.
The gowns are based on European dress styles of the 1770s when Cook's voyages took place, and point to the similarity in silhouette with Tahitian tapa gift-giving ceremonies.
'Kaitaka' presents a spectacular couple in 1880s dress constructed from cream-coloured woollen blankets that stand in for muka, the dressed flax fibre of traditional Maori cloaks.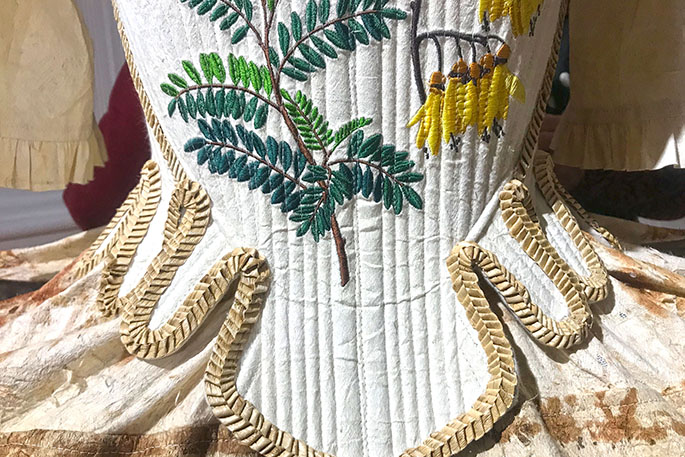 A close-up of one of the garments.
These works examine the historical interrelation of Maori cloaks and European woollen blankets drawing attention to the way Maori adopted and adapted new materials into everyday life.
Jo Torr is an award-winning artist whose art is exhibited and collected by public museums, art galleries and private collections.
Through her sculpture, she explores the mutual cultural exchange between Polynesian and European peoples. She has tertiary qualifications in fine art, graphic design, Māori visual arts, fashion design, museum studies and librarianship. She currently works as the Registrar at the Tauranga Art Gallery.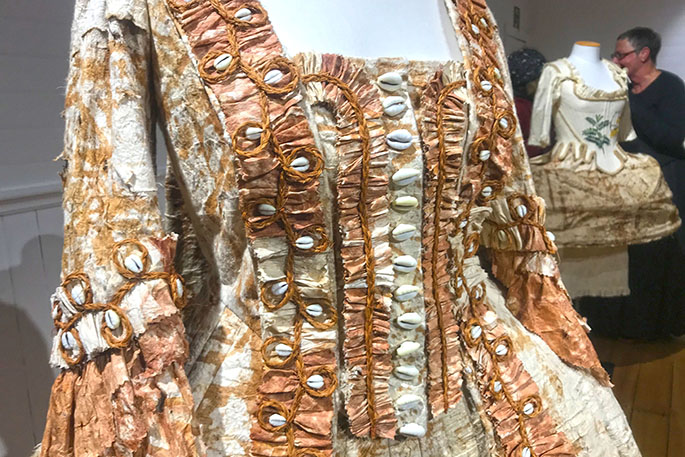 A close-up of one of the garments.
Further events in the Tauranga Suffrage 125 calendar include a school debate asking why men should have the vote; An evening with Helen Clark at Holy Trinity;
The performance of 'Kororareka: The Ballad of Maggie Flynn' at Baycourt;
A Suffrage march in Katikati;
A celebration of patchwork and quilting by Papamoa Patchers;
A luncheon panel hosted by the Business Women's Network;
An Evening with Jan Tinetti in Tauranga City Council chambers;
A Suffrage-themed school holiday programme for children by Tauranga City Libraries;
'A Talk on Three Female Voters from Te Puke' by Marie Lewis hosted by Tauranga Historical Society; the publication 'Western Bay Women';
and the launch of children's book 'Eliza and the White Camellia: A Story of Suffrage in New Zealand' by Debbie McCauley.
The exhibition Vahine-Wahine will run until August 28 at The People's Gallery Toi ka rere at Tauranga Historic Village in 17th Ave.
There are several more events to be confirmed so keep an eye on the Suffrage 125 Tauranga Facebook page: https://www.facebook.com/womenssuffrage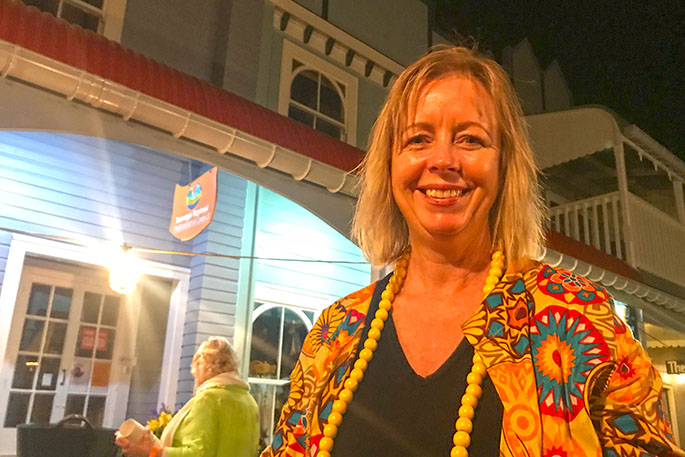 Simone Anderson from The Incubator, which is hosting the exhibition.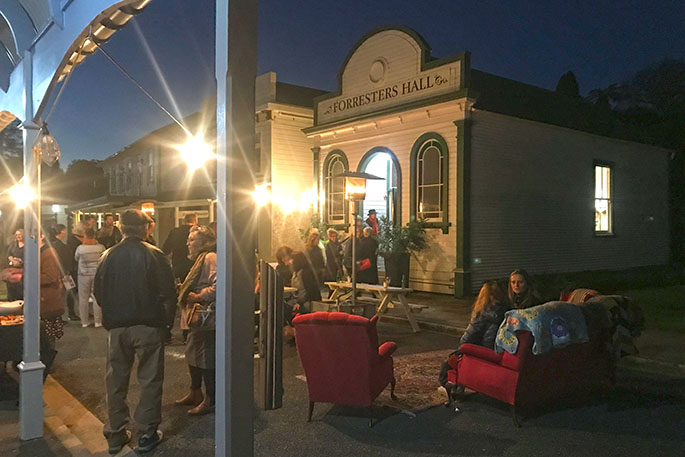 The People's Gallery Toi ka rere at night, at Tauranga Historic Village.