The Hairini Link and Mangatapu Underpass - the $45 million dollar, much-heralded and much-awaited answer to Welcome Bay transport issues - is drawing fire from residents, users and politicians alike.
When it was opened in June, the transport project aimed to improve journeys around the Maungatapu and Hairini roundabouts, separate state highway traffic and local traffic, and make travel safer for pedestrians and cyclists by providing shared paths.
However, since the opening on June 22, it's been roundly criticised.
According to Tauranga City Councillor John Robson, the new infrastructure hasn't worked the way it was thought it would work.
"And since then, they've been going through a process of trying different things."
He doesn't think NZTA will be happy, he knows a number of councillors who are less than impressed.
He says the people of Hairini and Welcome Bay aren't happy.
People like long-time local, Bruce Cronin. He has slated the road signage, he says motorists are confused, they're being directed into a dead end street and they're resorting to a designated bus lane.
"There's a sign warning of a $150 fine for using the bus lane, but more and more vehicles using it," says Bruce. But that doesn't seem to matter. Bruce saw four cars use the bus lane in 10 minutes.
The problem, as he sees it, is the closure of Hairini Street to cars and what he considers to be the poor amount of correct signage.
"Confused motorist are following the signage and ending up in a dead end."
They either turn around or continue down the Hairini Street bus lane to merge with SH2A.
It's been 10 years since the four stage project started. The first stage, completed in December 2008, were traffic lights at the Maungatapu and Hairini roundabouts. The second stage was the 15th Ave/Fraser Street intersection upgrade. Stage three was to be four-laning 15th Ave/Turret Road which has been deferred until 2021.
Stage four was the Maungatapu underpass. The underpass was identified as the best solution to relieve traffic congestion, improve safety and separate local and state highway traffic according to the NZTA's website. "It would contribute to economic development and safety by addressing congestion, improving journey time, reliability on a key route and creating a safer operating environment."
But, according to John Robson, the plan may not have worked out as intended.
"They model what they think is going to happen, where the traffic is coming from, where it's going and what the design will be for the project," says John. "In total my view, bad data used for those models meant that when they put this thing together, it hasn't worked the way they thought it would work."
The councillor says the communities have been left with something they don't have a lot of confidence in, the people of Hairini have lost a key benefit of living in the suburbs which was direct access into the city. And the council suffered a damaged reputation."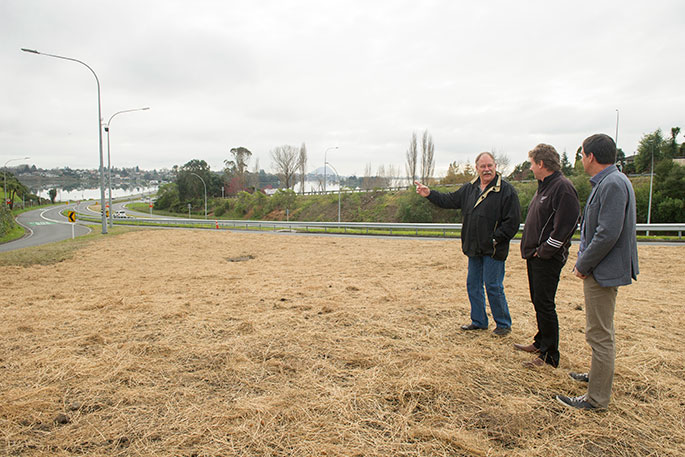 Councillors Bill Grainger, John Robson and Rick Curach discussing what they can do.
Recently the TCC met with the NZTA and asked that Hairini residents be given easier access to the city bound lanes of SH2A - including reopening Hairini Street and investigating safety improvements to the cycle lane on the new link road.
"A reason we have heard they stopped traffic on the old slip road, now a bus lane, is because they feared cars merging with cars is dangerous," says John. "But what they've got now is cyclist merging with buses."
And, he says, they need to address four laning the current two lane Turret Road Bridge.
John Robson says Welcome Bay was built in an area with no effective way for people get into town.
"They built a suburb but they didn't build a proper roading system, and this has been an issue for that community for years."
"Some of the people in Welcome Bay aren't happy because when they started the whole project off it looked like it would be solved. But then a whole lot of different things have happened."
SunLive have contacted NZTA for comments and will update the story once we have heard from them.