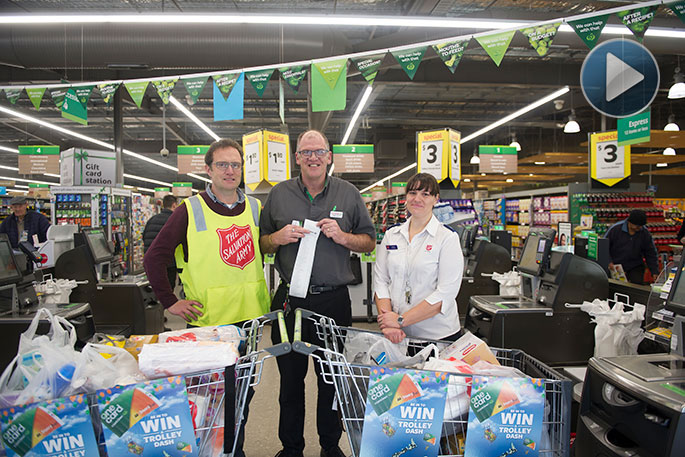 Click the image above to watch the video
Soap, laundry powder, frozen chicken and nappies – for most they're not the first items that spring to mind when you're told you have free rein to select whatever you want from a supermarket.
But for the people receiving support from Tauranga Salvation Army's food bank, they're items that make all the difference.
The items make up some of more than $800 worth of personal care items which have been gathered by Tauranga's Salvation Army team as part of a two-minute grocery grab at Countdown Tauranga.
The grocery grab is one of many ways the supermarket chain is giving back to their own community, in celebration of the second birthday of its One Card loyalty programme.
Countdown Tauranga hosted the grocery grab on Monday afternoon, challenging a Salvation Army staff member to race around the store, collecting as many much-needed items as possible in just two-minutes - up to the value of $1000.
Enlisted to do the honours was Tauranga Salvation Army community finance loans provider, Sean Perry.
Community ministries manager Davina Plummer says he did a great job.
"We thought having a little strategy behind it was quite valuable. First of all we chose our fastest staff member to do the actual grocery grab, and we also aimed to collect products that don't always get donated to our foodbank.
"Naturally, these were higher priced items, because when people are giving, they give what they can afford and often that's within their means – not those higher priced items. So not only are these products more expensive for donors, but they are even more out of reach for recipients."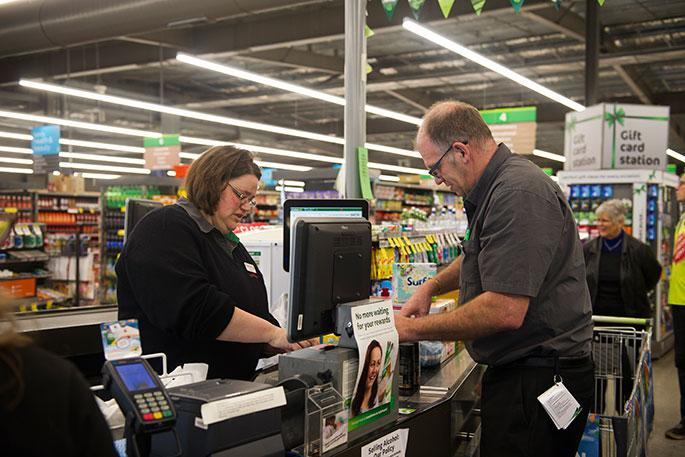 Davina says the items had been selected carefully and intentionally, with their recipients in mind.
"We chose hygiene products such as soaps, personal care items and washing powders," she says. "This is because you actually feel better about yourself when you've got your basic hygiene and cleanliness care needs met.
"People who are struggling to get by have to honestly make choices between food and their hygiene sometime and when they don't cover those basic needs you can find it negatively impacts so many other areas in their life."
Davina says they're grateful to Countdown Tauranga.
"They are a regular supporter of us throughout the year, but this is the first we've been involved in something like this. We were blown away to be able to get those extra items."
Along with being a valuable experience, Countdown Tauranga customer service manager Julie Rennie says it was also an entertaining one.
"Everyone thought it was great, Sean was really loud, he was screaming, he created a lot of attention and it was awesome. He was hilarious, a good showman."
Her comments resonate with Davina's, who says he coped well under pressure.
"It wasn't so much the physical exertion that was hard for him, but more the mental pressure. People were yelling at him and he had a lot to deal with.
"He was questioning things like 'have I forgotten anything', 'have I done enough', and to actually get things off the shelves and into the trolley is harder than it looks."
A total of $881 worth of items were collected during the grab, and these have now been donated to The Salvation Army food bank in Tauranga.
The Salvation Army food banks have been set up to help New Zealanders who are struggling to make ends meet. Particularly during the colder months, budgets can be even more stretched with increased doctor visits and higher power bills.
Julie says Countdown Tauranga is proud to have been able to give back to such a great cause.