An orchard worker is warning others to remain vigilant after catching an alleged avocado thief green-handed in the act.
The man, who wishes to remain anonymous, says the orchard he works on has been victim to theft in the past week.
"We caught a guy red-handed who looked as though he'd been working a fair bit at night to move avocados out of our orchard."
He says a suspicious-looking vehicle was found parked at the back of an orchard around daybreak, at the beginning of the week.
Soon after spotting the car, he and other workers on the orchard, then found eight dive bags full of avocados and spotted a man fleeing to the car before taking off.
He says the incident has been reported to police.
"The stalks were still on, so whoever this was knew what he was doing, it seems like he's a professional avocado thief."
He says it's the first time in 18 years he's seen thieves on his orchard.
"We're right on the bush line, so we're quite far out of the way – this is the first this has happened to us.
"It sounds like there's a group and they are all working together. We think where he had his car, someone had told him where to park there. So who was it?
"One spots the others arrange how to do the job, that's what we think."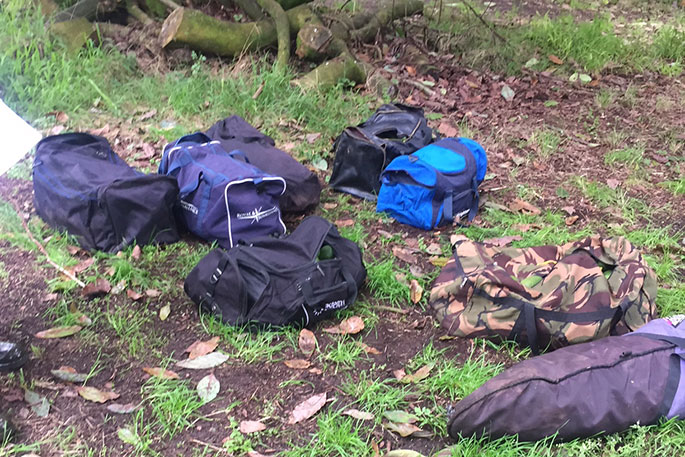 Some of the bagsallegedly used to transport the stolen avocados.
He says the incident highlights the need for other orchard owners and workers to remain vigilant at all times.
The incident is one of many amongst what has been described by Western Bay of Plenty area prevention manager acting Inspector Phil Gillbanks as an 'increase' in avocado thefts.
He says large amounts of avocados are being stolen from grower's trees and sheds across the wider Western Bay of Plenty.
"This is a huge problem at the moment, there's definitely a market for them, they are being targeted and we are at a loss as to why," he says.
"We've previously heard of offenders who will come from as far as South Auckland to target the Western Bay."
He says a majority of the offending has occurred close to roadsides at night, with some also occuring during the day.
Anyone who observes any suspicious activity near orchards or has any information regarding who is taking these items or whom may be involved in the sale or receiving of them should contact their local Police Station.
Alternatively, you can make an anonymous report through Crime Stoppers on 0800 555 111.