Hamilton's latest improvements to its public transport system are leaving Tauranga in the dust, says architect and urban design guru Mark Wassung, and it's time his home city caught up.
The self-styled City of the Future is living up to its own billing with transport network enhancements closely echoing Mark's own proposals, which, he says, has prompted him to renew his call for a new transport vision for Tauranga.
Mark came up with a comprehensive multi-modal transport plan, dubbed Tauranga Connect, in 2016 as a Tauranga City Council candidate in that year's local body election.
The plan envisaged enhanced bus services along with rail and park and ride areas, complimented with ferries, walkways and cycleways.
He circulated the plan to councillors in both cities at the time, and says he's pleased Hamilton's thinking appears to be aligning very closely with his own.
"A lot of my work is founded in international precedent so I'm not claiming that it's all copied from me. But the point is they're actually moving ahead faster than Tauranga.
"The use of colour, and the subway look of it, it's very similar to what I put on the table."
He's urging Tauranga's decision-makers to cast their eyes over the Kaimai Ranges.
"Hey look what these guys are doing. Their busses are coloured, their routes are simple, the network is a series of loops and lines in colours - very similar to Tauranga Connect, which is looking at international practice like the London and Singapore undergrounds."
The approach Hamilton has taken to the branding of their network is critical, Mark says. "Their busses are silver and they've got a flasher colour. Our busses are just yellow.
"Each loop I wanted to have the busses a colour. If you saw the red bus or the green bus or the blue bus you'd know which loop and line you're on."
Mark's vision was a central plank in his campaign for this year's Tauranga City Council by-election in which he finished a close second behind winning candidate John Robson, and he believes that shows his ideas are resonating with the public.
He says he's pleased with the improvements to the city's bus services which will coincide with NZ Bus taking over the contract in December, but they don't go far enough.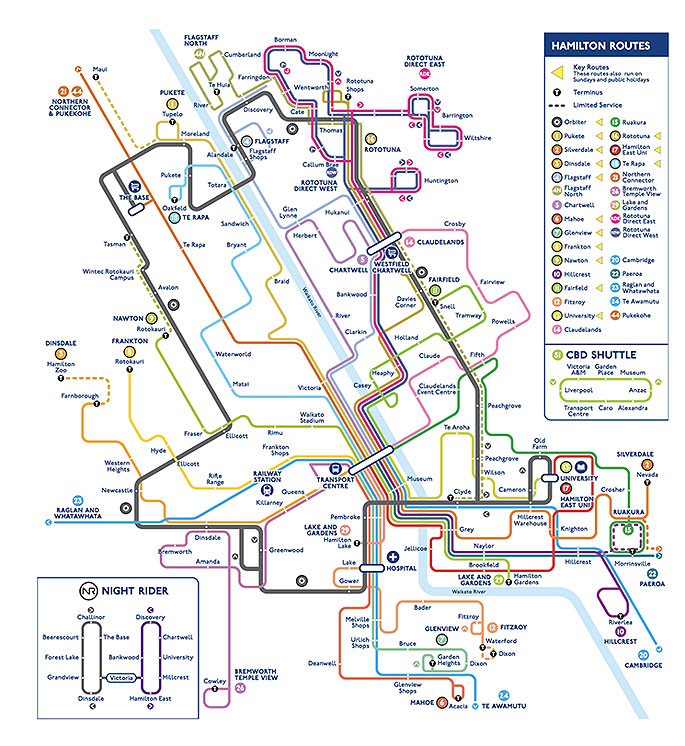 Hamilton's clear and colourful public transport network is leaving Tauranga behind.
Increased service frequencies and redesigned routes, along with other enhancements including longer operating hours and new interchanges, were among the changes announced by Bay of Plenty Regional Council in April.
The advent of electric busses is a positive too, says Mark, as well as bike racks to encourage cyclists to use the busses.
"They're looking at a fast transit loop which is called the red loop, and they've also got the cross-town connector which they've added in."
He acknowledges you can't fix everything all at once, but despite the coming positive steps he believes the development of Tauranga's public transport network needs to be more adventurous.
"I think there should be more innovation in it. It should be a series of loops and lines, and coloured, and very clear, just like in Connect.
"The Hamilton one is very clear, articulate, simple, colourful, loops and lines. I think it's still too overcomplicated here.
"The other thing they're doing is their red loop is a fast and frequent service which is also what I've been pushing for. The whole idea would be fast, frequent, reliable and accessible.
"They're putting it on a 10-15 minute regular service, so you don't have to have a timetable."
Putting the focus back on services the people will actually use is the key, Mark says.
"We've been very passionate about people and being community-based in our projects. It's always a revelation to me to see that actually the whole system is designed around fare-box returns and the same old same old that doesn't work.
"Whereas if they looked at innovation and people, and what people want, then that would be the answer. It's the simplest thing."