A love for the alternative lifestyle is what brought them together, but a love for each other is what will keep them together.
Friday the 13th might be a day full of superstition for most people, but for Tauranga couple Kevin and Laura Barry it's the day they vowed to be husband and wife.
Kevin and Laura celebrated their love for each other with a horror themed wedding at Daniels in the Park near Memorial Park.
Talking to SunLive, Kevin says Laura is his soul mate.
"Being a tattooist and Laura a tattoo model with piercing experience and hopes to one day have her own piercing studio made it even more meant to be I thought."
The pair met at a friend's birthday.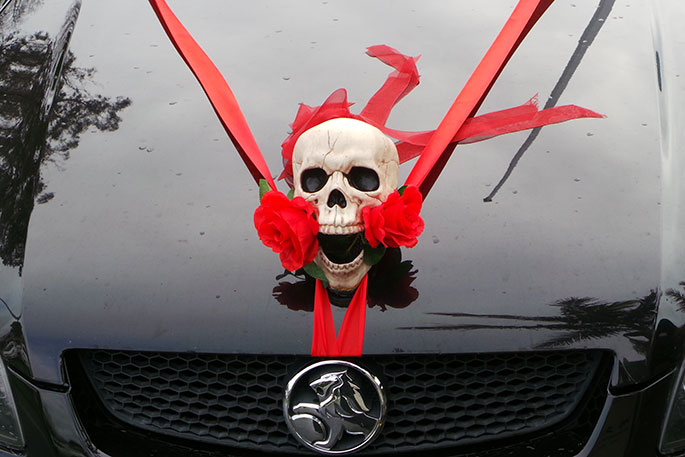 Hers and his. The bridal car above and the grooms car below.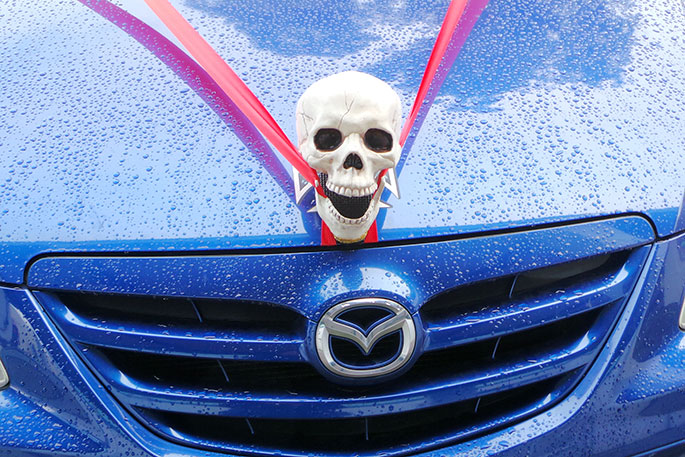 Kevin says Laura was seeing someone at the time. But he noticed her straight away and it was hard for him to ignore her.
"I did my best to be respectful as the night went well and that was that.
"Sometime later, Laura contacted me re tattoos and came to see me for some ink and we got on well. Not long after that her relationship ended and we caught up for some more ink and I kissed her.
"It's not my usual thing to mix business and pleasure but there was just something about her. I asked her out that evening and she answered the next day and accepted, I remember it well as it was my birthday."
For Kevin there was no doubt in his mind that Laura was his soul mate.
He proposed to her under a tree strewn with purple flower – her favourite colour – and she said yes.
"We both share a love of the alternative lifestyle and all things horror and unusual, so was easy to agree on a horror theme as well Friday the 13th being the first choice for a wedding date."
When asked what advice he would offer to other couples looking at tying the knot, Kevin recommends people work on themselves so when the right one comes along, you are free to pursue a life together without ties from the past.
"Nor am I perfect but to describe us in one sentence would be 'perfect for each other'!
"The one thing I promise to her is that I will always try as long as I breathe she is my soul mate. I'm so grateful to have her in mine and my boys' life."