Higher prices for takeaway foods and restaurant meals pushed the food price index up 0.2 per cent in the year to June 2018, says Stats NZ.
Prices for restaurant meals and ready-to-eat food increased 3.0 per cent. Lunch meals (up 3.8 per cent) led the way, along with a wide range of takeaway food options.
"April's 75 cent increase in the minimum wage, to $16.50 an hour, may have contributed to price increases for these items," says prices manager Matthew Haigh.
"Of every $100 that Kiwi households spend on food, about $26 goes on takeaways and eating out."
While overall food prices increased slightly over the year, meat and poultry prices decreased 1.6 percent, influenced by cheaper prices for chicken (down 8.5 per cent).
Chicken breast prices fell 14 per cent to $12.28 a kilo.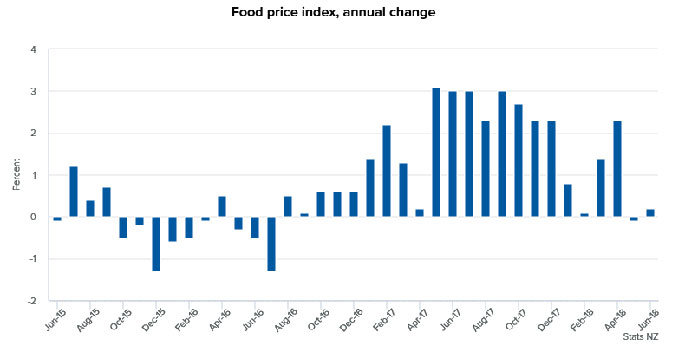 Seasonal vegetable prices nudge June food prices up

Food prices rose 0.5 per cent in the June 2018 month, influenced by seasonally higher vegetable prices (up 11 per cent).
This rise was led by cucumber (up 88 per cent), lettuce (up 48 per cent), and capsicum (up 32 per cent) prices, which all rose in June.

Grocery prices fell 0.8 per cent in June, with lower prices for dairy products, including yoghurt (down 9.0 percent), cheese (down 4.2 per cent), and butter (down 6.9 per cent).
The average price for a six-pack of 150g yoghurt was $4.40 in June, down from $4.83 in May.