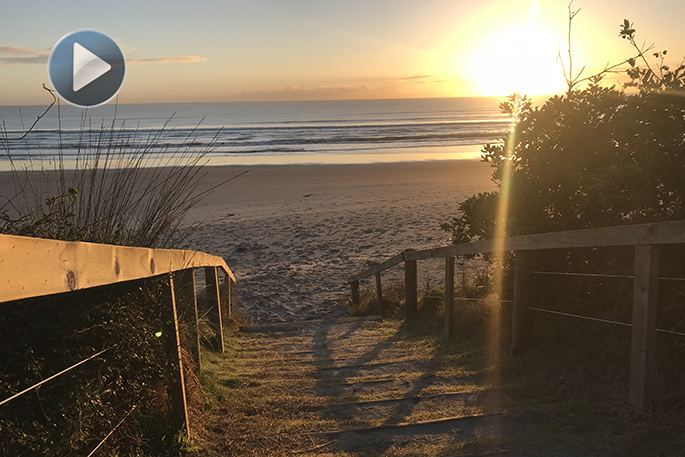 Click the image above to watch the video
In today's weather we are expecting sunny spells with westerlies.
It's a three-clothing layer day today with a high of 15 and an overnight low of 5 degrees. Humidity is 99 per cent.
Low tide is at 10.50am and high tide is at 5.10pm. There's a sea swell of 0.2m with a sea temperature of 16 degrees. Sunset tonight is at 5.08pm.
If you're going fishing the next best fish bite time is between 9 and 11am.
In NZ history on this day in 1877 the first woman graduated from a New Zealand university. Kate Edger became the first woman in New Zealand to gain a university degree and the first woman in the British Empire to earn a Bachelor of Arts (BA).
In 1983 Lorraine Downes was crowned Miss Universe. Lorraine Downes became a household name overnight and spent the next 12 months travelling the world accompanied by a chaperone, carrying out the duties of Miss Universe.
In world history on this day in 1786 Morocco agreed to stop attacking American ships in the Mediterranean for a payment of $10,000. In 1972 American forces broke the 95-day siege at An Loc in Vietnam. In 1975 archaeologists unearthed an army of 8,000 life-size clay figures created more than 2,000 years ago for the Emperor Qin Shi Huang. In 1995 full diplomatic relations were established between the United States and Vietnam.
Today is the birthday of Robert the Bruce. Born in 1274, he once said "We fight not for glory, nor for wealth, nor honour but only and alone for freedom which no good man surrenders but with his life."
To get involved in some of the many activities happening around the Bay, please check out our What's on page.
Have a great day!