Unstoppable attacking football has put the students of Tauranga Boys' College three points out in front of Waikato-Bay of Plenty's Loaded Premiership table.
They found the net six times for the second straight week in a 6-2 hammering of neighbours Tauranga Blue Rovers at Pemberton Park.
After a heavy run of top level schoolboy matches culminated in last week's heartbreaking 3-2 defeat to Hamilton Boys in the final of the North Island schools Super 8 competition, Boys' College First XI looked ready to take out their frustrations on the struggling Blue Rovers outfit.
They hit the ground running and effectively had it wrapped up after a four goal first half haul.
Scott Hawkins, Alex Elliott with two, Ryan Peddle, Lewis Reid and Kody Gorst all hit the back of the net for the free scoring visitors.
They now have, by far, the best attacking record in the league, and a three point lead on the table, albeit having played two more matches than the chasing pack.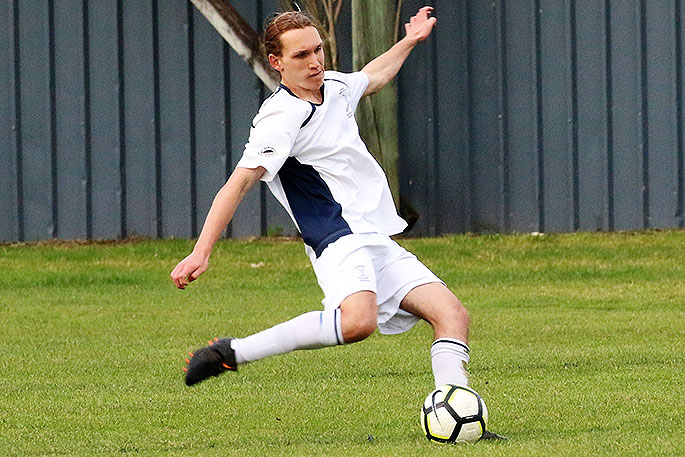 TBC's Alex Elliot netted twice for his team is Saturday's 6-2 victory.
Second-placed Papamoa would have expected to keep pace with Boys' College, but were beaten 2-1 at home by Otumoetai, who aced a tight game against a top side for the second week running.
After knocking off Taupo last weekend Otumoetai were at it again, scoring from a set piece and a fast break.
Nick Barnes and Jordi Langton were Otumoetai's goalscoring heroes this time as they showed the rest of the league there is a way through Papamoa's normally ironclad defence.
Fawwaz Ali's goal levelled the game at the break, but Papamoa struggled to find any further joy against a compact Otumoetai rear-guard.
Waikato Unicol, with games in hand, seemed to be gathering pace in the race for the title, but slipped up at home to Comag Matamata Swifts.
Unicol had the best of the game, as their recent form suggested they might, but a Brad West goal saw the Swifts in front at the break. Luke Goodwin drew Unicol level but there was late drama when Matamata was awarded a 90th minute penalty.
Jamie Baxter slotted it for the Swifts, whose win moved them into the top five.
This result illustrated just how unpredictable this year's Premiership is as, a week after having Tauranga Blue Rovers complete a league double over them, the Swifts managed the same feat against Unicol.
The other game, between Melville United at Te Awamutu, finished level at 2-2, with a goal apiece in each half.
The point kept Melville in the top four, one point behind Papamoa and Taupo and four behind Boys' College.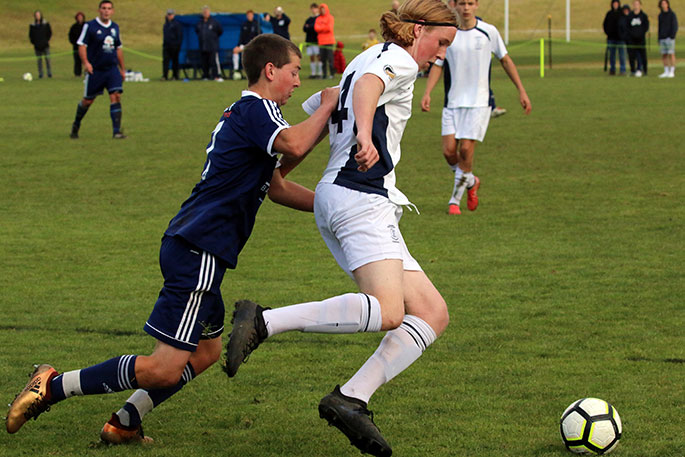 Alfie Cole get the better of his defender to set up Boys' College's fourth goal.
Tokoroa and Taupo gained three easy points when their opponents, Hamilton Wanderers and, surprisingly, West Hamilton United, chose to default their fixtures.
For Taupo, the three points drew them level with Papamoa, while Tokoroa moved themselves out of the bottom two.
WaiBOP Championship leaders, Ngaruawahia United, dropped points for the second week running after being held to a 1-1 draw at mid-table Te Puke United, while Kawerau Sports have marked themselves as favourites for the second promotion spot.
A week after becoming the first team to defeat Ngaruawahia, Kawerau powered past Matamata reserves, scoring six second half goals to win 8-0. The gap between the two sides is five points with five games to go.
In the other games, Taupo's reserves drew 1-1 at home against Waikato Unicol's reserves, while Otumoetai's reserves edged Cambridge 3-2.
The weekend' sole WaiBOP Women's Premier League match resulted in a lopsided victory to the now league leaders, Tauranga City, over Melville United at Links Ave. The home side held a single goal advantage at the break but took complete control in the second spell to take the match 4-0.
City's goals were shared between Rachel Collins, Ari Kingi, Danni McKenzie and Hayley Merriman.
They leap-frogged Whakatane Town in the Premier League standings, and lead by a point having each played four games.
The weekend's WaiBOP football league results:
Loaded WaiBOP Premiership:
Tauranga Blue Rovers 2, Tauranga Boys' College 6 (ht: 1-4)
Blue Rovers: Marcus Bathan, Jared Bailey.
Boys' College: Scott Hawkins, Alex Elliott 2, Ryan Peddle, Lewis Reid, Kody Gorst.
Melville United 2, Te Awamutu 2 (ht: 1-1)
Melville: David Brennan, OG.
Te Awamutu: Jack Connor 2.
Papamoa 1, Otumoetai 2 (ht: 1-1)
Papamoa: Fawwaz Ali.
Otumoetai: Nick Barnes, Jordi Langton.
Waikato Unicol 1, Matamata Swifts 2 (ht: 0-1)
Unicol: Luke Goodwin.
Matamata: Brad West, Jamie Baxter.
Tokoroa 3, Hamilton Wanderers 0 (default)
Taupo 3, West Hamilton United 0 (default)
WaiBOP Championship:
Cambridge 2, Otumoetai Reserves 3
Cambridge: Peter Bruesnel 2.
Otumoetai: Liam Duncanson 2, Jonny Hill.
Taupo Reserves 1, Waikato Unicol Reserves 1 (ht: 1-1)
Taupo: Max Duckworth.
Unicol: Gus Murray.
Te Puke United 1, Ngaruawahia United 1 (ht: 1-1)
Kawerau Sports 8, Matamata Reserves 0 (ht: 0-2)
WaiBOP Women's Premier League:
Tauranga City 4, Melville United 0 (ht: 1-0)
Tauranga: Rachel Collins, Ari Kingi, Danni McKenzie, Hayley Merriman.
Melville: none.