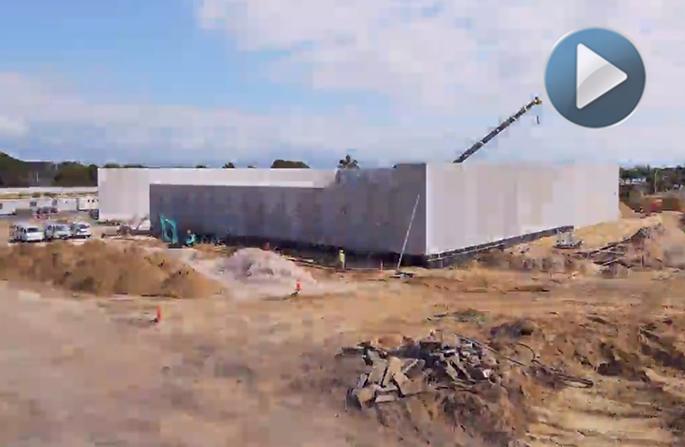 Click the image above to watch the video
Bayfair Shopping Centre recently celebrated its $115 million development project hitting a major milestone with the completion of Countdown's new roof.
The centre celebrated with a roof shout with the centre management team, Hayden Henry from Ngai Te Rangi iwi, the Fosters construction team, contractors and consultants and special friends of the centre.
Once completed later this year, Countdown will relocate to its new location at the Harris and Carter Streets end of the centre. The new Countdown will have new features for the community including fresh, new look produce, deli and seafood departments.
As part of Countdown's nationwide commitment to be single-use plastic carrier bag free by the end of 2018, the new Countdown will open being single-use plastic carrier bag free.
Bayfair has also announced it has agreed commercial terms with tenants for in excess of 75 per cent of the project by area and are currently in negotiations with retailers for the balance of the space.
The centre will create the most compelling fashion, lifestyle and entertainment experience in the region, including United Cinemas, Little Creatures gastropub and Cleaver & Co bar and restaurant.
"Despite the centre's major development, sales have increased reinforcing how incredibly loyal our customer base is and the convenience of our location in the region," says Bayfair centre manager Steve Ellingford.
"In fact, Bayfair is New Zealand's highest performing shopping centre in by specialty sales per square metre. The development will cement Bayfair as the region's preferred retail, lifestyle, hospitality, and entertainment destination for years to come. We would like to thank our customers for their loyalty during this development as we look to bring more of what they love."
Development Details
A development programme including staged openings, with the majority of stores opening pre-Christmas 2018 and the final stage opening Q3 2019.
On completion, Bayfair will be a fully integrated, single level, enclosed shopping centre.
The centre's overall footprint is expected to expand by 9000 square metres (sqm) to a total of 42,000 sqm.
Adding approximately 50 specialty stores, including a strong fashion mix new to the centre and the region. Bayfair will have 150 stores on completion.
1820 car spaces, (an additional 200 spaces).
New concept Countdown supermarket.
The Bay of Plenty's largest cinema complex with seven screens, more than 1,300 seats and Dolby Atmos sound system.
Integrated alfresco dining precinct to complement the nearby cinema complex, with up to eight restaurants and casual food eateries including licensed operators.
Modern family facilities, including a quiet room for children with sensory processing disorders such as autism.