Theatre. It's one of humanity's oldest forms of artistic expression, likely on par with cave paintings and sharing stories around a flickering fire.
And despite the prevalence of superhero films and 'binge-worthy' Netflix series in our lives, theatre still enjoys a strong following, not least of all in Tauranga – the city oft-misrepresented as a 'cultural wasteland', but which has, in fact, a vibrant arts scene.
Old favourites
Theatre has had a constant presence in Tauranga for more than 80 years. 16th Ave Theatre – found, appropriately, on that avenue in the city – has run continuously for 82 years.
"We started off as 'The Mummers', and our official name is still Tauranga Repertory Society," says society president Sarah Oemcke.
The society built the theatre in four stages over a 53-year period, from 1948 to 2001, and proudly owns both the building and the land.
Sarah says they are run entirely by their members, who are all volunteers.
"Numbers go up and down, but usually we have around 200-250 members in a given year. They give their time, talents and love tirelessly to our beloved theatre."
The theatre usually puts on around four shows a year in their main auditorium, and a youth production in January. Acting classes are on a Tuesday night.
Anyone can become involved on stage by auditioning for a role, while there are plenty of opportunities for people to help out backstage or as a member of the technical crew.
"From front of house ushers to cast, crew, technical operators, builders, painters, artists, marketing experts, make-up artists, costume designers, hair stylists, accountants, bar managers and committee members, there really is a role for anyone who wants to put themselves out there," says Sarah.
"I am often asked what you get out of becoming a member. My reply is usually whatever you put in."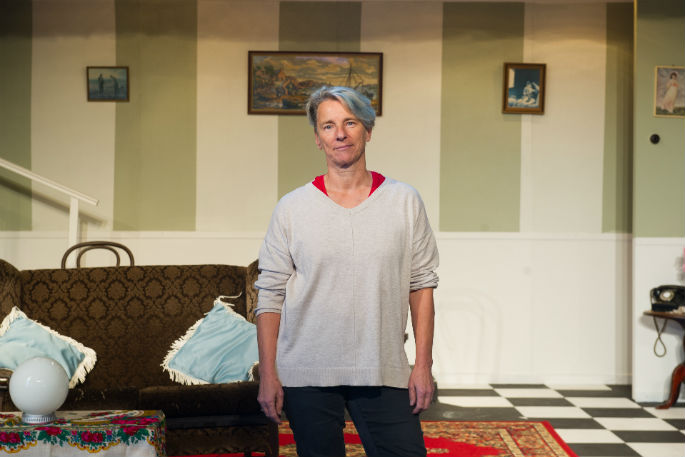 Detour Theatre's Kim Williamson.
A creative detour
Just around the corner, in the Historic Village, is a much younger theatre but one that has gained a solid following in the recent years.
Detour Theatre, run by Kim and Devon Williamson, has been at its current site for 10 years.
"We started in 1996 with a studio in Dive Crescent, where we ran our classes and had rehearsals, and did our shows at Otumoetai Baptist Church," says Kim.
After a space opened up in the old church at the Historic Village, the couple jumped at the chance to move, spending a year fitting the hall out with seats and the other technical necessities of a theatre.
Although they don't own the building, Kim says they feel pretty secure in their tenancy.
"I think we're the right kind of fit for what the Village is after, particularly with other artistic groups like The Incubator up this end."
They usually aim for four shows a year, starting with the world premiere of Devon's latest play, which he writes towards the end of the preceding year.
"We then try to do a 'modern classic', such as an Agatha Christie or Noel Coward, and at the end of the year we put on a popular comedy, such as the Vicar of Dibley."
Previously, Detour Theatre also staged a Shakespeare play, and have produced most of the Bard's classics at one point or another.
"For many years we were the only place in town doing Shakespeare. I think we did them all!" laughs Kim.
They also run classes for children and adults with special needs, with these classes putting on their own productions at the end of each term.
Unlike other theatres, the smallness of Detour means they don't have members – all of the technical roles are filled by Kim and Devon.
"We're a little different to the other theatres, in that this is our full-time job. Devon does all of our advertising, for example, and we build the sets ourselves from scratch."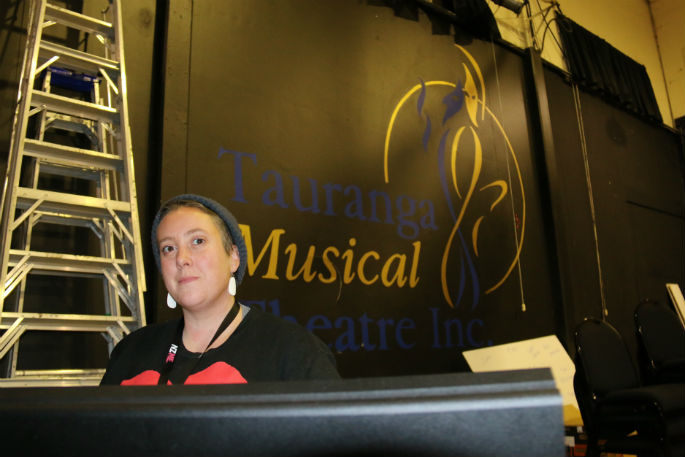 Tauranga Musical Theatre president Elise Rohde.
A bit of music
Up the road, on the corner of 17th Avenue and Cameron Road, is Westside Theatre, which for many years has been the home of musical theatre in Tauranga.
Tauranga Musical Theatre president Elise Rohde has been in her current role for five years, but has a long association with the theatre.
"My mother and grandmother were involved, so I started very young," says Elise. "I jumped on the committee straight after university and have been there ever since. It's coming up for 60 shows I've been involved in."
TMT, as it is known, recently celebrated its 70th anniversary, and has re-signed the lease on their current site for another 50 years. Their longevity comes down to investing in youth, and putting on both classic musicals and new shows each year.
"Our reputation is particularly strong at the moment, and we like to ensure we do shows for a younger demographic as well," says Elise.
"We put in our youth programme around 10 years ago, which gets young people doing not only the acting but the production roles too, in one show a year. It ensures we have people coming through and cementing our future."
As to whether people want local theatre, Elise says demand is strong.
"I'd say there was a slump 10-15 years ago, in my opinion. But it's picking up again. There's three times as many shows on at Baycourt as there were 10 years ago, so people obviously want it."
And she says you don't have to sing and dance to be involved.
"There's always a place for everyone in theatre. People think it's about being on stage, but I haven't been on stage for a long time, and I've never been happier. There's many ways to become involved."
Culture abounds
As to Tauranga being a 'cultural wasteland', Sarah says it's about getting the truth out there.
"I am sometimes a little dismayed when I talk to locals who don't even know we have local theatre groups operating," she says.
"I then proudly scream from the rooftops 'we have three theatres just in one block, and we have at least nine independent theatre groups running in Tauranga, not including the fantastic productions our secondary schools put on.'
"Where is this being showcased? Sorry to point fingers, but if you look at cities that embrace and celebrate culture, the arts are proudly represented in the media.
"Read any online newspaper from Wellington, Sydney, London, Paris, New York, and they all display 'culture' as a top tab on their search sites, right next business and sport. I look at our local online papers and the arts or culture don't even have a tab."
To get involved with these local theatres, email the addresses below:
16th Ave Theatre: info@16avetheatre.co.nz
Detour Theatre: info@detour.co.nz
Tauranga Musical Theatre: info@taurangamusicaltheatre.co.nz