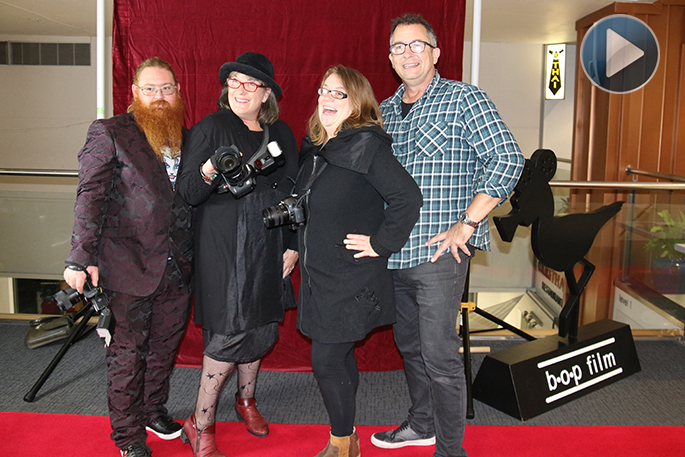 Click the image above to watch the video
'Manawa Bay', a musical made by a Coromandel-based team took out the top prize at the Bay of Plenty hp48hour Furious Film awards, held on Sunday night.
The hp48hour film red carpet awards sparkled, with local filmmakers dressed up in their finery.
Actors and technical crews making up teams from the Coromandel, Rotorua, Whakatane, Te Puke and Tauranga packed out two cinemas at Tauranga's Rialto to view the short films made during the hp48hour film competition held in May.
Director Alison Titulaer won Best Director, with her team Tinker Tailor also taking out the top awards for cinematography, editing, original score/song, and best use of required elements.
At the start of the 48 hour film competition, each team was allocated a category from these genres - monster movie, high school movie, the fish-out-of-water movie, wish movie, technological thriller, star-crossed lovers, splatstick, time travel, heist, anti-romcom, the last day on earth movie, back from the dead movie, the film that spans more than ten years, and the musical. Teams were also told they must include three elements in their short film – a door slamming, a silhouette or shadow, and a puddle.
Competitors had to have their entries back within 48 hours, otherwise they faced disqualification.
Alison's team were faced with the challenge of making a musical, with music and song writing not one of their group's strengths. She also co-produced and wrote the script with James Muir.
"We logged in to the competition online," says Alison. "We were based in the Matarangi area and we got all our genre elements online and submitted online. 'Musical' was the one genre we did not want. We dreaded getting it."
There were ten in their team.
"The actors can't sing at all," laughs James. "At first we just had to suck it up. We thought 'ok we can do this'."
"I've written many scripts," says Alison. "But I've never written music or lyrics in my life. Thankfully our actors helped write the lyrics, and we had Tomas Iglesias who is a composer and musician. Thank goodness because without him we would have been stuck. He's from Argentina."
Their film called 'Manawa Bay' featured the beach scenery in Coromandel.
"As well as musical, we had to choose another genre from the other 13 genres," says Alison.
"We chose 'back from the dead'. But we kind of wrote an anti-romcom," says James. "And a 'fish out of water' story too. It fitted a few genres. It was fun to do that. And it was a bit of a love story actually."
"A tragic love story," says Alison.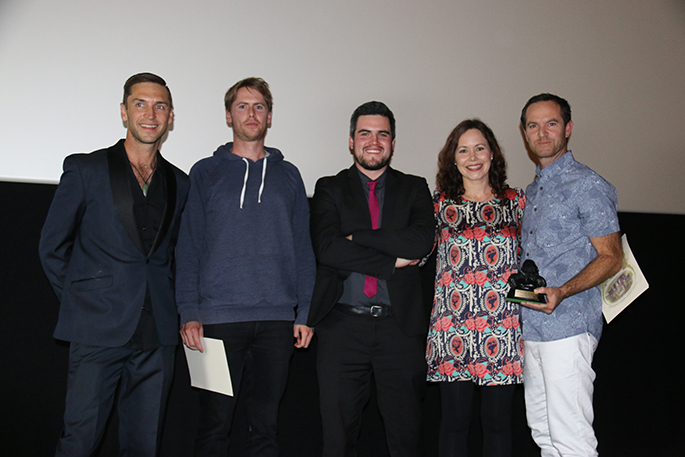 BOP Film manager Anton Steel with winning Tinker Tailor team Tristan Gray, Callum Brown, Alison Titulaer and James Muir.
Sarah Oemeke from Bang Bang Films won Best Performer for her acting in 'An Education', a film in the 'high school' genre.
"It was very nice to win," says Sarah, who was nominated for Best Performer along with her two cast members Daniel Urizagga and Melissa Osgood. "I actually thought Daniel with his splits would definitely win it!"
Nige Ward from Rotorua's Animation College had a team of current students - AC Deezy, and a team of graduates – the E-Blacks, entered into the competition. Both teams created animation films, with AC Deezy nominated for four awards, and winning Best School Team, Best Production Design, and Best Animation/VFX.
"We found the 48 hours filming experience insane," says Nige. "So good, so good. We're all so excited about it, we're going to do our own practice ones over 48 hours."
There were 23 team members in AC Deezy and about 20 in the E-Blacks.
"We had some sound people as well," says Nige. "And some people liked to hang out and stay awake, and help with the writing as well."
Organiser Annmarie Lawler from BOP Film arranged for the two theatres to link up after the film viewing, so attendees sitting in both theatres could view the prize giving live.
"This is both a premiere and an awards night," says Annmarie. "We asked everyone to glam up, got a red carpet and paparazzi. Everyone started with drinks with BOP Film, and then came over to Rialto for nibbles before the premiere screening. It's an exciting night!"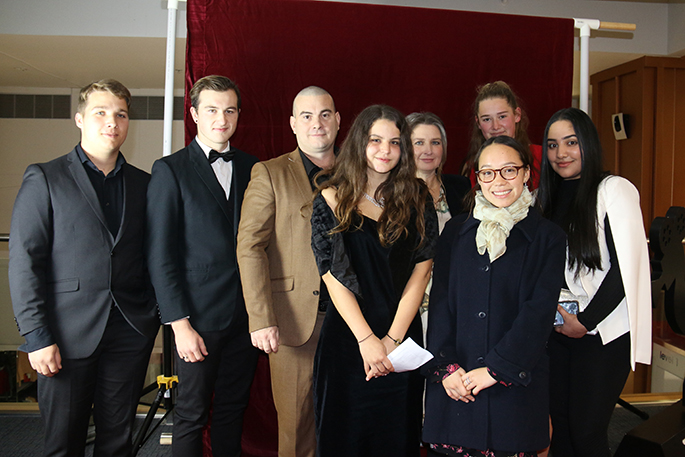 Candy Floss Cloud Productions from Te Puke.
James Papesch, Jacqui Porter-Thomas, Moira Lomas and Derrin Richards, all photography students from Toi Ohomai, enhanced the red carpet experience by being paparazzi.
BOP Film manager Anton Steel also presented fun awards to some of the teams, which reflected the more quirky elements of their films.
None of the teams were disqualified during the competition, with all teams, including the animation teams based in Rotorua meeting the 48 hours filming deadline.
Alison, who has completed a Diploma in Digital Film through the Southern Institute of Technology, has plans for her future with film making.
"I submitted a script to the NZ Film Commission last year," says Alison. "I then went through a long arduous process and got selected for some funding. So I'll be working on a short film."
She plans to make the film in August, and is currently looking for locations.
"It's about an elderly couple who go on their last date," says Alison. "It's very sad. I've cast it and have got some beautiful actors on board. We have a great producer and director of photography and now we're looking for locations."
The winners of each of the Bay of Plenty awards goes through to the NZ grand final which will be held on July 14.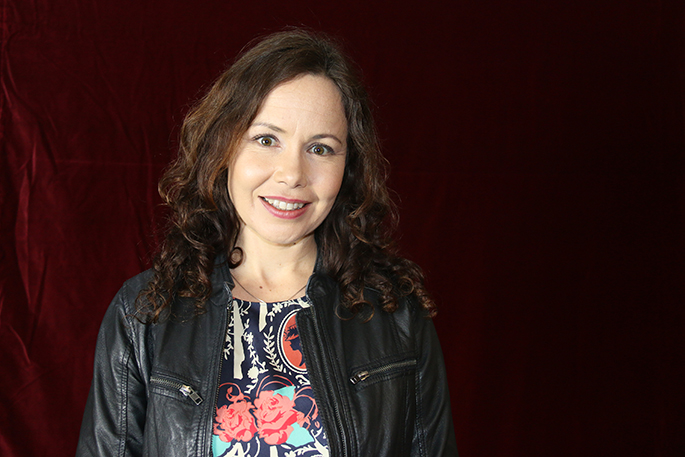 Alison Titulaer, from Tinker Tailor won Best Director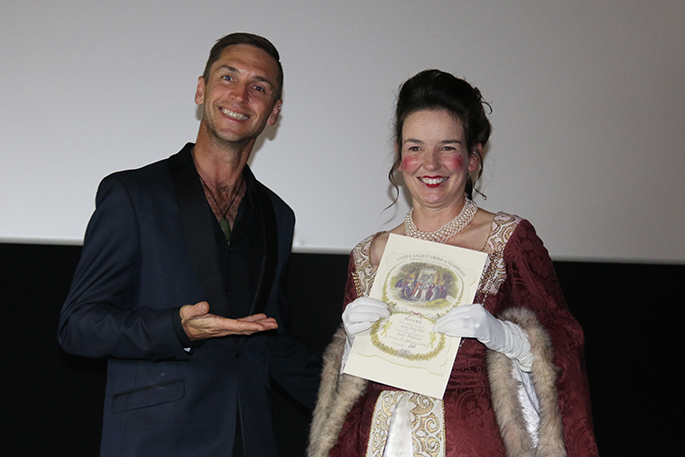 BOP Film manager Anton Steel with Sarah Oemeke from Bang Bang Films who won Best Performer for her acting in 'An Education'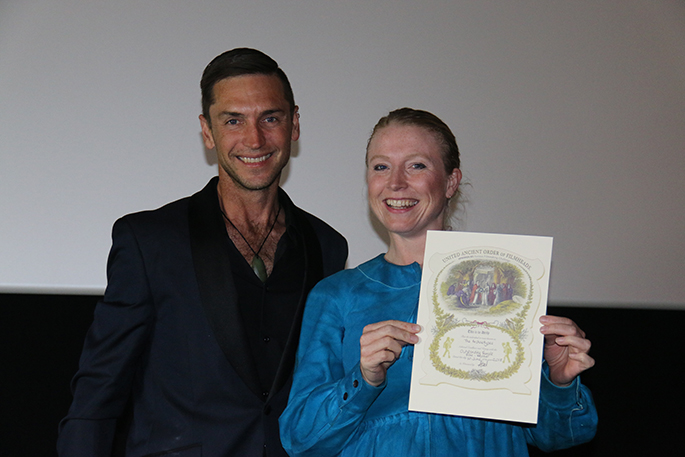 BOP Film manager Anton Steel with Beatrice Hudson who won Outstanding Female Filmmaker for the film 'The Mother of Time'

The winners for Bay of Plenty are:
Bay of Plenty City Winner
Tinker Tailor - Manawa Bay
First Runner-Up
Big Picture Minor Deets - Literal
Second Runner-Up
Cucumber Cup – Submerged
Best Director
Winner - Tinker Tailor - Manawa Bay, Alison Titulaer
Nominees
The Archaetypes - The Mother of Time
Yeah Nah - Behind You
Outstanding Female Filmmaker - Supported by WIFT
Winner - The Archaetypes - The Mother of Time, Beatrice Hudson
Nominees
Big Picture Minor Deets - Literal
Candy Floss Cloud Productions - Birthday Wish
Tinker Tailor - Manawa Bay
Best School Team
Winner - Rotorua AC Deezy - Highest Score in the Universe
Nominees
Ace Productions - The Monster from Another Time
Poleland Productions – Misinterpretation
Best Performer
Winner - Bang Bang Films - An Education - Sarah Oemeke
Nominees
Bang Bang Films - An Education - Melissa Osgood
Bang Bang Films - An Education - Daniel Urizagga
Tinker Tailor - Manawa Bay - Sheena Irving
Best Script
Winner - Big Picture Minor Deets - Literal
Nominees
Candy Floss Cloud Productions - Birthday Wish
The Archaetypes - The Mother of Time
Tinker Tailor - Manawa Bay
Best Cinematography
Winner - Tinker Tailor - Manawa Bay
Nominees
Cucumber Cup - Submerged
The Archaetypes - The Mother of Time
Best Production Design
Winner - Rotorua AC Deezy - Highest Score in the Universe
Nominees
Candy Flos Cloud Productions - Birthday Wish
Locke Lively - Sweet Gums
The Archaetypes - The Mother of Time
Best Animation/VFX
Winner - Rotorua AC Deezy - Highest Score in the Universe
Nominees
Nutty Mosquitoes - White Gold
Poleland Productions – Misinterpretation
Best Editing
Winner - Tinker Tailor - Manawa Bay
Nominees
Bang Bang - An Education
Poleland Productions – Misinterpretation
Best Sound Design
Winner - Cucumber Cup - Submerged
Nominees
Candy Flos Cloud Productions - Birthday Wish
Rotorua AC Deezy - Highest Score in the Universe
Best Original Score/Song
Winner - Tinker Tailor - Manawa Bay
Nominees
Ace Productions - The Monster from Another Time
The Archaetypes - The Mother of Time
Best Use Of Required Elements
Winner - Tinker Tailor - Manawa Bay
Nominees
Big Picture Minor Deets - Literal
Cucumber Cup – Submerged

Best Use Of Genre
Winner - Big Picture Minor Deets - Literal
Nominees
Bang Bang Films - An Education
Tinker Tailor - Manawa Bay