One minute he's a bleary-eyed flightless bird with hairy feathers making a precarious life transition from hatchery to crèche to the wild.
The next minute, he's in the public gaze - tens of thousands of corporate dollars are being thrust at him and his like, and there's a worldwide quest for an appropriate name.
After 150 suggestions he will be known as Koura – the Maori word for gold. But even before the spotlight had focused, before the stardom had registered, Koura, the 17-month-old male Kiwi had shuffled forth into the Otanewainuku Forest undergrowth to multiply – to procreate and perpetuate.
"There's so much work to be done for these birds," says Otanewainuku Kiwi Trust's David Brown. "And we just want to crack on with it."
Now they can crack on, and the at-risk apteryx mantelli, Koura, will have a much-improved chance at survival because of a lifeline from big business and kiwifruit – gold kiwifruit, hence Koura.
Zespri is donating $50,000 a year for the next three years to assist the Trust's work.
"It's a godsend," says David, "a substantial and significant boost for us – a fair chunk of our budget.
"Now, we can plan ahead and focus our energies on increasing survival rates rather than worrying about funding applications."
The Trust is a community volunteer group assisting the kiwi population just beyond the kiwifruit heartland of Te Puke.
It recovers eggs from the forests, hatches them at Rainbow Springs, raises them at a crèche so they are a bit older and smarter and releases them into a pest-controlled section of Otanewainuku Forest.
"It's fantastic to be able to support these sterling locals who've been quietly working to save kiwi for decades now," says Zespri Chief Grower and Alliances Officer Dave Courtney.
Sterling locals and sterling work – "But it's still not a good picture," says David Brown. The numbers tell the story.
The Trust has released around 55 birds into the forest since 2007. There were "dark days" to start, when 14 birds were released and just two survived. "The experts audited us – we had done everything right, and they put it down to bad luck."
The trust changed things, releasing a few adult birds to help establish the young population, before putting chicks through a crèche to give them street smarts before hitting the forest.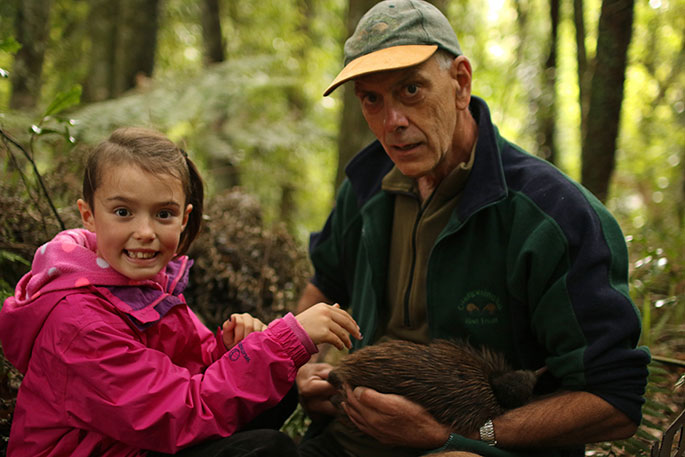 11-year-old Eva Lynch up close and personal with Koura who's being held by the Kiwi Trust's David Brown.
Of the 55 released overall, 21 survive. Fiddle with the numbers a bit, take the original 14 out of the equation, and it leaves 40.
"So roughly 50 percent of the birds we have released into the forest have survived." Compare that with 14.29 per cent during the dark days and the trust is making cautious strides.
"Yes, it's looking brighter," says David Brown, "because if the birds weren't touched, and without the trusts work and support systems, the survival rate would be about five per cent in an unprotected area."
The $150,000 three-year commitment will fund transmitting gear for tracking Kiwis, pay for helicopters on egg recovery ops in inaccessible parts of the forest and cover the cost of egg hatching at Rainbow Springs.
The eggs are lifted from the nest while the father is tending the nest. "That's a tough call, because if we leave them, we know there's a very high chance that chick will not survive."
The stoats will be prowling very early, and take the chicks out before they get too old. If the chicks grow to over 1,000 grams, which in the wild is about three-to-six months, they have a fair chance of knocking a stoat around and surviving. If ferrets are on the scene, adult birds will be taken out too.
"An adult ferret will kill an adult kiwi straight away," says David. "No win for the kiwi."
The kiwifruit marketing company's involvement won't stop at writing cheques.
"We're very keen to find practical ways to help the trust," says Zespri's Dave Courtney. "We're developing several projects that will mean real, hands-on involvement of Zespri people."
David Brown, the Kiwi trust team leader, has been very hands on. "It's two or three days in the forest every week on average, but six days in the last week-and-a-half. I hate to think of the hours volunteers put it."
But it's a commitment made easier by an emotional connection.
"You sense it when we lose a bird. Everyone tries to be like a farmer and say it's just another animal to process, but it's tough - they are difficult and hard times when we lose a bird, there's no doubt about it."
Then there's the moment you see a Kiwi for the first time, when you hold one for the first time, and appreciate they are a highly at-risk species.
"It's one of the special moments in your life," he says. "I can't remember the bird's name, but I can remember having to sit down and eat and drink something because the adrenaline was pumping through me.
"I had to stop and take time to get myself back on track. Yeah, they're pretty special."
And when David Brown is handling at-risk species, when he thinks about his contribution to improving its chances of survival, then it's a good feeling. "It's definitely a good feeling to be involved in that process," he says.
And it is definitely a "good fit" for Zespri, because Otanewainuku sits just behind the kiwifruit capital of the world, Te Puke, and enjoys a strong and loyal support from the kiwifruit locals. And there's gold, there's Koura, in them thar hills.