A registered charitable trust operating under the auspices of the Perpetual Guardian Foundation, is using one of the finest examples of automotive engineering and design to fundraise to support Kiwis suffering from mental illness.
Wood for the Trees was founded in October 2017 by friends Gareth Hughes and Gareth Williams, with a mission to provide awareness and funding to grassroots organisations working in mental health and suicide prevention in New Zealand.
The charity is kickstarting its long-term funding drive starting with raffling off a 2017 Harley-Davidson Dyna Fat Bob motorcycle, custom-painted by talented Kiwi artist Graham Hoete (aka Mr G).
The bike winner was Sandra Hutchens who is the mother of Timmy, who devastatingly took his own life and the reason Wood For The Trees was founded. Just an incredible result, serendipity.
Gareth was the one who called her to says that her son had passesd away in March 2017.
"Can't see the wood for the trees" – the well-known saying refers to being unable to see a situation clearly because of overly close involvement or a fixation on small details.
When mental illness means people can't see the wood for the trees, Wood for the Trees wants to contribute to awareness, support and recovery.
The catalyst for the founding of Wood for the Trees was the suicide of a very close friend of the Gareth's who had been suffering from mental illness. (The late man was also a good mate of TV host Jono Pryor, who spoke publicly and movingly about mental illness in the wake of his death.)
The first fundraising activity by Wood for the Trees raised $8000 for the community peer support group Key to Life; the current drive, inspired by the founders' love of motorcycles and partnership with Auckland Harley Davidson, is expected to surpass $10,000, with the proceeds to be split evenly between Wood for the Trees and Key to Life.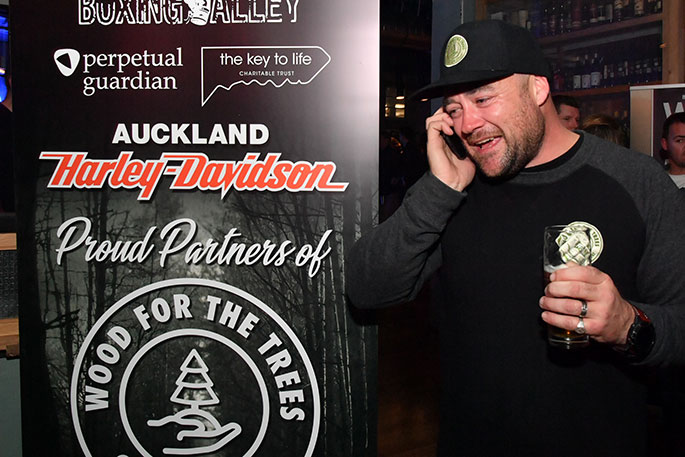 Gareth Hughes phoning the winner.
Gareth says Wood for the Trees represents a collective determination to get something positive out of a tragedy and to make sure people are reaching out to their nearest and dearest to offer support and be there for them in difficult times. It's also clear that the current public system isnt helping in times of crisis.
"People are being let down and suicide numbers are on the up – the fact is, if you walk into a hospital and say you're feeling suicidal, they can't admit you unless you've made an attempt on your life. There are limited or no other places for people to go. We're also aware that while almost everyone is affected in some way by mental illness, those most at risk are men, more often they suffer in silence and don't talk about how they're feeling.
"With Wood for the Trees we're encouraging people to reach out, ask the tough questions if they think their mate or family member is having a hard time, research and access one of the many groups around the country that are there to help people with mental health needs. We're raising funds to distribute to locally run and managed community groups and organisations with a focus on mental health – there are lots of little, important things happening around New Zealand and they just need the funds to grow bigger and do more in their communities."
A major supporter of Wood for the Trees is Key to Life founder and ambassador Mike King, one of New Zealand's most prominent mental health educators.
He says of Wood for the Trees, "Every new boost of energy and funding and leadership we get for mental health awareness and suicide prevention saves lives and opens up conversations.
"The traditional model of addressing suicide has totally failed – we have the highest suicide rate on record and it keeps going up every year – so we have to change things at a grassroots level so communities have the resources to deliver what their people need. This is what Wood for the Trees is doing, and we're really pleased to be working alongside them."
Perpetual Guardian philanthropy manager Kirsten Taylor says the mission of Wood for the Trees, and the accessible, communal style of its fundraising drive, aligns perfectly with the vision and purpose of the Perpetual Guardian Foundation, which was established by Andrew Barnes to foster everyday philanthropy: that people give what they can afford to causes they are passionate about.
Foundation contributors have several options, including giving to the Activation Fund to support innovation in philanthropy (donations start at $5 and there is no maximum amount) or starting their own sub-fund (like Wood for the Trees) to support a customised, long-term giving programme as an individual, duo or a group.
Kirsten says, "We know from research that Kiwis are among the most generous people in the world, and we also know that the old-fashioned idea of philanthropy is that it's only for very wealthy people. But if we accept that society works as a collective and that our country can evolve and improve more quickly if everyone gives in whatever way they can, everyday philanthropy is the way forward."