Recently, I went to a seemingly typical Tauranga house, unaware I was going to meet dragon six metres long, three metres high and with a wing span of about six metres. I paused to read the welcome sign:
"In this house, we believe in magic. We have epic adventures. Once upon a time, and in galaxies far far away, we do wibbly wobbly timey wimey stuff while going where no man has gone before. We know the answer to everything is 42 and that the odds are ever in our favour. We do cosplay and passion and we aim to misbehave and we don't care what others think because in this house, we do geek."
And with that, of course, I already felt right at home. I knocked, the door opened, and I ventured forward into a magical world of mythical creatures and film characters.
Smiling down at me was a towering Ludo, the night troll from Labyrinth. Legolas, son of the Elvenking Thranduil of Mirkwood, and Tauriel, a captain of the Elven guard of Thranduil's Woodland Realm, seem to have left their clothing on stands nearby. I turned to find PT Barnum and Jenny Lind moving towards me with friendly smiles.
The 'Greatest Showman', aka Paul de Wild, shook my hand and I found myself being welcomed by him and his wife Rozanne, dressed as Jenny. Their son Stephen popped out into the foyer to say hi, and I realised why I immediately loved this family.
They have so much heart shining out of their eyes. It's not movie-fake, it's real and warm. Absent, but part of the family team is Kali, a 2D animator at Auckland Animation Studio Mukpuddy, who initiated the family's foray into cosplay after attending Armageddon 2008.
Cosplay, a contraction of the words costume play, is a hobby in which participants called cosplayers wear costumes and fashion accessories to represent a specific character.
Favourite sources include anime, cartoons, comic books, live-action films, television series and video games, and cosplayers often attend fan conventions.
NZ's Armageddon Expo is a pop culture convention that holds multiple events around New Zealand in cities including Auckland, Wellington, Tauranga and Christchurch, with a combined yearly attendance average of 120,000 people.
Fan costuming and making realistic props is something that appeals to both Paul, a boat builder and construction manager at Pachoud Motor Yachts, and Rozanne, the events and functions manager at Mills Reef.
They're both highly-skilled problem solvers in their real-life occupations, and they have applied their expertise to creating props and costumes, taking out top cosplay prizes along with Stephen, who also works at Mills Reef.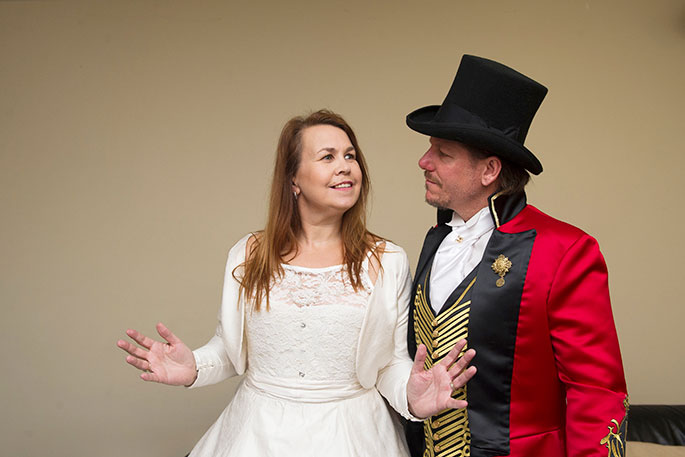 "In December 2012, the Avengers movie came out, and we left the cinema with Paul all excited about Hawke Eye's quiver and bow," says Rozanne. "Kali issued the challenge for us to enter the 2013 Auckland Armageddon cosplay competition as Hawke Eye and Black Widow."
Paul and Rozanne won a technical award in the Open Section, and Kali, dressed as Merida from the animated movie Brave, won a technical award in the Novice Section.
"Two years on, we entered as a whole family at Wellington Armageddon as characters from the hit TV series Game of Thrones," says Rozanne. "Paul and I as the twisted siblings Jaime and Cersei Lannister, Kali as our son Joffrey and Stephen as Lord Baelish."
They won Best in Show for Wellington, and took the NZ National Cosplay Cup at the National finals in Auckland. Next was the NZ Sevens competition in Wellington in January 2016, which they entered as a family and won both Best Group and Supreme Winner.
However, it was while returning home from winning Best Group at the 2014 Wellington Armageddon with their Lord of the Ring costumes, that Rozanne initially encouraged Paul to build a dragon from Game of Thrones.
He refused, but, inspired by the TV series Face Off, started work in October 2015 on Drogon, the biggest and strongest of Daenerys Targaryen's three dragons.
"Paul studied concepts and videos of dragon and dinosaur large-builds," says Rozanne, as I wave my hand in front of the dragon's mouth. It responds with a growl and a moving tongue, due to the cleverly placed motion detectors inside.
"The meticulous scale detail in the body foam is from using a soldering iron to burn it into the foam."
To proportion the scale of the head they used a 3D paper programme. Paul carved a block of polystyrene into the rough shape, sanded it, then applied plasticine sculpting clay.
"The process of sculpting the head and neck details took two years," says Rozanne. "The whole character will be carried internally by a carbon fibre back and shoulder frame."
Interestingly, the name of the silicone product they used for the head is "Dragon Skin", which is also used in the medical industry to make prosthetic skin sockets on artificial limbs.
Throughout the three years Paul worked on Drogon, the family continued competing in NZ cosplay events. A long journey and a mammoth achievement, Drogon is now ready for the public.
"We're really excited to be bringing Drogon to Tauranga Armageddon," says Rozanne, "and we're very thankful to Bill Geradts for allowing us space. We hope that everyone who comes along has a chance to get a photo with him."
Tauranga Armageddon 2018 will be held at ASB Baypark from 10am – 5pm, on Saturday May 26, and Sunday May 27.