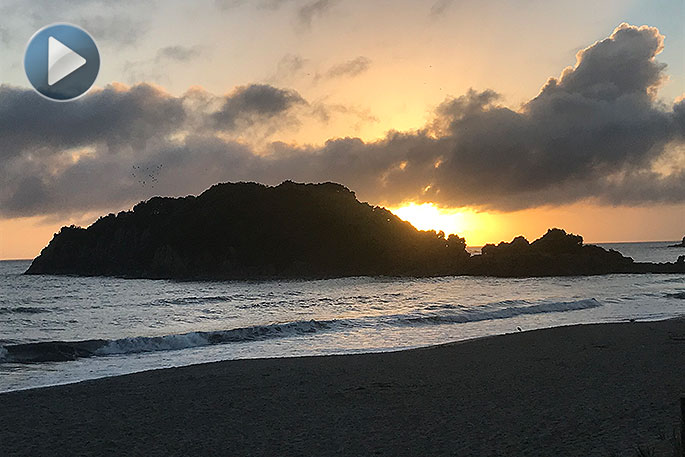 Click the image above to watch the video
The weather forecast today is for showers, possibly heavy and thundery from the afternoon, clearing in the evening as northerlies change westerly.
It's a one-clothing layer day today with a high of 20 and an overnight low of 12 degrees. Humidity is 99 per cent.
Low tide is at 1.20pm and high tide is at 7.40pm. There's a sea swell of .4m with a sea temperature of 18 degrees. Sunset tonight is at 5.11pm.
If you're going fishing the next best fish bite time is between 3pm and 6pm.
In NZ history on this day in 1846, eight were killed in attack on Boulcott Farm.
Disagreements over the validity of land purchases by the New Zealand Company led to a series of skirmishes between local Māori and government forces in the Wellington region from 1845 to 1846.
In 1981 the All Whites beat Australia on the road to Spain.
The New Zealand football team's famous 2-0 victory in Sydney was a defining moment in their epic qualifying campaign for the 1982 World Cup finals.
In world history on this day in 1770 Marie Antoinette married future King Louis XVI of France.
In 1918, the US Congress passed the Sedition Act of 1918, making criticism of the federal government during wartime an imprisonable offence. In 1928 the first Academy Awards was held in Hollywood.
In 1960 a Big Four summit in Paris collapsed because of the American U-2 spy plane affair.
In 1963, after 22 Earth orbits, Gordon Cooper returned to Earth, ending the last mission of Project Mercury.
Today is the birthday of American educator Elizabeth Palmer Peabody. Born in 1804, she was the founder of the first US kindergarten.
Elizabeth once said "The little flower that opens in the meadows lives and dies in a season; but what agencies have concentrated themselves to produce it! So the human soul lives in the midst of heavenly help."
To get involved in some of the many activities happening around the Bay, please check out our What's on page.
Have a great day!