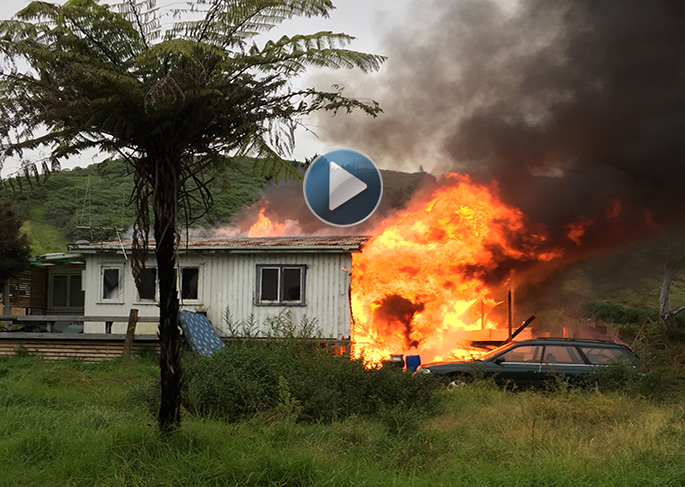 Click the image above to watch the video
The Fire Service were called to a house fire in Welcome Bay this afternoon.
The house, located at 752A Welcome Bay Road was fully involved when they arrived.
Directly opposite Faith Bible College, the unoccupied house caught fire between 4pm and 4.30pm on Saturday afternoon.
"A lot of people had already stopped," says Benjamin Caseley-Costello who came past on his motorcycle about 4.30pm. "A couple of people had already called it in. Not long after, about 4.40pm, the fire trucks pulled up.
"They well and truly did their job too. They were fast."
No one was inside the house when it caught alight. The Fire Service don't yet know the cause of the fire.
"We don't know how it started," says one of the Fire Service members. The owner's not here. We've made contact with him and he's making his way here now. That's all we know at this stage.
"It was certainly fully involved when we arrived. The first thing of course for us is to ascertain that everyone is out and safe. That's our big priority - to get everyone out. The guy wasn't in there, so that's a relief for us.
"And the next thing is to contain the fire, so it doesn't go any further. There wasn't a lot to save when we arrived, so we've done what we can."
The spot fires at one end of the house were mostly tyres that were still alight. The Fire Service used two trucks, two hoses and accessed water from the mains water supply available outside Faith Bible College.
Welcome Bay Road was closed while the fire was put out. Benjamin and other residents helped with traffic control until police arrived at the scene.
Smoke from the fire could be seen from Bayfair.